After the market assessed corporate earnings and inflation data, US stocks opened higher on Wednesday (13th). Before the deadline, the Dow Jones Industrial Average rose 40 points or 0.1%. The rebound in technology stocks drove the Nasdaq Composite Index to rise 0.7%, the S&P 500 Index rose 0.3%, and fees rose nearly 1%.
Before the deadline, in addition to Apple, Facebook (FB-US), Amazon (AMZN-US), Microsoft (MSFT-US)、Alphabet(GOOGL-US) Large-scale technology stocks rebounded collectively.
In economic data, driven by fuel and natural gas service prices, the US CPI in September increased by 0.4% monthly and 5.4% annually, both slightly higher than market expectations and previous values. However, after excluding food and energy prices, the core CPI increased by 0.2% monthly and 4% annually, roughly in line with expectations.
Due to tight supply chains and soaring energy prices, inflation has recently become the focus of attention. U.S. Treasury Secretary Janet Yellen said on Tuesday that even if it takes longer to return to normal, she reiterated that the upward trend in U.S. inflation is only temporary.
As the Q3 earnings season kicks off, investors will assess the impact of the Delta variant virus, tight supply chains, and inflationary pressures on corporate profits. JPMorgan (JPM-US), BlackRock (BLK-US) The results of the pre-market announcements were all better than expected. The opening quotations fell by more than 1% and rose by nearly 3%.
Before the deadline, the 10-year U.S. Treasury yield fell to 1.568%, and oil prices, which have recently risen due to the tightening of energy supply, fell slightly before the deadline on Wednesday.
In order to relieve the pressure on the supply chain, U.S. President Biden is expected to meet with representatives of US West Ports and union leaders on Wednesday to discuss the Port Said issue. At the same time, he and Wal-Mart (WMT-US),The Home Depot (HD-US) Wait for retailers to discuss solutions to transportation and logistics dilemmas.
Biden government officials said a few days ago that the carrier has promised to extend the operating hours of major southern California ports such as Long Beach and Los Angeles, and to achieve 24-hour operation.
On the individual stock news, after reports that Apple would cut its production target of 10 million iPhone 13 units this year due to chip shortages, Apple dropped 0.7% at the opening; Qualcomm (QCOM-US) After announcing a $10 billion treasury stock plan on Tuesday, the opening rose nearly 2%.
As of 21 o'clock on Wednesday (13th) Taipei time:
The Dow Jones Industrial Average rose 39.02 points or 0.11%, temporarily reporting 34417.36 points
The Nasdaq Composite Index rose 96.53 points, or 0.67%, to 14559.40 points temporarily
The S&P 500 Index rose 14.17 points, or 0.33%, to 4,364.82 points temporarily
Fees and a half rose by 29.84 points, or 0.94%, to 3,208.15 points temporarily
TSMC ADR rises 0.46% to $109.70 per share
The 10-year U.S. Treasury yield fell to 1.568%
New York light crude oil fell 0.77% to US$80.02 per barrel
Brent crude oil fell 0.77% to US$82.78 per barrel
Gold rose 0.45% to $1767.20 per ounce
The dollar index fell to 94.40
Focus stocks:
Apple (AAPL-US) In early trading, it fell 0.70% to $140.52.
Bloomberg on Wednesday quoted people familiar with the matter as reporting that due to the continued shortage of chips, Broadcom (AVGO-US), Deyi (TXN-US) It is difficult to meet the supply of parts. Apple may cut its production target of iPhone 13 this year by 10 million units.
JPMorgan (JPM-US) In early trading, it fell 1.01% to US$163.58.
JPMorgan Chase announced on Wednesday that its Q3 revenue and profit were better than market expectations. Chief Executive Jamie Dimon said that although the Delta variant virus and supply chain difficulties have impacted the economy, Motorola's performance last quarter remained strong.
Delta Airlines (DAL-US) In early trading, it fell 3.26% to $42.12.
Delta Air Lines announced Q3 revenue of 9.15 billion U.S. dollars before the market on Wednesday, exceeding market expectations, with a net profit of 1.2 billion U.S. dollars. This is the second profit since the outbreak and the first profit without government assistance. Even as aviation demand continues to improve, Delta Air Lines warned that the continued increase in fuel prices may put pressure on profitability this quarter.
Today's key economic data:
The annual growth rate of US CPI in September reported 5.4%, which is expected to be 5.3%, and the previous value is 5.3%
US September CPI monthly growth rate reported 0.4%, expected 0.3%, previous value 0.3%
US core CPI annual growth rate in September reported 4.0%, expected 4.1%, previous value 4.0%
US September core CPI monthly growth rate reported 0.2%, expected 0.2%, previous value 0.1%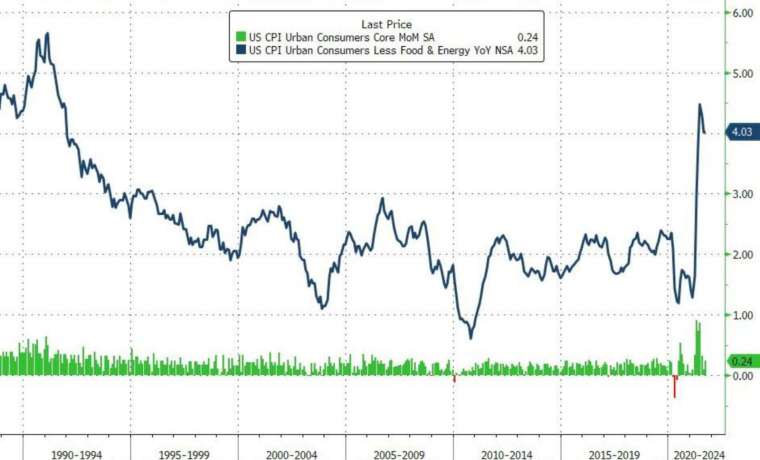 Wall Street analysis:
Generali Insurance Asset Management Investment Director (Antonio Cavarero said that the stock market must take into account the uncertainty of central bank policy and financial reporting. This does not mean that the momentum has turned, but the market sentiment in the coming weeks may be more cautious.
Sebastian Mackay, manager of Invesco's multi-asset fund, predicts that investors will begin to observe signs of weakening demand and rising costs. He believes that the stock market may struggle more next time, and may enter consolidation or a slight decline.