(PLO)-HIEUTHUHAI's undressing: 'using dramatic sensuality to capture views'; Miss Mai Phuong Thuy was hospitalized in an emergency; The reason Ngo Kien Huy called Tran Thanh a teacher?…
From left to right: HIEUTHHUHAI, Miss Bao Ngoc, Ngo Kien Huy and Mai Phuong Thuy. Photo: FBNV
HIEUTHHUHAI's undressing: "Using dramatic lust for views"
Sharing about HIEUTHUHAI's undressing scene in 2 days and one night Assoc. Dr. Nguyen Phuong Mai – Amsterdam University of Applied Sciences, the Netherlands said that this action is "using dramatic sensuality to catch the view".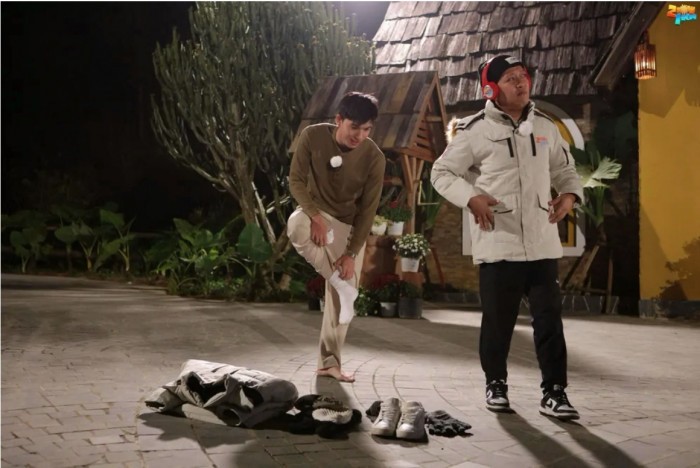 A scene from the show "2 days 1 night" episode 30. Photo: Screenshot.
Specifically, Prof. Dr. Nguyen Phuong Mai analyzed: "The stripping of each item creates a dramatic element, hitting the imagination and curiosity when a sensitive and taboo element is allowed to be displayed step by step, making the pleasure is gradually pushed up, creating drama.
Pure dramatic escalation for the sake of exposing the body is what sets it apart from images of actors or models exposing their skin for artistic purposes. It is also different from nude beaches where there are clear regulations, different beauty contests, or the image of topless men we sometimes see in residential areas. There's no erotic step-by-step drama to watch out for in those cases."
The privacy of men's bodies is often overlooked, Dr. Not only on television, but in many other situations, men can be exposed, touched for fun in group games.
According to the TS, if you try to replace Hieu with a female star, the fact that a famous girl is stripped in such a game show even though the main character agrees, but the audience will find it difficult to accept:
"Many viewers find it amusing to watch a man get stripped, but that fun turns into repulsion if it's a girl. She will be said to be shameless. "The double standard is that men's skin can be more easily brought to pleasure than women's skin because of the default thinking that men 'really like it', 'what's wrong with man's skin? "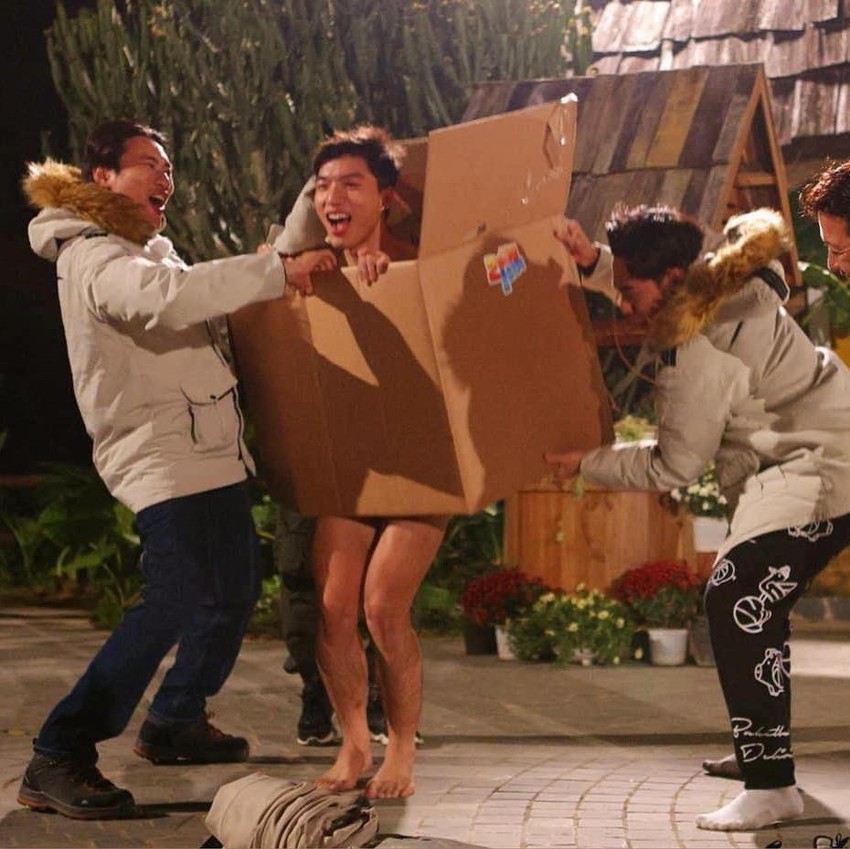 HIEUTHHUHAI got undressed after the members failed the challenge. Screenshots
Previously, the crew of 2 Days and 1 Night also responded, saying that the challenge of making HIEUTHHUHAI stripped was also part of the original Korean script and also anticipated that it would cause controversy.
"The show hopes that some viewers need to limit unnecessary rude comments that lead to a negative direction," the crew said.
Miss Mai Phuong Thuy was hospitalized in an emergency
On the evening of February 21, the image of Mai Phuong Thuy in the hospital was shared on social networks, making fans worried.
According to the sharing from the manager of Miss Mai Phuong Thuy, she was hospitalized in the emergency room during the night because of physical weakness due to a long busy schedule: "Last night, Thuy could not stand it anymore, was taken to the hospital for treatment. fluids".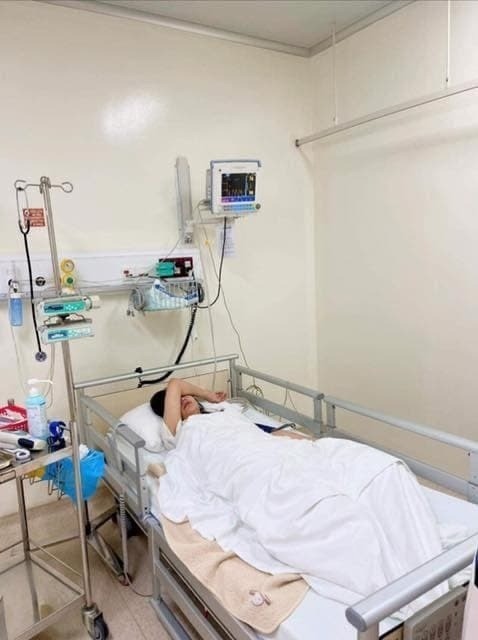 Mai Phuong Thuy was taken to the emergency room during the night because of physical weakness. Photo: FBNV
The manager said that Mai Phuong Thuy has now been discharged from the hospital and is being cared for by relatives. Miss's work plan was postponed to ensure stable health.
On her personal page, Mai Phuong Thuy shared: "Thank you everyone for asking. I'm still weak. When I get better, I will reply to everyone later."
Miss Bao Ngoc shares about gender equality in India
Miss Intercontinental Bao Ngoc gave a speech at St. Xavier College of India. This 150-year-old school has been visited and lectured by President Obama.
Bao Ngoc confidently shared and discussed with students and delegates around the issue of gender equality. Bao Ngoc believes that gender equality is not only for women but also needs the listening and understanding of men.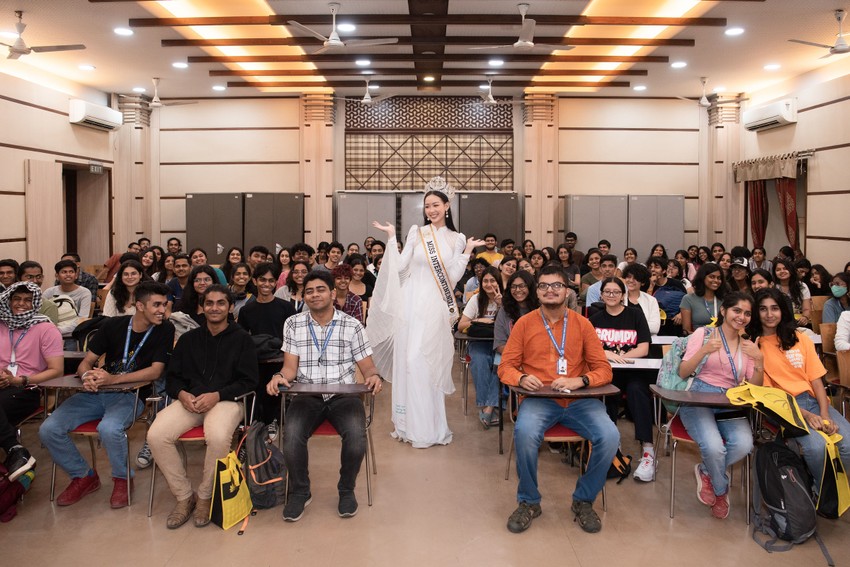 Bao Ngoc was welcomed by the principal, lecturers and nearly 100 students at the event. Photo: BTC
This is one of the activities to carry out the inspirational mission of Bao Ngoc as Miss Intercontinental.
Not only that, the beauty also revealed that she is preparing an international project to continue spreading messages not only about gender equality, but also about many issues in society to inspire young people. .
Why did Ngo Kien Huy call Tran Thanh a teacher?
Appearing in a talkshow, Ngo Kien Huy candidly shared about the hidden corners of the past, revealing his arduous journey of artistic activities.
Besides the role of a singer, Ngo Kien Huy left many impressions when pursuing the path of MC (presenter).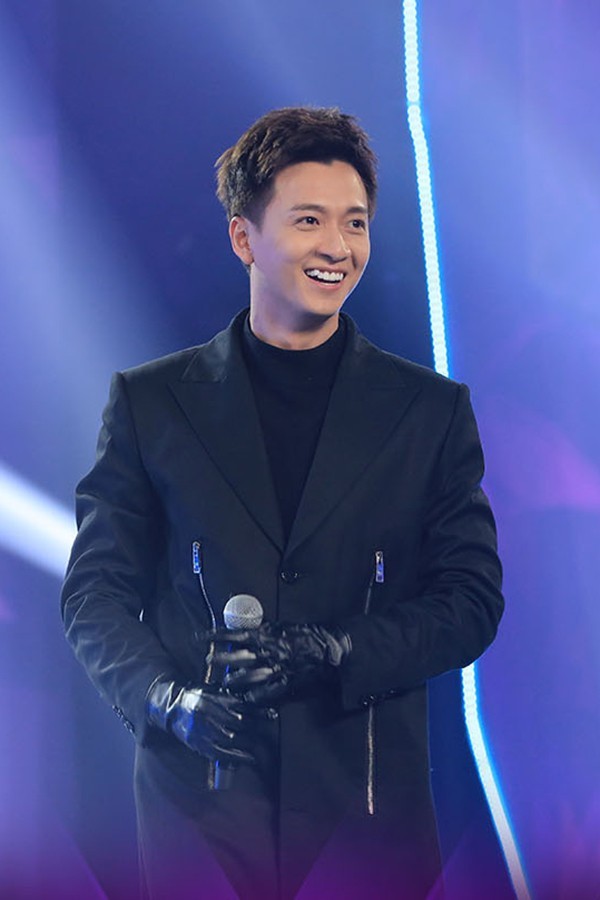 Ngo Kien Huy had a crisis when he entered the MC field. Photo: TL
However, few people know that the male artist faced many difficulties when trying out in a new field: "The first time I became an MC, I encountered mixed reactions. Because I did not receive training in schools. so I don't have the experience to lead, nor do I have a way to make it suitable for Vietnamese people. If people say that they don't fit this role, they should leave."
Listening to feedback from the public and realizing that he was not really suitable for the new role, Ngo Kien Huy paused to receive the show to improve more. For the second time taking on the role of MC of a comedy talent show, Ngo Kien Huy has not yet received much recognition from the audience. However, he received encouragement from his senior, MC Tran Thanh.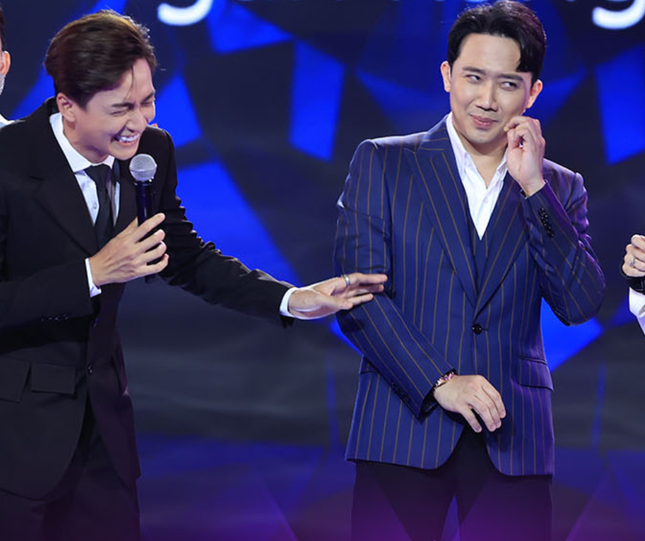 Ngo Kien Huy revealed that Tran Thanh was the one who encouraged and taught him experience. Photo: TL
"The teacher that I still cherish to this day is Mr. Tran Thanh, he knows the negative comments on social networks, so he called to encourage him.
Mr. Thanh showed me how to be an MC, how to overcome my weaknesses, I started to follow his example and apply the learning. Until now, in the shows I do, Mr. Thanh is still a consultant," – Ngo Kien Huy revealed.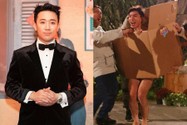 International screening, 'House of Nu' takes the name 'House without men'; '2 Days 1 Night' Controversial Because of HIEUTHUHAI's Undress
(PLO)- International screening, "House of Nu" takes the name "House without men"; "2 days 1 night" controversial because of HIEUTHUHAI's undress; Rabbit Seven Colors Fanpage called for more than 1.4 billion VND to make cartoons…
HA NGUYEN