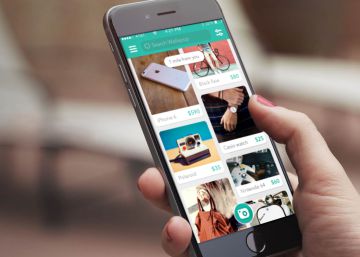 The startup Spanish Wallapop has closed the sessions that all its users had open and has activated a general change of passwords after locating an "improper" and "suspicious" access to the service of sale of second-hand items. Hundreds of users have contacted the platform after receiving a communication about the security breach through the application and by email. The company has assured on Twitter that it has no evidence that there has been "fraudulent use of the data." Wallapop has more than 40 million of users in the world.
"We have recently detected improper access in Wallapop, which did not allow us to guarantee 100% the security of our users' data," explains Edurne de Oteiza, director of Operations and Marketing of the company, by email. "For this reason, to avoid the risks of illegal use, we have closed the session of all users so they can change their passwords when accessing the platform," he explains.
The company has also posted a message on its Twitter account reassuring users: "Good afternoon, we have no evidence that there has been fraudulent use of the data. But following suspicious access we have informed users by mail and app of the closing of your session and we have requested the change of password. Ensuring your safety comes first. "
Wallapop has registered hundreds of messages from users asking for explanations about the reason for the closure of their sessions, to whom they answer by direct message. The platform, after apologizing for the disorder, asks users to change the password or restart the session through Facebook or Google.
Wallapop is one of the most successful platforms for buying and selling second-hand products, where buyer and seller agree to carry out a transaction and if this, for any reason, is unsuccessful, the platform washes its hands. The system is based on a mobile application with geolocation. In addition, it has a chat service to maintain contact with sellers. The company was founded by Agus Gómez (L'Hospitalet, Barcelona, ​​1979).
. (tagsToTranslate) wallapop (t) change (t) password (t) user (t) access (t) suspect (t) platform (t) web (t) sale (t) communicate (t) have (t) close ( t) session (t) guarantee (t) security