The Egyptian artist, Ahmed Saad, explained the strangest situation he was recently exposed to, while reviving a wedding party in Egypt, as he was forced to change a number of his songs because the bride was affected by her and crying continuously.
Saad explained through a set of photos of the newlyweds and him from the wedding, and recounted the difficult situation that happened to him through the photo-sharing application (Instagram), saying: "I was singing at a party, but the wedding was full of tears, and when I started with a song every day, the audience was happy, and then I sang (I love you, my friend), so the audience refused to sing that song, chanting (I don't love you, my friend), and I didn't understand at first what was the reason for that, so I didn't sing it," according to (her).
He added, "I sang another song, so the bride went away again and left the wedding party again, and I was confused, what should I sing at the party?"
He continued, "The attendees explained the reason for these matters, explaining that the bride's father is dead, and that she loved him very much, and her father loved a song I love you, my friend, and for him I am the most important singer, and all my songs have memories with her father."
He continued, "The bride used to sing to her father I love you, my friend, and if he was present now, he would have been the first person to call me to sing at his daughter's wedding, noting that the bride at the wedding, all the time, was looking at him and remembering her father and crying."
He concluded his story by saying: "That bride taught me what it means for a girl to love her father, and that this love is real, sincere and pure, and that the father was a good and tender man, may God have mercy on him."
It is reported that the controversial artist announced a few days ago his separation from his fiancée, Alia Bassiouni, after a 10-month love story.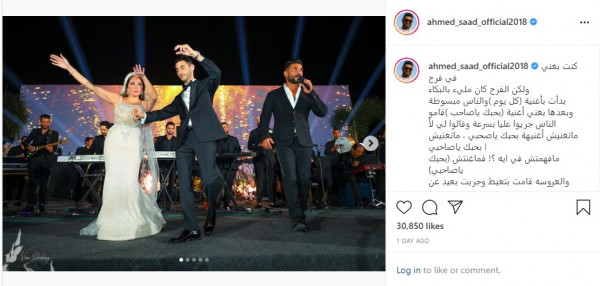 .