It's an old fantasy of the music industry: to immerse listeners in an acoustic bubble where sound comes from all sides. The first commercial attempt dates back to 1972 with the appearance of quadraphonic vinyls, the second to multichannel SACD discs launched in 2001. A few thousand recordings later, immersive music has not really made its mark, it remains a hobby of audiophiles . Could things change? Three music streaming services have recently converted to it.
After the arrival of the Sony 360 Reality Audio format at Deezer and Tidal in 2019, then that of the competitor format, Dolby Atmos at Tidal, in 2020, Apple Music has just entered the game. Tuesday, June 8, spatialized tracks in Dolby Atmos appeared in its catalog, without increasing its unlimited music offer (10 euros per month, against 15 at Deezer and 20 at Tidal). Thanks to these three offers, spatialized music suddenly touches three million French. A good reason to give this old dream a chance.
What titles are compatible?
Our listening to songs in Dolby Atmos on Apple Music gave us some moments of grace. We've discovered exciting versions of popular songs from today and yesterday, danced to an evil version ofExpress Yourself, from Charles Wright, experienced the disturbing feeling of sitting in a small club next to Norah Jones. But before we got there, our adventure had several unpleasant twists and turns.
First challenge: find titles in Dolby Atmos in the gas factory that is Apple Music. The chances of stumbling across a piece are slim. Apple only offers a few thousand titles in Dolby drowned in a catalog of tens of millions of references. Its search engine does not help: we are a prisoner of Apple's selection.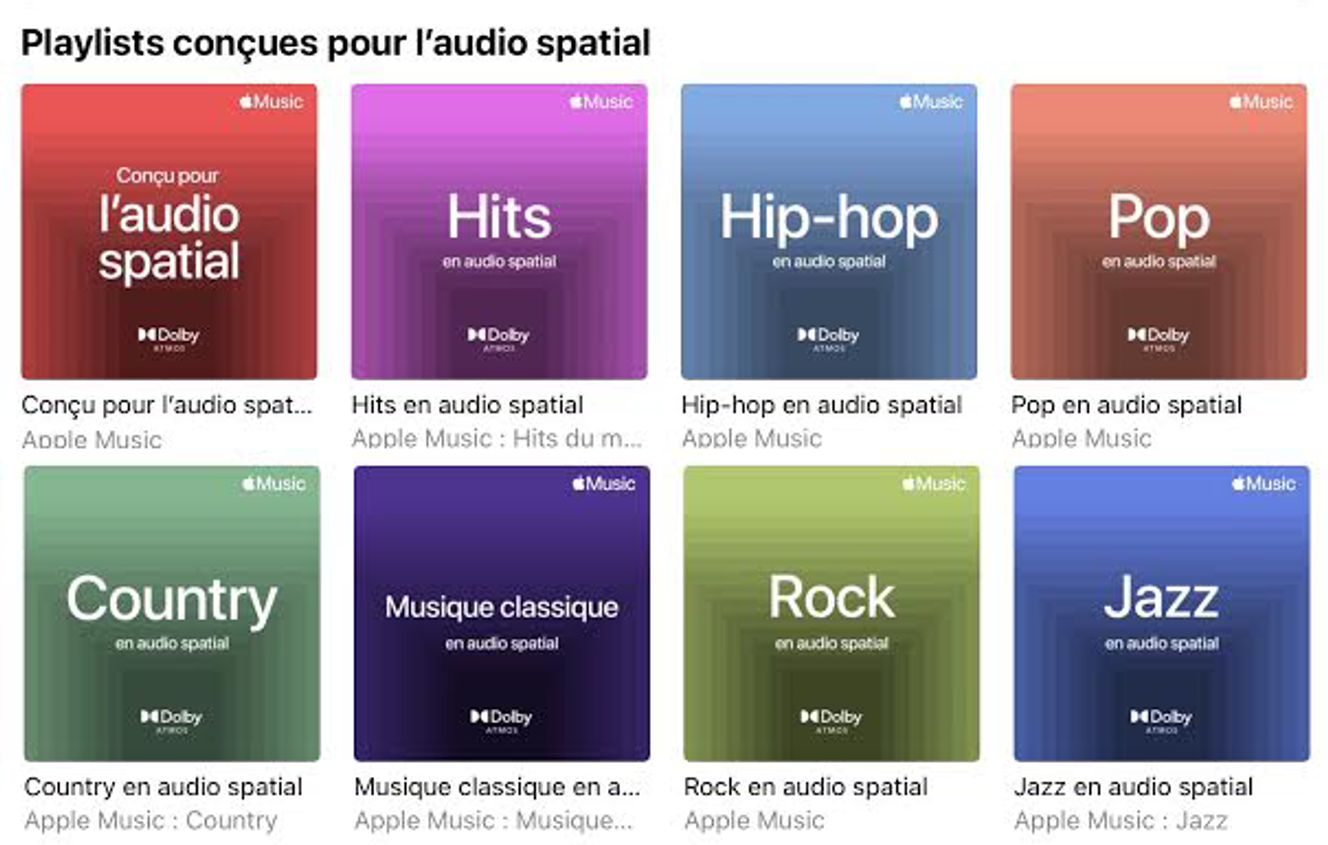 On the other hand, his best of "Audio Spatial" contain hundreds of titles in Dolby Atmos. With a little tact, we go back to the source albums of these songs, which sometimes contain other titles in "Audio Spatial" – to simplify, the translation of Dolby Atmos at Apple. This is how we discover the album Abbey Road, masterpiece of the Beatles, remixed in Dolby Atmos in 2019. In the end, we will not find something to fill our daily life with spatial sound, but only what to forge us a mini collection of albums corresponding to our tastes.
For now, Apple's Dolby Atmos catalog is disappointing. It does not include any exclusivity and is forgotten certain masterpieces of Space Audio such as The Soft Bulletin Flaming Lips, yet available in immersive recording, as Sylvain Siclier, one of the music critics of the World, who accompanied us in our acoustic peregrinations.
But Apple says it believes in this format: the company intends to support artists and studios in their transition. It must be said that each piece must be the subject of a specific and tedious work, led by a sound engineer. This must recover the original recording, often composed of many separate sound tracks – vocals, guitars, percussions, choirs, keyboards – to position them in a 360 ° space.
What rendering on smartphone or helmet?
Armed with our selection of titles, we tackle the second challenge: finding a reading device that honors spatialized sound. Theoretically, Dolby Atmos is readable on any type of device: it adapts automatically. We start by testing it on an iPhone 12, which Apple says is compatible, even though it only has two speakers. Listening is disappointing. If there is any improvement, it is really very discreet.
The iPad Pro 11 has four speakers, and when listening, the difference is clearer. On some songs, the sound definitely increases. However, we remain far from the sensation of sound immersion promised. And by the way, we note that the voices often sound less naturally. Dolby Atmos can also be listened to on headphones connected to an iPhone, automatically when it comes to Apple or Beats headphones, or with adjustments when it comes to another brand.
Listening with headphones will disappoint lovers of natural sound reproduction. The vocals often sound a little chemical, the bass sometimes muffled and awkward. But other listeners should appreciate the feeling of space that is progressing, albeit on certain tracks only. In any case, we are still quite far from the enveloping sound bath we dreamed of.
The music is clearly coming out of the left and right earphones: it doesn't feel like it is coming from everywhere around us like in a movie theater whose seats are surrounded by loudspeakers. To give the illusion of depth with a simple stereo headset, Apple uses complex audio processing, based on directional filters, binaural psycho-acoustic treatments, differential frequency adjustment according to the ears. And according to our tests, these treatments divide: some like it, some don't.
Note that this feeling of space could improve at the end of the year when Apple will activate the tracking of the position of the face on its home helmets. The sound rendering will change depending on the orientation of the face, theoretically reinforcing the illusion of immersive sound.
What rendering with several speakers?
A few hours have passed, and the adventure of Dolby Atmos leaves us unsatisfied. The revelation is slow, but it does happen eventually. We are testing songs in Dolby Atmos on a set of six speakers arranged all around us, a 5.1 home cinema as we find in some living rooms around the television, connected to an Apple TV 4K multimedia box. This installation frees the pieces, we meet the feeling of space so hoped for. And this time, the natural sound does not diminish an inch.
There remains one final test: to sort out the pieces that are convincing and those, more numerous, that do not do justice to Dolby Atmos. Exit the titles of Bob Marley sanitized, with colorless voices, with a rhythm so flat that it makes you want to dance. Exit on Call Me by Blondie drained of his energy. "It sounds very small", regrets Syvlain Siclier.
At the end of the road, we finally unearth some pearls. Billie Eilish singing Therefore I Am in chorus all around us, then murmuring some intimate confessions from one corner to another. The Beatles Singing Here Comes the Sun, like a bath of joie de vivre, brighter, more welcoming, more comforting than the original.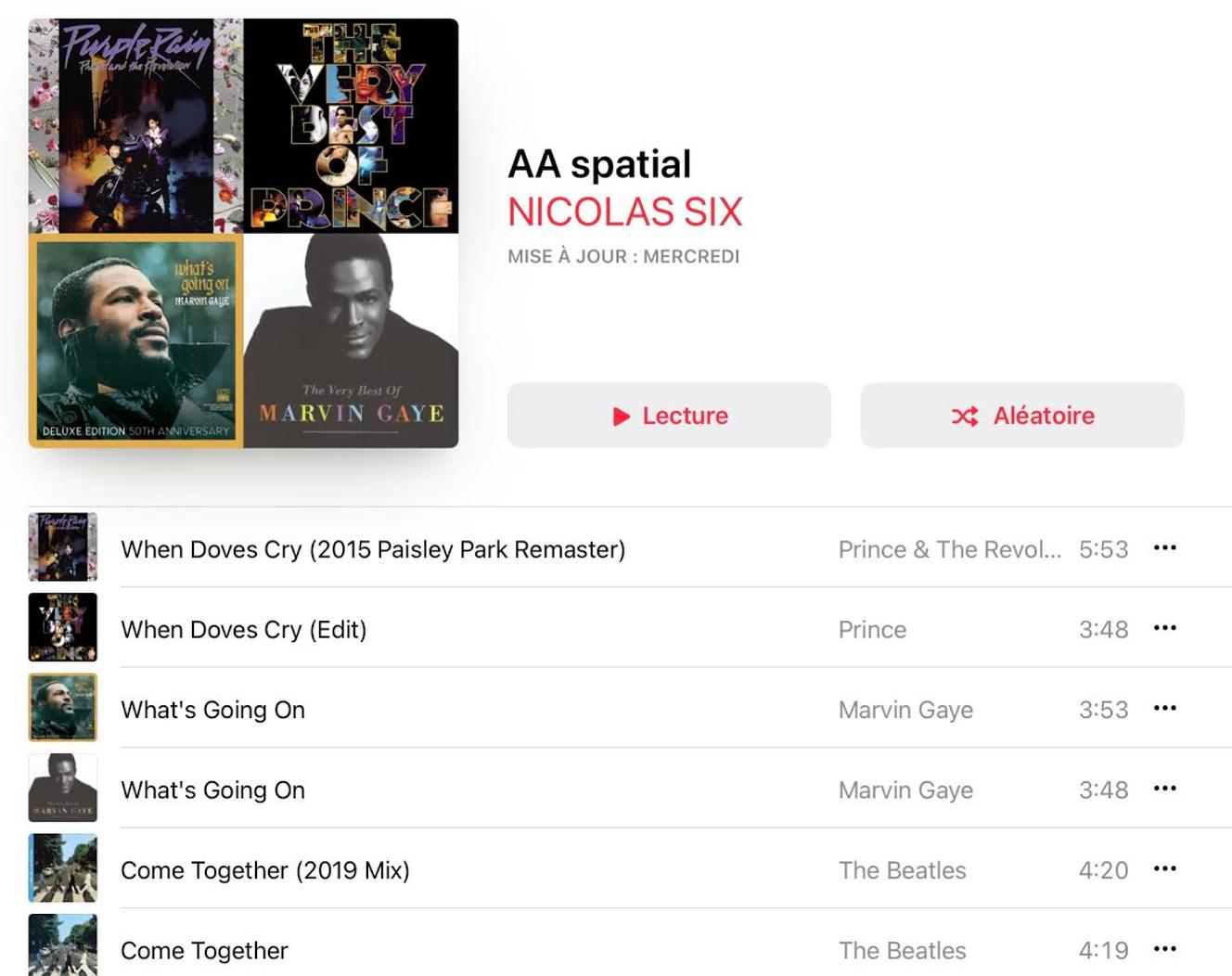 Faced with these titles in Dolby, their classic equivalent in "stereo" seems very flat. Dolby makes you feel like you're in the middle of the music, not in front of it. All the instruments are displayed around us in a wealth of detail. This immense space makes it possible to deploy the voice in all its breadth and richness, to breathe the rhythmic. At the risk, sometimes, of losing the direct, energetic and spontaneous aspect of certain musical genres such as punk. "The danger is to disperse the music", Sylvain Siclier notes. Also at the risk of breaking the authenticity and sweetness of the ballads.
What are the most suitable music?
But every now and then, a finely crafted immersive mix reconciles us with all the intimacy that Dolby is capable of, in Angie the Rolling Stones for example, which so delicately underlines the guitars and the piano around us. "It's a rather fine enhancement of the piece", Judge Sylvain Siclier. It all seems to depend on the talent of the sound engineer who mixed the spatial version of the song. The bar is high.
Creative music takes advantage of Dolby Atmos more often. Listening to When Doves Cry from Prince, the guitar and vocal effects travel through the mix, the rhythm part seems to move back and forth like a locomotive. We can, if we wish, dissect the musical layers of the piece, exposed so clearly.
Black Skinhead by Kanye West is going strong, as Paparazzi by Lady Gaga, with massive synthetic rhythms and effects that bounce in space, contrasting with the encompassing voice of these artists, which occupies the entire space.
But it is classical music that benefits the most from Dolby: astonishing sensation of fullness, space between the instruments, disturbing reproduction of the acoustics of the place, so dear to lovers of great music.
In brief shimmers, Dolby Atmos gave us a glimpse of a richer and more creative sound universe. We now have a dream: a world where all songs, whether contemporary or two centuries old, exist in stereo and Dolby Atmos versions. A world where you switch from one version to another with a single click, which is impossible today. A universe where all sound engineers have experience of spatial sound. A world where every listener is equipped with a set of home cinema speakers.
We'd love to get to know this El Dorado, but until it happens, immersive music will likely only thrill a handful of audiophiles for a long time.