That's it ! Children's vaccines are being ordered in Belgium. This is what Frank Vandebroucke (Vooruit), the Federal Minister of Health, said during the press conference of the consultation committee. Next step: the opinion of the Higher Health Council and the Bioethics Committee, expected on December 16. So how does a childhood anti-covid vaccine work?
"It's a product a little bit different", explained Frank Vandenbroucke about the pediatric vaccine. But different how? In fact, it is simply the vaccine of Pfizer-BioNTech but dosed differently.
It's just a question of dose
"The pediatric vaccine has been formulated to contain the equivalent of one third of an adult dose. The child dose therefore contains one third of the amount of messenger RNA which is contained in the adult vaccine. It's just a question of dose", confirms Sophie Lucas, immunologist and president of the Institut de Duve at UCLouvain.
---
►►► Read also : Vaccination of children against Covid: pending the opinion of the bioethics committee, Belgium has already placed an order
---
If the dosage is lower in 5-11 year olds, it is above all a concern for corpulence. "It has been shown that beyond 12 years, you can receive exactly the same dose as an adult 18 years and over, because you approach an equivalent build", explains Sophie Lucas.
Conversely, children under 12 are smaller, so the vaccine dose is lower to achieve similar efficacy.
An identical vaccination schedule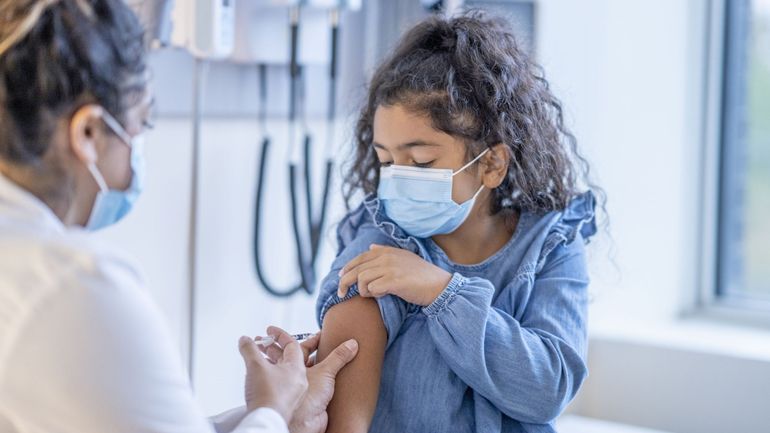 Despite this change in dose, children will have the same vaccination schedule as adults. In other words: "two injections three weeks apart".
As for the third dose? "There will probably be a third injection of booster a few months later, but as the situation evolves, we will see month after month."To see when the time comes, then.
Also see how long the vaccine will last for children. At present, "the is extremely difficult to predict the duration of protection that we will have by age group", explains the president of the Uluva Institute of Fluff.
---
►►► Read also : Covid-19: why are we now focusing on children? Have they become the "engine" of the epidemic?
---
"It is assumed that what will happen in children aged 5 to 11 is likely to be the same as in children over 12 and adults over 18. There is basically no theoretical reason why the immunity could last any less."
What about side effects?
In terms of side effects, children shouldn't have more of them than people over 12 years old. "In clinical studies that have been done specifically in this age group and the side effects of these third-dose vaccines have been measured: they are identical in nature to what is observed in adults."
---
►►► Read also : Covid-19: children targeted by new measures in schools to curb the epidemic? "It's the wrong target"
---
In the majority of cases, these are therefore minor and mild side effects. Think for example of pain at the place of injection, a little fever, or even headaches, etc.
"But they are not stronger than in adults. They even tend to be a bit lighter, since the dose is lower.", reassures Sophie Lucas.
Pediatric vaccines
Finally, remember that pediatric vaccines are not exceptional. "There are even vaccines for which there is only the pediatric version", recalls Sophie Lucas. This is the case with vaccines against childhood diseases (such as meningitis, polio, smallpox, etc.).
In the case of covid, it was the nature of the virus that accelerated vaccination in adults. "We are in a pandemic situation with an infectious disease that can be dangerous for the elderly or with co-morbidities."It was therefore obvious, once the vaccine was available, to deploy it as a priority among these groups at risk.
On the same subject :