After testing literally every major music streaming service on the market, I finally decided to write about the platforms that are most worth paying for today. However, the decision will not be made solely on the basis of the price charged or the presence of the MQA [1]do Dolby Atmos [2] or Audio Spatial, as the user experience goes through several other points.
In order for me to consider a good streaming service, it needs to have an intuitive user interface, that you can access the basic features with a few clicks/taps. In addition, there are certain bugs/errors that should not happen in applications considering the company's time in the job market.
Going to the PC, there must be a version of the streaming application for the most used operating system on PCs today, Windows. But not only that, because in order for other processes on the computer to not interfere with music playback, the app must support WASAPI and/or ASIO audio drivers [3]allowing you to extract the best possible quality when connecting an external DAC (Digital to Analog Converter) [4].
In addition to the requirements mentioned above, it is important that the streaming platform be able to offer song indications according to the user's taste. The mechanism used for this is varied, ranging from the use of activity analysis algorithms in the app to human curation. Personally, I really like when music playlists are published with a well-made selection, with different artists/bands than what we are used to listening to, as this makes discovering new melodies easier.
[1] Article "MQA: What is it and how to get a complete experience?"
[2] Article "Which streaming services support Dolby Atmos?"
[3] Article "What's the difference between ASIO, WASAPI, WDM and MME audio drivers?"
[4] Article "Headphone Basics"
What is the music streaming that is most worth the money paid in 2023
For those using music streaming apps on Windows PC and Android or iOS mobile, Tidal has been one of the best choices in my opinion. Its most basic subscription costs only R$16.90 and already offers lossless music transmission. Both the mobile and desktop versions of the application have worked smoothly and without stuttering since I started subscribing to the platform more than 2 years ago.
Tidal offers exclusive mode (WASAPI driver exclusive mode) in the Windows desktop application, allowing you to avoid interference from other programs running on your computer. At the same time, it is possible to connect a dongle ("USB adapter for headphones" or USB DAC/amp) [5] to the cell phone and have direct access, without interference, on Android cell phones.
When we go to the song nominations, we see that while it has some good track selections based on what you're currently listening to, there's another streaming service that does better in this regard. I'm talking about Qobuz, a platform that uses human curation for the selection of tracks, artists and bands. The song indication is so good that I'm using the Qobuz app on my phone more in conjunction with my TWS headset than Tidal.
[5] Article "Best "USB Headphone Adapters" (USB DAC/amps) of 2023″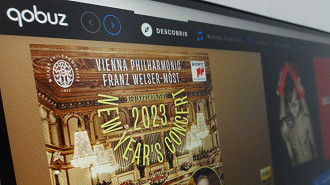 Another positive point of Qobuz are the "Panoramas", which are texts that talk about the history of the artist or band, something very interesting for those who want to go beyond music and get to know better the work that was done over the album releases.
Why not Spotify, YouTube Music, Amazon Music or Apple Music?
I don't think Spotify, YouTube Music, Amazon Music or Apple Music are bad streaming services, but they don't offer the set of attributes I value. Although Spotify has a very wide variety of music, even tracks that are only found on the platform, its audio quality is not as good as Apple Music, Amazon Music, Tidal or Qobuz. YouTube Music also suffers from the same problem, but in a worse way than Spotify, because even though both have a very large diversity of tracks, the audio quality is inconsistent, being possible to find both songs with high bitrate and files in very low quality, with great distortion in the sound.
When we go to Amazon Music, we find good audio quality when subscribing to the Unlimited plan (not to be confused with Prime). There is also a good variety of songs, but the great "Achilles heel" of this streaming service is the fluidity of the applications. Both in the mobile version (cell phone) and in the desktop version (computer), there is a slowness in executing various commands and navigating through the pages, giving the impression of a very precarious development, where the developers did not pay due attention to the adjustments aimed at the customer usage experience.
In Apple Music, I felt that there is good quality in the indication of songs, a very varied library of tracks, audio reproduction with quality, good fluidity and a clean interface, without many elements that can make the app less intuitive. The only missing part was a native app for Windows PCs, which thankfully is due for release in early 2023.