2023-05-24 13:38:56
Update KB5026435 for Windows 10 was made available this past Tuesday (23) on Windows Update. The "C" patch, released by Microsoft in the third week of the month, is optional to install and brings improvements and corrections. The preview version of the cumulative update highlights improving the search box on the taskbar, implementing the ability to display up to 3 notifications at the same time, fixing an issue with all-in-one printers, and fixing an issue with bug that affects the virtual keyboard.
It is important to remember that Windows Update will not automatically download and install this time. As this is an optional update, you need to go to the "Update & Security" section in the Settings app to click on "download and install".
If you look for updates on Windows Update today, you will see the following patch:
"2023-05 Cumulative Update Preview for Windows 10 Version 22H2 to stop x-64-Based Systems (KB5026435)"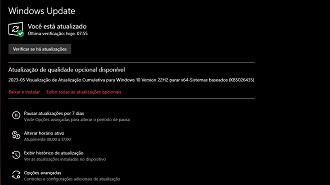 Update Summary Windows 10 KB5026435 (Build 19045.3031)
In the optional May update KB5026435 for Windows 10, Microsoft has brought back the improved search box experience in the taskbar. In addition, up to 3 high priority notifications can now be displayed at the same time, for example in the case of calls, reminders or alarms.
Windows 10 build 19045.3031 also fixed an issue with printers, as well as addressing bugs affecting the virtual keyboard.
In all, the KB5026435 update brings 20 changes. In addition to the above changes, the optional patch highlights the following:
Fixed an issue affecting the app installer. Sometimes MSIX apps would not update.
Fixed a bug affecting Server Message Block (SMB). You could not access the SMB shared folder. The errors displayed were "Insufficient Memory Resources" or "Insufficient System Resources".
Addressed issue affecting the Local Security Authority Subsystem Service (LSASS). It stopped working. This occurred when using Azure Virtual Desktop (AVD).
Fixed a bug that affected scheduled tasks. Tasks failed when using stored local user account credentials. This occurred when the administrator enabled Credential Guard. The error message displayed was "2147943726: ERROR_LOGON_FAILURE (the username or password is incorrect)".
Fixed an issue affecting the Storage Spaces Direct (S2D) cluster. It may not come online. This occurred after periodic password replacement. The error code displayed was 1326.
Fixed a bug that affected dot sourcing. It crashed on files that contained class definition in Windows PowerShell.
Support phone number change for Microsoft India activation for Windows.
Fixed an issue affecting the PublishDfsRoots policy. It did not correctly apply to a target client that has mobile device management (MDM). An example of MDM is Microsoft Intune.
Fix changing International Mobile Subscriber Identity (IMSI) ranges for certain mobile providers.
Fixed an issue affecting Windows Firewall. The firewall dropped all connections to the IP address of a captive portal. This occurred when choosing the Captive Portal Addresses option.
Fixed a bug that affected Azure Active Directory (Azure AD) joined devices. Windows Firewall could not apply the correct domain and profile for them.
Addressed issue affecting Windows Defender Application Control (WDAC) signed policies. They were not applied to Secure Kernel. This occurred when enabling Secure Boot.
Fixed a bug that could affect a major reparse point. The administrator could experience a stop error when using NTFS to access it. This issue occurred after a canceled FSCTL Set operation changed the reparse tag.
Fixed a known issue affecting some speech recognition apps. They had sporadic problems with speech recognition, expressive input, and handwriting. This occurred when the display language was Chinese or Japanese. The apps didn't recognize certain words. They didn't receive any speech recognition input or affected input types. It is likely that this issue occurred when applications used offline speech recognition. For application developers, this issue only affected speech recognition that uses SRGS (Speech Recognition Grammar Specification) in Windows.Media.SpeechRecognition . This issue did not affect other types of speech recognition.
How to download the update now
To get the performance improvements provided by the new Windows 10 update, follow these steps:
Step 01: Click on the Windows flag at the bottom left corner to open the start menu.
Step 02: Select the gear symbol in the left corner below the column.
Step 03: Scroll down and select "update & security".
Step 04: Select "check for updates".
Step 05: Select "Download" from available updates.
Manually download and install the KB5026435 update
You can download the KB5026435 update for Windows 10 (64-bit and 32-bit x86) manually here. After accessing the Microsoft Update catalog page, follow the steps below.
Step 01: When accessing the Microsoft Update catalog, there will be several updates available. You will need to locate the patch compatible with the KB5026435 update for the version of Windows 10 that is on your computer (20H2, 21H2 and 22H2).
Step 02: Select the "Download" button next to the Windows 10 version you want to download.
Step 03: Right click on the link and select "save as" to start the download.
1684939816
#Whats #KB5026435 #update #Windows