The"Political art" in which he distinguished himself in Russia staged him in a sacrificial way to challenge the Russian executive. Piotr Pavlenski, 35, has changed his tune. He is now at the center of a political shock, the first victim of which was the candidate La République en Marche (LRM) at the Paris City Hall, Benjamin Griveaux. He claims to be the sole creator of the site hosting the intimate video that caused the candidate's fall.
The conditions for the publication of these private images remain unclear. But by publishing this pornography excerpt (revenge porn, in English), on Wednesday 12 February, the artist who has taken refuge in France since 2017 gives the campaign for municipal elections airs of scandal in the American style or, even more, kompromat. This espionage technique, already practiced by the secret services at the time of the Union of Soviet Socialist Republics (USSR), involves the preparation of files "Incriminating" likely to harm a person in charge, even if it means staging his missteps by involving prostitutes or relatives.
Article reserved for our subscribers

Read also
The itinerary of the videos which pushed Benjamin Griveaux to give up the Paris City Hall
In France, such an invasion of privacy, involving images of a sexual nature, is a criminal offense and is punishable by two years' imprisonment and a fine of 60,000 euros.
"Suture", "Carcass" and "Fixation"
In Russia, from 2012 to 2015, Piotr Pavlenski distinguished himself by a succession of shock actions, often self-harm, with evocative names: Suture, Carcass, Fixation, Separation, Threat. In the first, he sews his lips in support of the Pussy Riot, condemned by the Russian courts; in the second, it is wrapped naked in barbed wire; in 2013, he nailed his scrotum in front of Lenin's mausoleum on Red Square; in 2014, he cut his ear in a psychiatric center.
Finally, in 2015, he set fire to the doors of the headquarters of the Russian secret services, the FSB, at the Lubyanka, in Moscow, to denounce a " power [qui] is maintained by terror ". This episode earned him seven months in pretrial detention and twenty-one days of psychiatric examination.
Article reserved for our subscribers

Read also
Piotr Pavlenski, on fire and blood
In December 2016, Piotr Pavlenski was charged with sexual violence against a young Russian actress, charges which he dismissed as a political conspiracy. With his partner, Oksana Chaliguina, and their two children, he took refuge in France the following year and obtained political asylum there.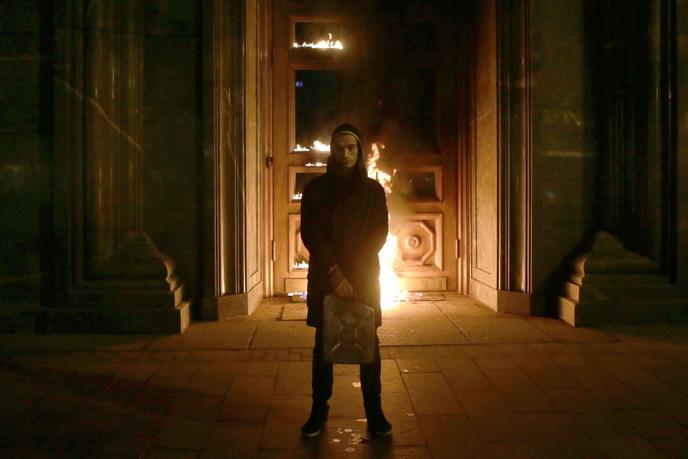 In October 2017, his new "performance", the fire at Place de la Bastille at the gates of a branch of the Banque de France, earned him eleven months of pretrial detention, a sentence of three years in prison, two of which were suspended.
Read also
Russian artist Pavlenski arrested in Paris for setting fire to Banque de France
"It will continue"
"If Pavlenski is radical, frightening and convulsive, it is to drive a corner into an almost perfect propaganda machine", justifies Michel Eltchaninoff, the forerunner of his book The Pavlenski Case. Politics as art, published by Louison editions in 2016.
The lawyer Juan Branco, adviser to Julian Assange and author of the anti-Macron indictment Dusk, at insured Friday at World and to the weekly Point to have been consulted as a lawyer by Mr. Pavlenski. "I understood that, for him, it was a political act, he said to the newspaper. In the same way that he opposed the Putin regime, he was ready to do anything to oppose the Macron regime, which he considers just as repressive. "
according to Mediapart Mr. Pavlenski is also suspected of having injured two people with a knife on December 31, 2019, during a private party organized precisely by Juan Branco in an apartment on boulevard Saint-Germain, in Paris. A judicial source confirmed to World that he was the subject of an investigation opened on 1st January for acts of violence.
Benjamin Griveaux's lawyer Richard Malka said on Friday that his client had asked him to"Prosecute any publication" who would not respect his privacy. Principal potential suspect, Piotr Pavlenski warned that the publications of his "New media" were just beginning. "Benjamin Griveaux is the first participant on this site. But this new medium has just opened. So this will continue ", he said in a recording broadcast by BFM-TV.