In the latest developments The incident of slapping French President Emmanuel Macron During a tour in the Drôme region in southeastern France, police said they found weapons and a copy of Adolf Hitler's Mein Kampf in the home of the second suspect, a friend of the assailant, who was arrested for filming the video of the incident, 28-year-old Arthur C.
As for the identity of the attacker on President Macron, French media reported that his name is Damien Taral, also 28 years old, and he follows a number of right-wing extremists on social media.
The sources indicated that Damien lives in Saint-Vallier (Drom) north of Valence, where he founded two associations specialized in martial arts.
One of those close to him expressed his surprise at the incident, saying that Damian is not a violent person and does not have a history of these actions, "It's not his style at all."
One of Arthur's neighbors explained that he always hung out with his friend in the neighbourhood, and they had never talked about politics or religion.
Macron on the slap: stupidity and violence
French President Emmanuel Macron commented on the slap he received during his visit to a small town in the southeast of the country, as he considered that such actions indicated stupidity and violence and had no place in democracy.
Macron said, "There is stupidity and when it is combined with violence it becomes unacceptable. I listen to anger, and it can be expressed in a democratic way. I always meet people to communicate and understand with them. People express their anger to me and sometimes their displeasure and I am always present. Sometimes I find the answer and sometimes not." I find it and I try to find it, sometimes I misunderstand and sometimes I get it right, this is legitimate anger and we will always be there to answer it, but stupidity and violence have no place in a democracy."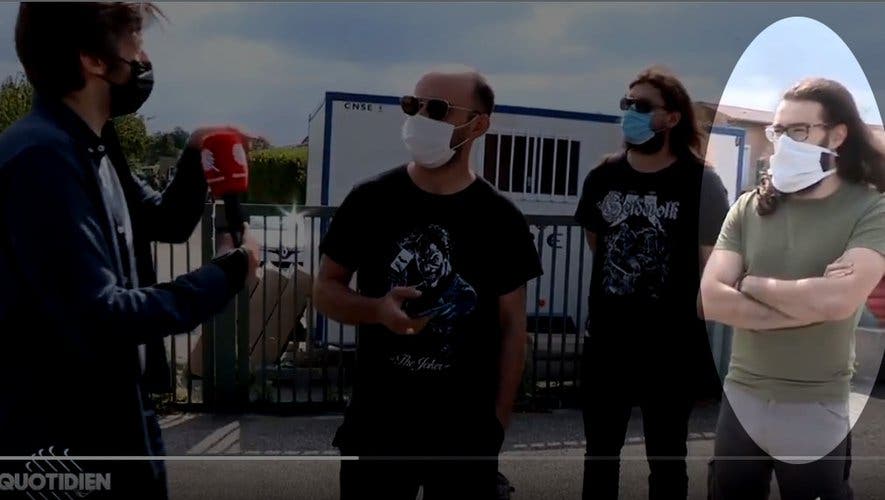 The aggressor 4 hours before the slapping incident is being interrogated with the press about the visit
A fine not exceeding 750 euros
The authorities arrested the two young men, and placed them in police custody for further investigation, according to what was announced by the Public Prosecutor in the municipality of Valence, where the accident occurred.
According to the public prosecutor, the two young men, Damian and Arthur, are facing charges of assaulting a person holding public authority in the country.
And the media reported that if the person slapped Macron, but the latter did not suffer any injury, he would be pursued for "light violence."
Article R624-1 of the Penal Code states that light violence results in a fourth-degree fine, the value of which cannot exceed 750 euros.
But if Macron's slap results in him being unable to work for less than eight days, the offender will face 3 years in prison and a fine of 45,000 euros.
This law applies to any attacker who assaulted a person holding public authority in the country.
And local media considered that it was practically not certain that the suspect would face such severe punishment.
In a similar incident, a young French Prime Minister at the time, Manuel Valls, was slapped in 2017, and was sentenced to a 3-month suspended prison sentence and 105 hours of community service.
.