Now linked to General Motors, Nikola is in turmoil after a damning report insisting the automaker was built on lies. There is in particular this video, which made believe that its electric truck was functional, whereas it did not really drive by itself. Nikola assumes.
What would Nikola have become without General Motors ? The startup that wanted to become Tesla's great rival is now in turmoil. On September 10, the Hindenburg Research firm published a damning report. According to him, Nikola would have been built on lies and false promises. One of the best pieces of evidence comes from a video released on January 25, 2018 in which the Nikola One electric truck could be seen driving by itself. In reality, it was not driving at all: it had been launched onto the sloping road and allowed to pick up speed.
September 14, Nikola replied to Hindenburg Research, which he accuses of defamation in order to manipulate the financial markets (and to enrich speculators who bet on short-selling). In his press release, the manufacturer however assumes more or less this false advertising: it confirms that the vehicle was not driven thanks to its own powertrain but affirms to have never said that it was the case.
https://www.youtube.com/watch?v=IAToxJ9CGb8
Nikola accepts his false publicity with a good dose of bad faith
From the title of the video, we can see that Nikola plays with words. It is written " Nikola One electric truck in motion ", and not " rolling ». This is the main line of defense of the company, which explains: « This video of a prototype, dated three years ago, is irrelevant, except for speculators who want to use it as the main argument. »
Except that dn a tweet published in 2016, Nikola claimed in black and white that the prototype of the One was " functional – two years before the famous video. In short, communication is murky.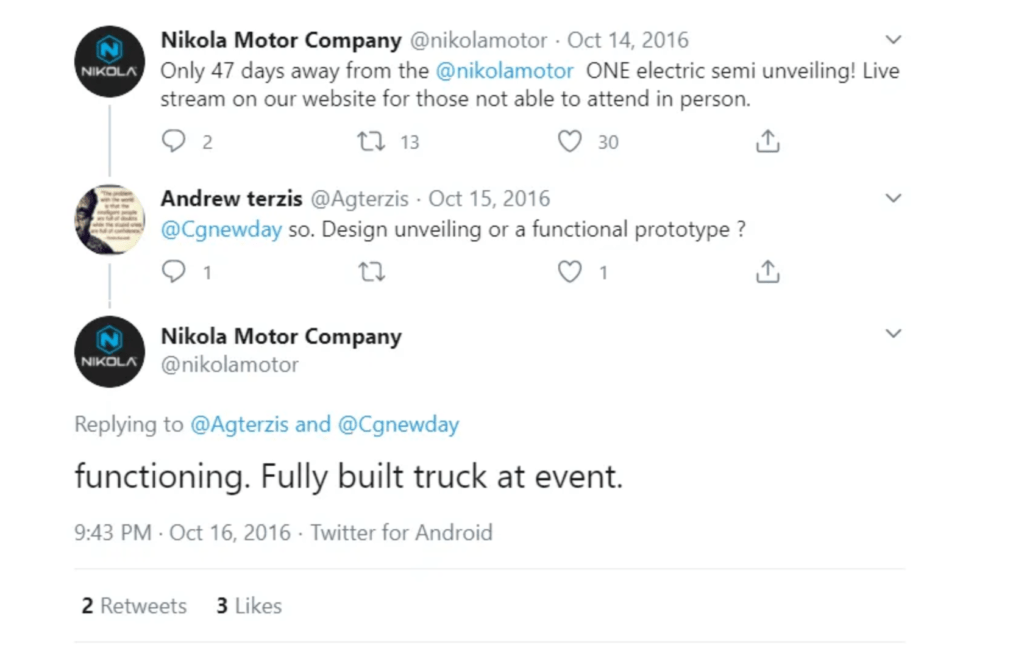 Back then, to make the illusion work, Nikola simply dropped her heavyweight from the top of a hill – physical laws taking care of the rest. Hindenburg Research went to the filming location to verify this: by releasing an SUV in neutral, the vehicle reached a speed of 90 km / h and was able to cover a distance of more than 3 kilometers. Nikola used this false advertisement to highlight the benefits of its technology in terms of range (between 800 and 1,600 kilometers in a single charge).
Nikola is forced to defend himself in the face of the well-informed investigation by Hindenburg Research, which peeled through several years of supposed "truth settlements" linked to founder Trevor Milton (long before Nikola's founding). Was it all just window dressing? In any case, it turns out that Nikola will eventually use the know-how of General Motors to produce his vehicles (starting with his pickup). A few months ago he was still promising a revolutionary battery.
Today, everything suggests that, without the merger with General Motors, Nikola would have joined the cemetery of over-ambitious startups.
The continuation in video