The overpressure of Booba's Insta account made people happy
It's the thunderclap of this week in the rap game, very active on Instagram to promote his various projects, comment on current events, share moments of his private life with his children or even clash with others. rappers, Booba has permanently lost his account on the social network.
Gims and Rohff satisfied with this decision
Booba ignored the warnings of the social network against him and had continued to launch attacks on Instagram against other artists, after having jumped for the first time with the loss of more than 4 million followers in January following the broadcast of a intimate video of Fianso, this time the decision to ban him is irrevocable.
The protected repetition clashes caused Instagram to react, which decided to sanction B2O, parodies, mockery, insults that violate the rules of the community, the social network has therefore again suspended its account by deleting all the publications before a spokesperson does not confirm that this time the decision is irrevocable, the rapper will not be able to come back by creating a new account.
The misfortune of some makes the happiness of others, Gims was the first to react by posting the message "Game Over" in his story a few minutes after the suspension of the B2O account, a message also shared by his wife Demdem, followed by one of his former enemies the rapper Dam16 with whom he had fought, this one commented on Instagram, "Good luck" to show his satisfaction following this decision.
Meugui and his partner Demdem then posted a photo of a simmering dish with the comment caption "Victory meal", the reaction of Rohff was also not long in coming, after having multiplied the provocations against B2O for several weeks, he also took the opportunity to celebrate this event by posting an image with a face having a cord around the neck that goes from the nose with the message, "We will miss you Elie… I was starting to have fun it's already over. End of the game #Pointer ".
While waiting for new information on his next album Ultra, for its part the DUC reacted by making its return to Twitter and again attacked Housni in several publications to make fun of him or by broadcasting an old video of Gims' wife before being in a relationship with this last with Rohff.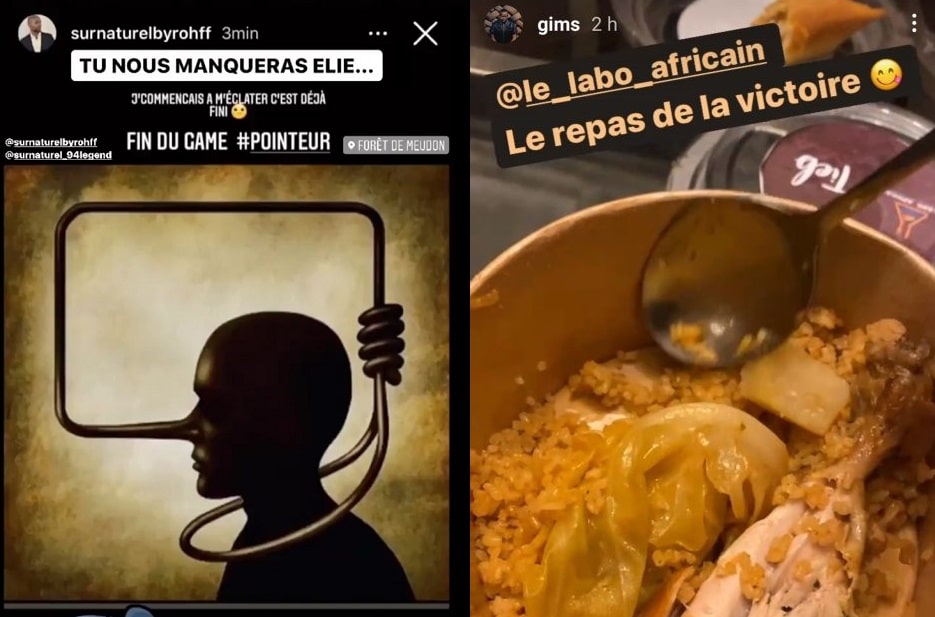 .