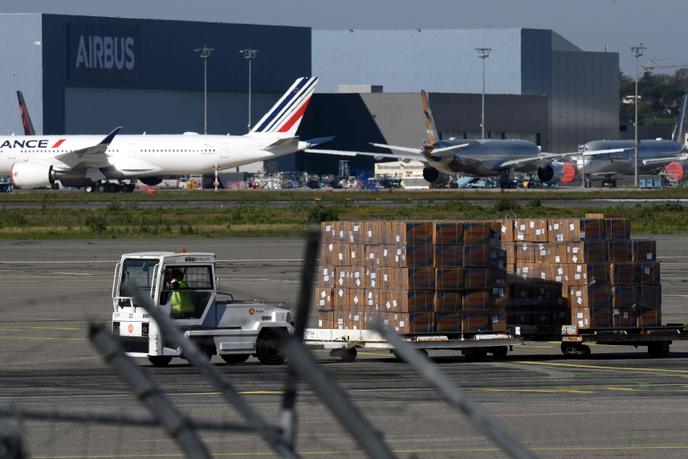 "Everyone orders masks, but no one wants to say it for fear of seeing them requisitioned by the state. " President (Les Républicains, LR) of the Provence-Alpes-Côte d'Azur region and of the Régions de France association, Renaud Muselier sums up in his own way the ubiquitous situation surrounding the arrival of health protection masks bought by communities and essential elements in the fight against Covid-19.
The "Mask war", as interior minister Christophe Castaner named it, started on April 2 on the tarmac at Basel-Mulhouse airport (Haut-Rhin). Then it ignited three days later in the same place, when the soldiers of the 516e and 511e train regiments came to seize manu militari four million health protection masks, including those ordered by the Bourgogne-Franche-Comté region and the Bouches-du-Rhône department.
Also read:
The whole planet is looking to buy protective masks in China
The conflict was, Thursday, April 9, on the menu of the videoconference bringing together, in particular, the presidents of the three major associations of local elected representatives – town halls, departments and regions -, the Minister of Health, Olivier Véran, his colleague for cohesion between the territories, Jacqueline Gourault, and M. Castaner. A teleconference in which the government recognized "An inappropriate method" and promised communities to stop serving without warning in their orders.
Article reserved for our subscribers

Read also
For Christophe Castaner, the requisition by the State of masks intended for the regions is "inadmissible"
"No question of a mask war"
On the front line of the dispute, the President (PS) of Bourgogne-Franche-Comté, Marie-Guite Dufay, was called by a counselor from the Elysée on Wednesday. "He told me it was all unwelcome and awkward", says the chosen one. At the same time, challenged during the session of topical questions in the Senate by Jérôme Durain (PS, Saône-et-Loire), Christophe Castaner took his distance. "There is no question of a mask war between communities and the state", he assured her.
Thursday, heard at the National Assembly, the Minister of the Interior was even more explicit: "The method was wrong, I recalled all of this (…) to the prefects by expressly saying that it was a method that I found inappropriate, because it was not in accordance with the spirit in which we must work with local communities. " A few hours later, he made the same speech to the representatives of local elected officials. "He promised it would never happen again. I tend to trust him ", assures Renaud Muselier, who however regrets "That there is no clear doctrine on the management of the arrival of masks" did not leave the meeting.