You haven't been so happy for a long time after trying…
The last time I shouted like this was probably in Belgrade, which was my opener for the world of great athletics. Now I was fourth before that attempt, and the coach would probably kill me if I finished fourth for the third time in a row. (after the World Championships in London and the European Championships in Berlin). I don't even deserve that.
But it has not been won yet, even though the TV camera was with you as the leader for the rest of the competition.
I tried not to notice her, even though I had chased her away once. I tried to rest after the celebrations so I could prepare for another attempt.
In the end, none of your opponents could react anymore, did you watch the last attempt of the Pole Haratyk?
I was also afraid of Croatian Mihaljevic, but I preferred not to watch. I just hoped and prayed that no one would get in front of me.
From whom did the Czech flag land for you to celebrate?
I don't know who had it ready, but the coach from the stands threw it at me. Pavel Maslák told the head coach to prepare the flag before going to the semifinals.
How high do you bet this gold? You have been at the top of the ball for several years, only the most valuable metal has escaped you.
It's a huge difference. There is only one winner and I am glad that I moved my best performance to the top event. This is respectable in this state, I must thank the physiotherapists and Dr. Barn, who treated me in Prague. I kept going around for training, to see a physiotherapist and home, but I thought it was a necessary carousel, and if I worked hard for so long, it must have a good end.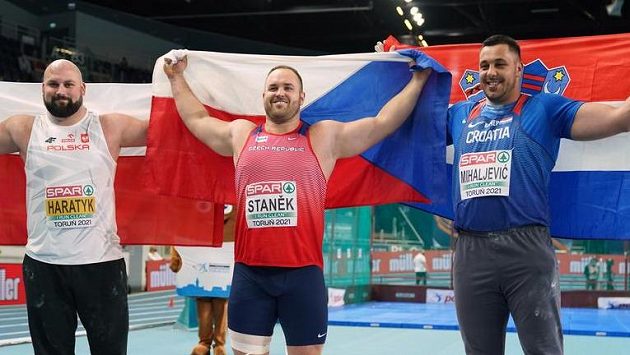 Tomáš Staněk won the bowling competition and is the indoor European champion
Aleksandra Szmigiel, Reuters
Did you believe in him even two weeks ago, when you got a thigh injury?
I have two such stupid injuries. First, the "kicking" muscle that gives the turn speed. I had to be careful not to kick my leg out too soon, I had the whole thigh taped. I still have a cracked hinged case on my index finger, but before that fifth attempt, I said to myself that I would just start it and I couldn't be fourth. I didn't even expect it to fly that far.
What will be the celebration under the current measures?
Here I will celebrate it symbolically and epidemiologically. I still have to have the stick drilled in my head again for the test and we're leaving tomorrow. But in the morning I'm looking forward to listening to the anthem after fifteen years of doing athletics, maybe I won't cry… And the celebration will probably take place at home.
The journey home can probably be fun, your training colleague from Petr Stehlík's group Markéta Červenková advanced to the finals for the first time in her career in Toruń…
The coach is seldom satisfied, but now I think he will. Markéta raced well, she got a person here, I improved my performance at a big event, so maybe I won't get scolded. (smile)
You already have four medals from top indoor events, where do you exhibit them at home?
When I got the first one, my mother tasked me with buying a showcase, that it would not be the last one. So I have a display case, some rewards and trophies I respect at the bottom, and medals at the top. This one will be the highest, even higher than the bronze from the World Indoor Championships.
After a short rest, preparations for the summer Olympic season will begin, but traveling to a traditional destination in South Africa is now difficult. What's your plan?
We applied for an exemption at the ministry through the Center and the Olympic Committee. We have a flight in a week, but we didn't know how it would be. Only here after the qualification did the coach say that they confirmed our exception, which I am excited about. Rand went down, the meat will be cheap. (smile) Kuba Vadlejch also wrote that he is already looking forward to us, so we will work there as a large group and try to stay healthy.
.