Apparently Rihanna meant what she was saying when she sang."'you can stand under my umbrella You can stand under my umbrella." On a rainy night, the 33-year-old singer's bodyguard literally detailed the lyrics, as the guard was seen carrying Rihanna, who hid under the "umbrella", to keep her protected from the drizzle of rainwater in New York City. .
Rihanna's bodyguard protects her from the rain
On that evening, the nine Grammy Award-winning singer wore an elegant miniskirt from Junya Watanabe Over camouflage pants and heels, she completed her adorable ensemble with a pair of red sunglasses, a silver necklace and a black and white plaid handbag.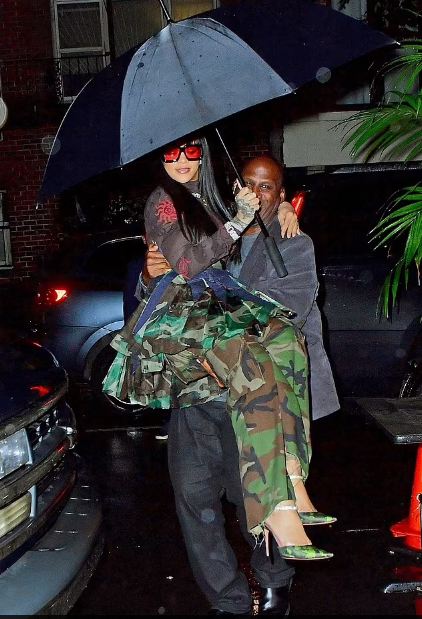 Rihanna's bodyguard carries her under the umbrella
Rihanna's appearance comes just days after she acknowledged her success in the music industry, as well as her brands Fenty For fashion and beauty, the international star, Rihanna, recently became the latest billionaire in the artistic community, after achieving her brand Fenty Beauty Huge marketing value during the recent period, after it was launched in a year 2017.
According to a report published by the international newspaper Forbes, Rihanna's fortune has now reached 1.7 billion dollars, making her the richest singer in the world, and second only to Oprah Winfrey, and the musician was not the main reason for her wealth, but her global brand Fenty Beauty are the main reason that worth 1.4 billion dollars, and it owns 50% From the value of the company in addition to the underwear company Savage x Fentyvalued at approximately $270 million.
Born in Barbados, Rihanna has 101 million followers on Instagram and 102.5 million on Twitter, which has allowed her to build a global brand. She is the most successful beauty entrepreneur.
.