COVID-19 :
The campaign of Vaccination against the SARS-CoV-2 virus, responsible for Covid-19. And while health workers and the elderly are already getting vaccinated, new questions arise as to who should get vaccinated. In a special way special attention is paid to pregnant and lactating women, for those of us who cannot say that there is data capable of providing definitive information on the risks or not of this vaccine, so it won't hurt make a brief review of what is known so far and what the relevant bodies have expressed.
Covid-19 vaccine Can it affect pregnancy or breastfeeding?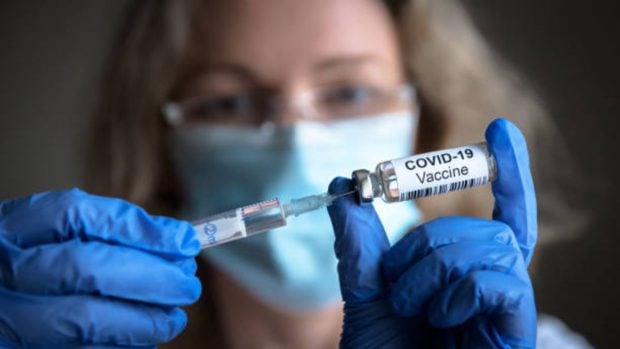 At the end of December 2020, it was at this time that the Spanish population began to be vaccinated. When the Pfizer vaccine doses are applied of which according to previous information, has not been sufficiently tested on specific cases such as pregnant and lactating women.
However in all cases, studies come so far have not shown or suggested any biological mechanisms that may involve mRNA vaccines like that of Pfizer (and also that of Moderna which will soon begin to be applied in Spain), with adverse effects on pregnancy and laboratory evidence in animals suggests no risk of vaccination, therefore once vaccination has started in all sectors of the population, it will depend on each case and for pregnant and breastfeeding women who wish to be vaccinated, you should consult your doctor to decide whether to get vaccinated or not.
In short, we can as we say, hgive an opinion on what is better or not in both pregnancy and breastfeeding, although Covid-19 may also pose a risk to these women.
Can I get vaccinated if I am pregnant?
As we say so much, the WHO, as an international organization as well as Ministry of Health and the European Medicines Agency, recommend that before vaccinating a pregnant woman, it should be discussed "on a case-by-case basis" with the healthcare professional, so that he can individually assess the possible benefits or risks.
On the other hand, the Spanish Agency for Medicines and Health Products (AEMPS) answers in a question and answer document on Comirnaty which is the mRNA vaccine against COVID-19 developed by Pfizer / BioNtech which laboratory studies in animal models have not produced negative results, although these should be taken with caution, although the information on the risks during pregnancy are currently limited, while it turns out non-existent in the case of breastfeeding.
In all cases, the same document explains that the lack of evidence is "common" in both groups since "clinical experimentation in these cases begins when efficacy and safety have already been confirmed in other groups" .
Regarding the Autonomous communities, some of them have their own guidelines, although all agree that pregnant women will not be vaccinated early and in which case it will depend on each case, and that these should also be evaluated by a healthcare professional.
Despite this, we already know for example that Catalonia highly recommend does not recommend pregnant women, while in Madrid it is only possible to vaccinate if the woman belongs to a risk group (and always under a prior doctor's evaluation). It is also known that Andalusia and Asturias, the vaccine will only be "studied" in "special cases" when there is "a strong community transmission, an unavoidable risk of exposure (such as health workers) or a high risk of serious disease".
In this way, we can conclude that the vaccine against Covid-19 is not considered a "priority" in pregnant women since, moreover, in the majority of cases of pregnant women victims of coronavirus, the disease has passed asymptomatically. This is not the case in complicated cases or if the woman belongs to a risk group.
What if I am pregnant and belong to a risk group?
As we have already said, it will be a question of analyzing each case in detail to know the benefits or the risks that the vaccine can have with regard to the pregnancy if it concerns a woman belonging to a group at risk, although there are statements from the American Committee on Practices. (ACIP / CDC), who comment on the following: "Pregnant women and those who are breastfeeding their infants and who belong to established risk groups can choose between delaying vaccination until more information is available or agreeing to be vaccinated ". Considering also that the vaccine should not pose any risk or danger despite the fact that there is still not much information, which is also expressed, among others, by the American College of Obstetrics and Gynecology and US Academy of Breastfeeding Medicine. United States
Can I get vaccinated if I am breastfeeding?
In women who breastfeed their babies, the case is almost the same as that of pregnant women. In fact both the ministry of health, as good as Spanish Medicines Agency, they do not view the vaccine as a 'risk', although they explain the above very clearly:
"The decision to use the vaccine in women Pregnant or during lactation maternal should be done with the evaluation of a healthcare professional individually assess the benefits and risks according to each case.
Regarding what the Autonomous Communities have announced, Asturias and Andalusia do not exclude vaccination of nursing mothers as long as they have an rhigh risk against COVID, more Catalonia, on the other hand, advises against vaccination at any time during pregnancy and lactation. As for the Community of Madrid did not issue any recommendations up to date.
On another side, the specialized site e-Lactancia, rperformed by breastfeeding professionals, they do not consider that there are any risks with the vaccine against Covid-19, although they consider that although no study proves it (since breastfeeding women have been excluded of all the trials conducted), they consider it highly "unlikely" that the vaccine components will pass into breast milk, if the mother is vaccinated, and if so, they would become "digested in the breast milk. infant intestine "therefore,"It seems reasonable to think that if the virus is compatible with breastfeeding, the vaccine will be even more so since it does not even contain the live virus ".
He also points out that because of this Breast-feeding women should not be excluded from the vaccine when they are part of a risk group.
What if we are breastfeeding and belong to a risk group?
This way, if you belong to a risk group and are also breast-feeding, the woman should have a choice of vaccine, although, as in previous cases, it should be assessed individually and always as directed by the healthcare professional.
What if I plan to become pregnant? Can i get vaccinated
It has recently been learned that some health workers and caregivers working in retirement homes have decided not to be vaccinated to avoid the risks of pregnancy during pregnancy, despite the fact that at present it does not There would be no clear evidence that this is the case. Either way, some communities do not advise against not administering the vaccine, but specify something very specific. In reality, Navarre, Catalonia and Andalusia recommend that two months elapse between the administration of the second dose of the vaccine and the start of pregnancy, while The Spanish Pediatric Association's Vaccine Advisory Committee recommends waiting at least a month between vaccine administration and early pregnancy.