Game news Dead Space Remake: a new presentation is approaching, the date announced with a strange message
Like the dark and frightening license they aim to bring back to life on next-gen consoles, EA Motive developers are playing it cryptic with a short excerpt announcing an imminent new presentation of the title. To discover the subject, they invite you to lend an ear!
Summary
Dead Space, lurking in the shadows

If you listen…
Dead Space, lurking in the shadows
It has now been many weeks since the remake of Dead Space disappeared from radar screens. After its formalization during the last third of July 2021, EA Motive's new title logically found itself in the spotlight, which allowed us to learn more about it and about what would change compared to the original part. Today, many believe that the title could arrive during the fall of 2022even if the developers remain evasive on this subject.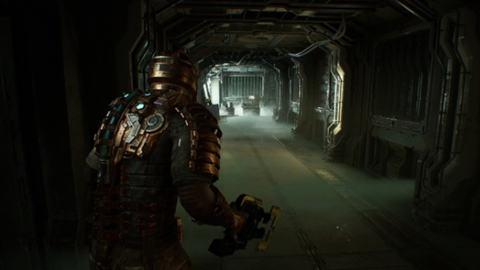 While waiting to provide concrete information regarding the release window, or the target date, the developers do not hesitate to express themselves on this project. through interviews or of livestreams. It would seem that the teams particularly appreciate this format since a new event is approaching but, to discover the theme, the developers are asking you to contribute.
If you listen…
In their previous communication, the EA Motive teams had been clear: see you in 2022 for new announcements on the game, when the development would be more advanced. If we learned some details about the developmentbesides that, this new presentation was starting to be long overdue.
Indeed, if we could have forgotten the remake of Dead Space over the last few weeks, due to the news and the releases that follow one another, this one was waiting for the right moment to emerge from the shadows and scared the hell out of us. According to a cryptic message from the developers, it's time for the remake of Dead Space to afford a new spotlight, although he is used to dark and sticky sets.
So what are the developers preparing for us? If they invite us to listen, it is most certainly to evoke the sound design of this remake: an essential component which is at the very heart of the horrific aspect of the game.. In the shoes of engineer Isaac Clarke, the game sent us to hunt down necromorphs who took pleasure in surprising us in the dark or raising our heart rate with loud noises that were not very reassuring.
To find out if this is indeed a presentation retracing the sound work carried out by the EA Motive teams, they will meet you on March 11 on their YouTube channel from 7 p.m. French time. As a reminder, the remake of Dead Space is expected on PC, PS5 and Xbox Series X|S at a date still unknown.

By JinxebWriting jeuxvideo.com
MP