Last exclusive to the PlayStation 4 before the launch of its big sister the PS5 this month, Ghost of Tsushima has won over players with its gameplay, its scenario and its atmosphere of feudal Japan. The title of Sucker Punch with en scene Jin Sakai, who will be entitled to a beautiful figurine signed Good Smile Company.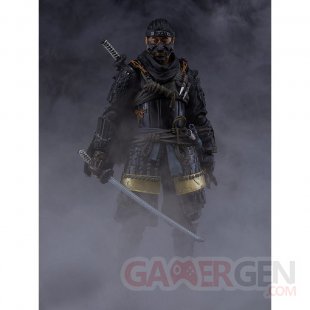 This figurine of Jin Sakai, measuring 15.5 cm will be part of the range Figma, with the possibility of making the hero of Ghost of Tsushima, which will come with a plinth and various accessories, such as three sabers, a bow and arrow, a cloth cape, five pairs of hands and two heads, one of which has the famous face mask.
The figurine Figma from Jin Sakai is already available on the site of Good Smile Company priced at ¥ 10,000 (€ 80, excluding taxes) and will arrive in August 2021. Ghost of Tsushima is sold € 44.99 on Amazon.fr.
Read also: Ghost of Tsushima TEST: like day and night …

Writer – Tester
Amaury M. / Clint008
Explorer of more or less noisy music, collector of caps and vinyls, venerator of Blade Runner and Deus Ex. I like zombies and Cthulhu.

Follow me

:
.