Fatma Hanım and Mustafa Erdogan couple, who are married for 21 years in Bucak district, started to live separately a year ago due to disagreements between them.
Fatma Hanım Erdoğan decided to divorce her husband and filed a lawsuit. Mustafa Erdogan did not want to divorce his wife and went to the house where Fatma Hanim Erdogan lived several times while the lawsuit was ongoing.
Upon this, with the complaint of Fatma Hanım Erdogan, a decision was made to remove Mustafa Erdogan from home.
Mustafa Erdogan continued to attempt to make peace. Today, the father of 2 children, Mustafa Erdogan, came in a banner hung by Fatma Hanim Erdogan in front of the bijouterie shop on Oguzhan Ahmet Yesevi Street in order to make peace with her husband due to 14 February Valentine's Day.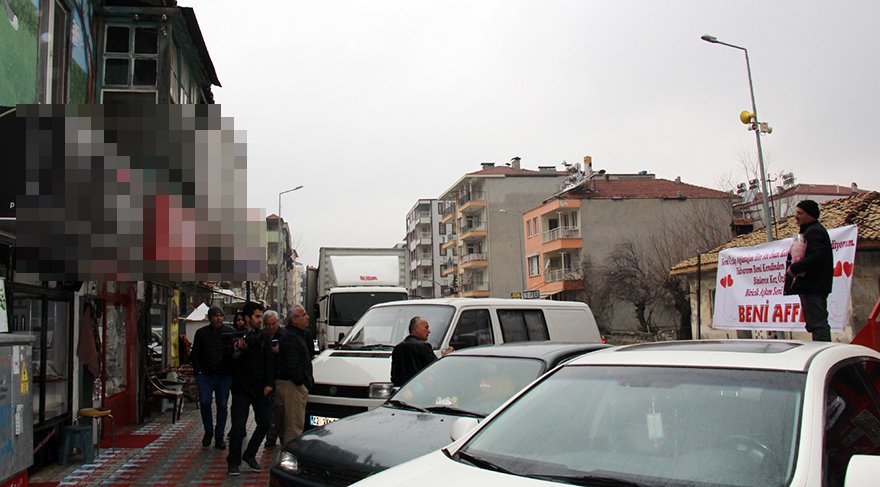 Hanging on the hammer 'I made you sad and cry, I always hate myself. I beg you don't deprive me of yourself. Sorry a thousand times. My only love, I love you so much. Mustafa Erdogan, who parked the banner in front of the shop saying "Forgive me," asked him to take a bouquet of flowers and get out of Fatma Erdogan.
Mustafa Erdogan, to get his wife out of work, "My love, forgive me, I apologize. Let's make our children peace, and our home should not be destroyed. What happens to the sake of today? " Fatma Hanım Erdogan left the workplace and called the police.
"IF THIS WANTS YOU CAN TAKE A CLAMP ON ME"
The police, who came to the scene after the complaint, asked Mustafa Erdogan to leave the region with his hammer. Mustafa Erdogan, "I brought him flowers, if he wants, you can have me handcuffed. After accepting my apology and staying here until I reconciled, the police started persuasion studies.
Speaking with Mustafa Erdoğan for a long time, the police teams eventually managed to convince. Erdogan got off the hammer and left the flower in his hand on the chair in front of his wife's workplace. Speaking to his wife next to the police vehicle, Mustafa Erdogan said, "Forgive me, please."
"I LIVE FOR MY WIFE AND CHILDREN"
Mustafa Erdogan said that he transferred all his assets, even the inheritance that he had from his father, to his wife, and that he lived on the streets because he had no place to stay, he used the following statements;
* I applied everywhere, not to leave my wife and children. Nobody was interested. The last resort I thought to open a banner to forgive myself on February 14, Valentine's Day.
* I have nothing else to do other than that. I am dedicated to my life with my two children and my wife. I want to spend the rest of my life with them. I have been trying to reconcile for a year.
* I poured all of my wealth into them, and I opened this job with a pension. I love him very much, there is a promise I made when I got married, I said I dedicated my life to you until I died, I am still in my word but he left me.
Mustafa Erdogan was later taken to the district police headquarters. DHA
.