San Lorenzo already has a new central steering wheel. At last! After several days of delay, Yeison gordillo He arrived in the country this Thursday morning, passed the medical examination and then signed his contract with the Cyclone for three seasons. With all the papers in order, the club officially presented him in the press room of the New Gasometer.
"It is very nice to be here, a unique moment in my career. A huge effort was made and I value that very much. I know what San Lorenzo is, what its fans and each of the players out there represent. I was very interested in it from the beginning. The president and the coaching staff have been very aware of me and I liked that a lot ", was the explanation about why he opted for the Cyclone.
Although he also assured that he can move like a double five, when asked about his characteristics, he described: "I love to play as 5. I am a player who does not give up any ball for lost, who is always organized, who lives football as it is lived in Argentina, that is why it was one of my dreams to reach this league. With that desire that represents being the 5th or the brand midfielder in the teams ".
Looking for references in his position, he said: "I liked Mascherano a lot when he played 5 but I am a different player, who always contributes, who likes to help his teammates on the field, who likes to relieve. I always try to improve. I come to a group of hierarchy, experience and great ability. I come to contribute and learn from them ".
When adapting to a new football after leaving Colombia for the first time, he indicated: "Soccer is the same everywhere, although obviously in Argentina people live differently, it is faster, with a lot of shock and a lot of attitude. We hope to adapt as quickly as possible to what the coach wants and that everything goes very well ".
"I am very calm. My career has been very good. In all the teams that I have always been, I leave a mark and that is my idea: to come to San Lorenzo to mark a story, to get into the hearts of the fans, from each one of my teammates and to contribute as much as possible to the coaching staff ", declared the 28-year-old player regarding the objectives in this new challenge.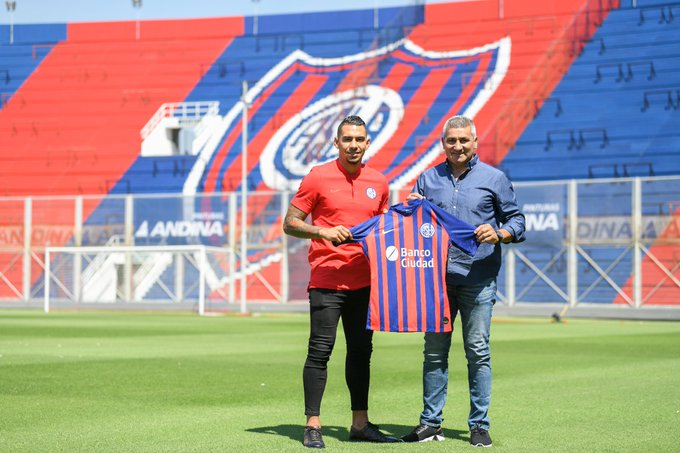 Although he was training the last days with Deportes Tolima, his former club, it is possible that he is not part of the team to play against Central Córdoba and he just debuted on Saturday, March 6 against Hurricane. In this sense, he said: "We know that all games are difficult. This team has to play a final against each rival but a classic motivates much more".