I think that the problem in the reaction is precisely the lack of information and understanding – who I am, how we can develop and move – and, perhaps, in some misconceptions of individual representatives of the editorial board regarding the fate and format of the publication. They wrote a lot that I have plans for some serious editorial reforms. I am not going to interfere in the editorial process. I like Vedomosti. I fell in love with Vedomosti back in those years when dogma (an internal document defining editorial policy. – RBC) was written, and I consider it an example of a professionally written set of rules, I honor them. Moreover, I plan to act as the main guardian of the dogma. I studied it carefully – this is an excellent document for a reputable business newspaper.
Another thing, let's be honest, this document was written at a time when Vedomosti was headed by Leonid Bershidsky, and it was another newspaper. Time leaves nothing unchanged, and Vedomosti, in my opinion, has also changed. It is important for us that the team, which is now defending dogma, has a sober look at its activities, policies, and approach to the reader.
– You are so hinting that the Vedomosti themselves violate the dogma?
– I'm not saying that it's crucial, but now it's time to look at ourselves from the side and compare what the publication is doing now with the original source. Dogma, once again, I fully support it – we will keep and cherish it. And I will, for my part, because of my capabilities, without abusing my influence and rights, but I would like those Vedomosti, which will be developed in my hands, to be those Vedomosti that I love. So that it is an applied tool for business in the world of business information, a navigator for business, and not only large, but also medium, small.
I don't think that today's rhetoric of communication with the reader – and I would call it the rhetoric of a street manifesto – is the rhetoric inherent in the original Vedomosti.
– By "street rhetoric" you mean editorial appeals (over the past few months, during negotiations about changing the owner of the publication and changing the editor-in-chief, the editorial office has published editorial articles about the events several times. – RBC)?
– I am absolutely calm about criticizing the owner – this is part of the culture of dogma – and I am opposed to being treated individually: please, at least write, criticize, correct every day, I'm not going to fix the obstacles now or then. But let's remember: we are not writing for the small editors, our task is to provide information to the audience. So let's think about the audience, we'll understand that it's not only within the Garden Ring and it's not only journalists, political scientists, politicians who, with pleasure in the evenings, discuss passages written on abstract topics in a beautiful language inherent to Vedomosti journalists. Of course, not all materials are. But when I see that the journalism of "Vedomosti" is transformed from "journalism of facts" to "journalism of emotions and assessments", then I feel sad.
– This is the opinion of the editors.
– But this is not the opinion of individual authors, but the editorial staff and is perceived in any case as a manifesto. Nothing wrong. Today we will communicate with the editors, and I hope that the meeting will relieve them of some fears. Our common task is not to play backstage games and realize the ambitions of individual publication employees, but to develop a product beloved by everyone.
In March 2020, 372.4 thousand Russians on average visited the Vedomosti.ru website from desktops and mobile devices or into a mobile application.
157.7 thousand residents of large cities over 16 years old were the average audience of one issue of the newspaper Vedomosti in September 2019 – February 2020.
According to the version of Medialogy, 1,142 points made up the citation index of Vedomosti in April 2020, which corresponded to fourth place in the top ten most cited Russian newspapers.
48.45 million rubles. was the net loss under RAS of JSC Business News Media, the publishing company of Vedomosti, in 2019, with revenue of 850 million rubles.
Sources: Mediascope, Medialogy, SPARK
"I still do not have data on the financial performance of the publication"
– When and from whom did you receive an offer to enter into this deal?
– For a long time, as a spectator, I looked at how the situation is unfolding with the preparation by Konstantin Zyatkov and Alexei Golubovich of a deal to purchase Business News Media. When Alex decided to exit the deal, Konstantin suggested that I join the project and the option was discussed that we would be partners. But we consulted and decided that it would be better if there was one owner. And, frankly, with all due respect to Konstantin and other potential partners, I'm used to working when there is an understandable developed strategy, usually by my team. And for me it was the most effective way.
– There was a version that Zyatkov was your cover.
– What purpose? I think that this is all speculation that is spread by interested socio-political figures or zealous journalists. Konstantin had his own strategy – he calculated it taking into account another economic situation, taking into account other obligations and conditions on the part of the partner (Alexei Golubovich). The situation has really changed.
– How much did you buy Business News Media? The previous owner – the family of Demyan Kudryavtsev – in 2015, Vedomosti, taking into account other media assets, cost € 13 million.
– I can not disclose the parameters of the transaction. I can only say that the package was bought for a decent amount, the debts of the publication were redeemed and partially restructured.
– What kind of debt are we talking about? About the debt from RRDB, which even became the reason for the joint investigation of The Bell, Medusa, Forbes and Vedomosti?
"I don't know what debt you are talking about." There were several debts – I bought them at a discount. In addition, I contributed a certain amount of money to pay off the current operating debts of the publication, so that the editors could quietly develop over the next few months.
By the transaction, we ensured a stable position of the publication and received the time necessary for us to study the financial performance of the publication as a whole. I will tell you honestly: I still do not have data on either the number of employees or the financial indicators of the publication.
– But how did you then buy? Just not looking paid for the brand?
– I had a certificate prepared by my lawyers. My appointed head of the management company, Mikhail Nelyubin, will have to accept matters, and we will begin to study the situation. And already to the board of directors we will decide further – about the position of the general director, chief editor and, possibly, determine the basic outline of the development strategy. We are now starting to work on it, preparing studies.
– Did you use your own or borrowed funds for the transaction?
– The funds were my own. In my business, I regularly attract borrowed funds from my partners, bank loans. But in this case, the project itself – the purchase of Vedomosti – I did not take any loans or borrowed funds from any organizations or banks. I have debts to my partners, but they have nothing to do with the Vedomosti transaction.
I did not involve the publication of financial partners for the purchase for two reasons. Firstly, I would not want to risk their means, because I still do not fully know the situation in the publication. Secondly, [учитывая] the current stage, when the publication is not in the best economic form, we are going through a difficult period of a pandemic, a change in consumer demand and motivation. First, we will put the publication at the level of the best publications in the country, including from a financial and economic point of view, and then we will talk with some partners and investors, but with different conditions – in more powerful positions.
Photo: Sergey Fadeichev / TASS

In mid-March, it became known that the investors of Vedomosti – Demyan Kudryavtsev, Vladimir Voronov and Martin Pompadour – agreed to sell the publication to the managing director of Arbat Capital Alexey Golubovich and the general director of Our Edition publishing house Konstantin Zyatkov. A few days later, the acting Vedomosti's chief editor was Andrey Shmarov, one of the founders of the Expert holding. But a conflict broke out between the new media manager and the editors because of a "crisis of confidence". In late April, Golubovich came out of the deal, and last week – Zyatkov. The owner became the structure of Ivan Eremin.
– Will you bring all your media assets into one holding?
– I'm not going to combine my media assets. An excellent publication – FederalPress – with its own history, collective, it has its own mission. It will continue to develop and maintain its uniqueness. I am proud of this publication, since for many years, starting our career with a journalist of the Ekaterinburg publications, we have created a federal holding. This is a great pride for me.
Some of my other regional resources, for example, the news agency UralPolit.Ru, are now in the pre-sale process. By the way, I feel confident in the deal with Vedomosti, because I understand how much in the near future I will receive from the sale of this regional publication.
– And which one?
– In 2010, the Ura.ru project was sold for € 5 million. I will have less.
"No need to shy away from ordinary contracts"
– You said that you are proud and share the values ​​of the dogma of Vedomosti. And does FederalPress, as an editorial product, correspond to dogma?
– We have our own analogue of dogma, it was created in 2003. When I read the Vedomosti dogma, I was pleasantly surprised that most of the standards are the same. But once again I emphasize – these are two different publications. I'm not going to make FederalPress out of Vedomosti and vice versa. These are two media products with different formats and histories. I have no desire to come with my charter to the new monastery – "Vedomosti" – and to impose something there.
– Could a commercial material appear in FederalPress without indicating that it is advertising?
– I have already heard accusations that FederalPress is working for the state. I looked – Vedomosti also has several state contracts. There is no crime in this, but now a large number of people who want to discredit – and not even me, but the publication – are trying in every possible way to turn this topic around and file such contracts as some great sin. I believe that there is no need to shy away from such ordinary contracts. Why should I consider that I am violating some kind of ethics and morality?
Now journalists's favorite topic is to tie us to Rosneft. Why do not you take hundreds of other companies with which we have contracts?
– Imagine such a situation. The customer calls you and says: "Ivan, there is a problem. Vedomosti writes a note that we don't like. And FederalPress has a contract with us. Either you take a note, or we withdraw the contract. " And his budget is big. What are your actions?
– I have a simple answer: no withdrawals. What is "shoot stuff"? Previously, when there was no Internet, could you take a note in a newspaper? So the newspaper came out, how can you take something off already?
– And if the note is only preparing for publication?
– How can I remove material that is just being prepared?
– Just don't let it out.
– My position is very simple. In FederalPress, any topic – whether it is problematic or not, whether it affects our client or not – should be on the site. Ask any employee who works for me. This is the basis of editorial policy at FederalPress.
Of course, we should not engage in any manic pursuit of a company that is unsympathetic to us. And, on the contrary, intentionally promote the interests of a company. Our professional duty is to give an opportunity to speak to each side. This is just a professional work, which in the future will bring us credibility and love of the audience. And this, I tell you as a businessman, is always monetized.
– As a publisher and editor-in-chief of FederalPress, have you ever been asked to remove something or not to release something?
– Regularly. Almost every other day. And these were often conflict situations. It was harder when we worked within one region. As soon as we became an interregional holding, economic dependence on one or two contracts became less. And we boldly refused any companies, any organizations that would like to put pressure on us.
– FederalPress – a profitable project?
– The media holding is profitable. The publications themselves at some point may reach the high point of monetization or the middle. But inside the holding we can contain several publications due to different types of business – advertising agencies, a research company, production, press centers, etc.
– What brings the holding most of the revenue?
– In the first place the organization of events, then the activities of advertising agencies, social networks, media.
– As you said, you constantly come across requests not to print something, to remove something. How then do you evaluate the actions of the acting the editor-in-chief of Vedomosti Andrei Shmarov and the charges against him by the editorial staff?
– The sad story is actually a confrontation within the editorial office. I personally think that little can be done when home is restless. It is time to find the strength in ourselves to think not only about ourselves, not only about our ambitions, but also the prospects of our beloved publication.
This is a natural situation for any media, when there is an established team, a new person comes in and the process of grinding in, dating is going on.
Andrei Igorevich and I met just the other day. Therefore, it is difficult for me to characterize him as a person. But I think you will agree that with his experience and work in previous editions he proved that he is a high-class editor. Today I have no reason to doubt it. In the same way, I have no doubt that the vast majority of Vedomosti employees are masters of their craft.
I do not want to look for the guilty. You just need to accept the fact that the first steps showed that there are some roughness in the relationship, and just have patience.
If you ask me whether Andrei Shmarov will remain, I will answer that this will be decided by the board of directors.
– Who will this council consist of and when will it be formed?
– There are already candidates, negotiations are being held with them. Probably, the council will form closer to September.
On average, 11.5 thousand Russians over 12 years of age visited every day in March 2020 from desktops on fedpress.ru.
2.8 million rubles. according to RAS, the net profit of FederalPress LLC in 2019 with revenue of 74.7 million rubles.
10.8 million rubles. amounted to accounts payable by FederalPress LLC as of December 31, 2019.
Sources: Mediascope, SPARK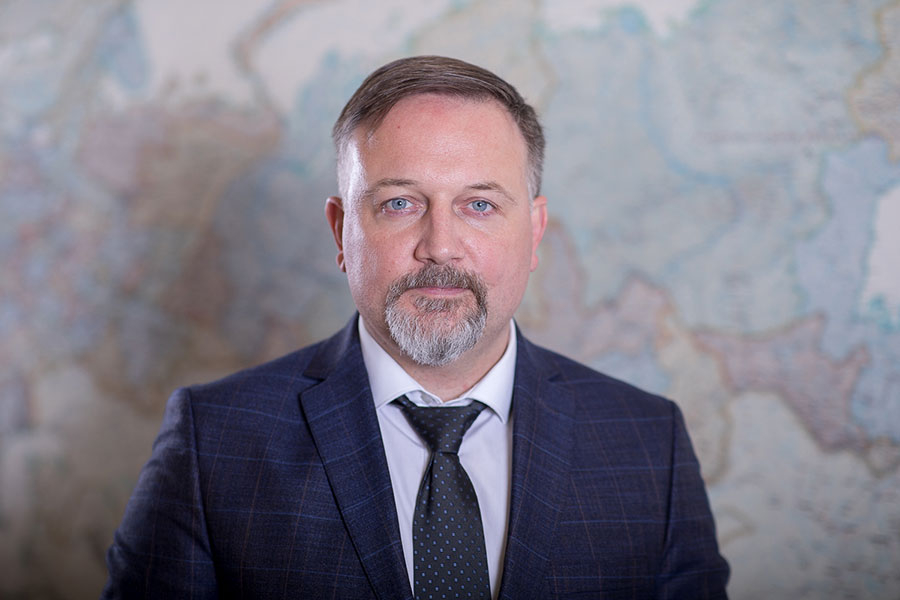 Ivan Eremin

(Photo: FederalPress / Victor Vytolsky)

"I do not like the topic of pressing the rights of Vedomosti
– You did not know Andrei Shmarov. And with the sellers? With Demyan Kudryavtsev, Vladimir Voronov?
– Many have heard about Demyan. I personally did not know him. We talked remotely. Basically, all organizational issues were decided through their representative.
I respect Demian and his experience. But I have enough of my experience to determine how to behave. Of course, I consulted with him on some issues, but these are our internal conversations. There are no secrets there, but let it remain between us.
– To the Board of Directors, acting The chief editor remains Andrei Shmarov. Do you admit that in this case some of the journalists will nevertheless leave? Who then can be replaced?
– I have not yet dealt with this issue. To say that we can quickly replace any journalist means to show our disrespect for colleagues. If someone leaves, it will certainly be a very unpleasant situation. But still not tragic.
Of course, I would like the team to stay. Because it is one of the facets of the image of Vedomosti, and this is really a value. Along with the reputation.
– Do you know the press secretary of Rosneft Mikhail Leontyev and did you discuss this deal with him? You probably heard versions that he allegedly takes part in the Vedomosti deal, including the approval of the new editor-in-chief.
– Many years ago we crossed paths, but, of course, now we did not discuss anything. I don't really understand what relation Leont'ev may have to this deal.
Yes, we all read about it on Telegram. I really don't like the topic of pressing the rights of Vedomosti on today's news agenda. I did not have time to get to know the team yet, but already became a persecutor of freedom of speech. Previous bidders have not yet had time to start discussing the terms of the deal, but they have already been labeled. It seems to me that everything is artificially heated by someone.
It's not my business how Rosneft or Zyatkov will react to the accusations voiced. But as the owner of Vedomosti, I will protect the reputation of the publication. Both legally and humanly.
In my opinion, the manic pursuit of everyone who is somehow surrounded by Vedomosti, potential buyers, former owners, is an attempt to discredit the brand itself. I don't know who needs it. Не хочется думать, что есть какая-то стратегия, которая призвана ослабить этот бренд, чтобы потеснить «Ведомости».
— Сделки по покупке СМИ, тем более «Ведомостей», надо согласовывать с администрацией президента?
— Может, по другим СМИ и нужно что-то согласовывать. Но я ни с кем не согласовывал. Не знаю, радоваться мне по этому поводу или грустить, но согласований не было.
— Звонит ли кто-то из администрации президента и.о. главного редактора или собственнику «Ведомостей» с пожеланиями относительно редакционной политики? Вы не спрашивали об этом у предыдущих владельцев?
— Владельцам — нет, я задавал этот вопрос Андрею. Он ответил, что звонков таких не было.
— Надо ли «Ведомостям» публиковать результаты опросов о рейтинге доверия президенту?
— Да обо всем нужно писать. Я против того, чтобы мы убирали какие-то материалы, меняли заголовки.
Другое дело, что если готовится материал некачественный или материал, который подрывает репутацию какой-то компании, ее финансовое благополучие, и изданию грозят юридические риски, то тут не только редактор, но и акционер должен вмешаться. Должно быть грамотное юридическое сопровождение редакционных процессов, которые не позволят выпускать такие тексты.
Владелец не должен вмешиваться в конкретные материалы, владелец должен отстроить работу таким образом, чтобы юридическая служба была ответственна за то, чтобы не появлялись материалы, которые могли бы принести многомиллиардные иски собственнику. Это вопрос не к редакции, а скорее к юридической службе.
— Редакционный директор Юрий Кацман остается в команде и какая у него будет роль? Продолжит ли работать Глеб Прозоров, издатель «Ведомостей»?
— Честно сказать, с Юрием Кацманом я еще не успел познакомиться. С Глебом Борисовичем Прозоровым познакомился Михаил Нелюбин. Они уже приступили к процедуре передачи дел. Зная о нем, имея предварительные данные по цифрам (несмотря на имеющиеся задолженности), могу сказать: отличная работа. Глеб — компетентный специалист, который знает издание от и до.
Нужно для начала спросить самого Глеба Борисовича, хочет ли он работать в новой структуре. И, конечно, мы хотим услышать его концепцию развития издания (хотя у нас есть и своя).
— Вы упоминали уже, что времена сейчас непростые, рекламный рынок падает. Допустимо ли СМИ и «Ведомостям» в частности просить государство о поддержке?
— Сложный вопрос, на который нет однозначного ответа. Леонид Бершидский считает, что любые государственные деньги — это яд. Я, как в душе либерал, могу в чем-то с ним согласиться.
Для «Ведомостей», я считаю, это однозначное правило, которого нужно придерживаться: никаких контрактов с государством заключать не нужно. Уже сложившаяся репутация, уже сложившийся бренд.
Не считаю ничем зазорным участвовать в качестве информационного партнера какой-нибудь детской Олимпиады, каких-нибудь благотворительных мероприятий, которые оплачиваются за счет средств налогоплательщиков. Но для «Ведомостей», наверное, это все-таки не тот путь. Мы не будем заключать контракты. Более того, будем стараться закрывать существующие контракты.
Что касается других СМИ, то, повторюсь, ничего зазорного в них я не вижу.
— Что бы вы поменяли в «Ведомостях» как читатель и что — как владелец?
— Я читаю «Ведомости» прежде всего как бизнесмен. И поэтому хотел бы, чтобы издание снова сконцентрировалось на том, чтобы быть проводником интересов бизнеса в целом, таким навигатором в мире бизнеса. Я бы хотел, чтобы мы все-таки ушли от журналистики эмоций в журналистику фактов и аналитики. Чтобы мы подарили себя регионам России, потому что регионы ждут такого формата. Ведь бизнес — это не только компании, которые сидят в пределах Садового кольца. Когда мы сконцентрировали нашу информационную повестку на небольшом круге политизированных экспертов, это сужает поле.
Как собственник я хочу, чтобы «Ведомости» были однозначно с сильной репутацией, которая была у истоков создания газеты. Чтобы это была привлекательная рекламная площадка. И чтобы это была, конечно, сильная сплоченная команда.
Пять фактов про Ивана Еремина
Родился 20 января 1977 года в городе Первоуральске Свердловской области.
В 2001 году основал «УралПолит.Ru» — как указано на его сайте, первое на Урале «окружное информационное агентство» (сейчас проект продается).
В 2005–2007 годах был советником на общественных началах аппарата полномочного представителя президента в Уральском федеральном округе.
В 2007 году основал агентство «ФедералПресс», на базе которого был создан медиахолдинг, в который, согласно информации на сайте, входят одноименные «экспертный канал», рейтинговый центр, общественно-политический журнал и продакшен-студия.
29 мая 2020 года закрыл сделку по покупке АО «Бизнес ньюс медиа», издателя газеты «Ведомости».
.