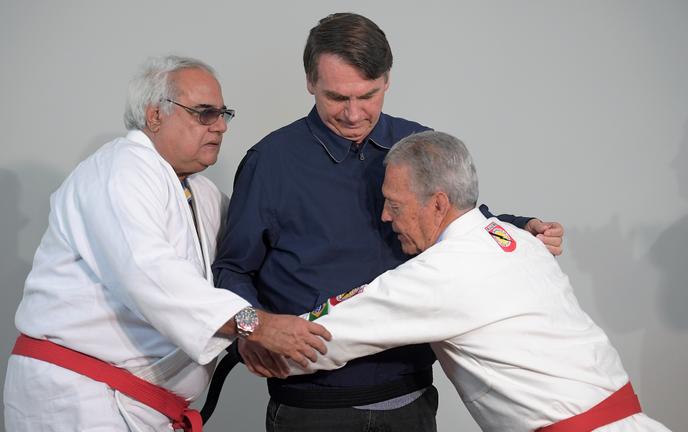 LETTER FROM RIO DE JANEIRO
He is one of the countless collateral victims of the coronavirus: the Brazilian Jujitsu Confederation (CBJJ) resolved to announce, on May 18, the suspension of all of its sporting events until "The adequate conditions for the return of the competitions are met", that is, until further notice. Goodbye the national championship, initially planned for the end of April and postponed to better times.
The announcement disappointed the fans, but relieved the ruling elites. Japanese martial art is immensely popular in Brazil (which created its own variant: the dreaded Brazilian ju-jitsu), but today it is plunged into deep divisions against a backdrop of bloody family settling of accounts. Subject of the quarrel? President Jair Bolsonaro, of course.
Article reserved for our subscribers

Read also
In Brazil, Jair Bolsonaro sinks into denial and the political crisis
Let's go back a little century. Ju-jitsu arrived in Brazil in 1914. That year a proud Japanese man with a finely trimmed mustache and protruding muscles landed in the country. Mitsuyo Maeda, 36, known as "Count Koma", is a martial arts specialist trained at the Kodokan Grand School, who dreams of spreading judo and ju-jitsu around the world. For the past ten years, he has traveled across Europe and the United States to meet the crowds.
In Brazil, Maeda sets up her tatami in Belém, the gateway to the Amazon. A 12-year-old teenager goes to his performances, dazzled by this little Japanese man capable of throwing down the strongest wrestlers in the region. Son of a diplomat, Carlos Gracie decides to give up everything in order to dedicate his life to this ju-jitsu from the end of the world. "Count Koma" agrees to take him as a student.
More followers than capoeira
The result: in 1925, Carlos opened his jujitsu academy in Rio de Janeiro. In turn, he toured the country, crushing in dangerous battles of " vale tudo » (kind of free fight) boxers and capoeira masters. In his crusade, Carlos is helped by his large family, which he trains, and in particular by his brother Hélio Gracie. Over the years, the latter modernized the martial art, invented new takes, and laid the foundations for a real "Brazilian ju-jitsu".
According to a survey by the Ministry of Health, published in 2013, around 2.5 million Brazilians indulge in ju-jitsu, or 1.3% of the population, more than the iconic capoeira (1%). Organized in clans, the Gracies are the object of a real cult, subjects of biographies and even of statues. More than 150 descendants of Carlos work today as wrestlers, coaches or directors of dojo. José Padilha, director of the series Narcos and of Elite troop, intends to devote a film to the history of the dynasty.
You have 54.3% of this article to read. The suite is reserved for subscribers.