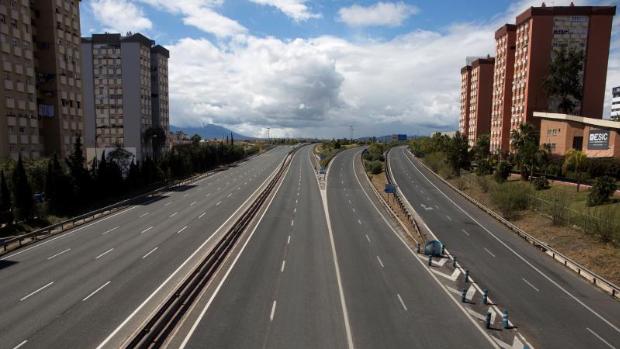 The Government is working on an eventual road closure scenario to contain the expansion of the coronavirus, as evidenced by the order published yesterday that specifies and expands another of March 20 that listed what type of vehicles would be authorized to transit in the event of restrictions to the circulation, including funeral cars. The cuts to traffic are foreseen in the royal decree of measures against the pandemic as a competence of the Ministry of the Interior and have already been enabled for public health reasons to seal Igualada (Barcelona) and two other neighboring municipalities, whose authorities have just requested to the judge and the Executive, an even more difficult confinement. It has 63.1 deaths for every hundred thousand inhabitants, when in Spain as a whole it is 7.4 and in Madrid 27.9. In Lombardy they are 41.6 per 100,000.
Press transport
"The closure of roads, for now, will not occur," stressed Interior sources, who denied that they are thinking of practicing pockets to isolate cities similar to that of Igualada in other areas of Spain. They added that forecasts are being made "just in case, but," they reiterated, "it does not seem that it will happen."
The order, which came into force yesterday Thursday, determines that vehicles linked to essential services, fundamentally health and those of the Security Corps, will be excluded from any type of movement limitation, although there are striking omissions, such as those affecting the Press transport from the presses to the kiosks, opened in this crisis as basic establishments.
The Government overcomes this situation and in a paragraph indicates that vehicles, not expressly specified in the order, that "contribute to guaranteeing the supply of goods or the provision of essential services for the population" can always be allowed when They consider it "the agents in charge of the control and discipline of traffic", so it would be left to their discretion.
This second text on vehicles that would be out of circulation restrictions adds "those used by private security companies", "those for the manufacture and distribution of cleaning products" and, specifically, those for "medical transport, security forces and bodies, Civil Protection and rescue », which curiously did not appear in the first order of March 20 that regulated this matter. The explanation of the Ministry of the Interior is that the actual decree of a state of alarm already indicated that, in no case, would they be affected by any road block, although now they have been included in the final list for greater clarity.
The order exempts from the restrictions also the vehicles of the Armed Forces and those of the Post Office. .