2023-06-10 16:08:16
A Blackview sent us another tablet: the Blackview Tab 11 WiFi. The tablet is the company's new bet to serve the entry-level market, and for that it offers an acceptable set of specifications, combined with a price in the range of R$1,000. Furthermore, it seems that our criticism in the Tab 16 and Tab 13 review worked, as Blackview brought back a feature that we sorely missed.
Blackview Tab 11 WiFi: What's in the Box?
Tablet Blackview Tab 11 WiFi
18 watt charger
Cabo USB-C
1x film
1x protective cover
1x microSD card drawer opener pin
1x tactile pen
Instruction manual
Blackview Tab 11 WiFi Specifications
The Blackview Tab 11 WiFi is a tablet with a screen IPS LCD of 10.36 inches com Full HD resolution (1200 x 2000 pixels) with base refresh rate locked at 60 Hzsupport 16 million colors, pixel density in 160 ppi and Asahi Dragontrail Glass protection. As for the cameras, the device has a sensor of 16 MP for front camera and 16 MP as the only lens on the rear.
Processing is done by the chipset MediaTek MT8183 — 1.99GHz octa-core with Mali-G72 MP73 GPU and 12nm lithography. with 8 GB of RAM e 128 GB of internal storage. the battery of 8.380 mAh comes with 18 watt charger. The tablet leaves the factory with Android 12 e Doke OS_P 3.0, a user interface that offers multitasking and virtual memory capabilities. With RAM Boost enabled, we can add another 6 GB and reach a total of 14 GB of RAM.
Basic but OK cameras
Unless you've had a problem with your phone, I don't think anyone buys a tablet to use as their primary photo device, so the lenses that are on the Tab 11 WiFi manage to cover the basics. The front lens is more useful, especially for those who need to participate in a videoconference, for example. It works well in videoconferencing meeting apps and has an interesting resolution for uses of this type.
Anyway, you can check out how these cameras work in practice. The photos work well in places where there is good lighting, but unfortunately they are not as sharp and appear jagged in darker photos, especially indoors. See below:
Tab 16 screen and construction
Blackview doesn't usually change the look of its new releases much. With the Tab 11 WiFi, the biggest change is the camera module on the back, now with a more discreet format, with just a super ellipse now housing a single sensor.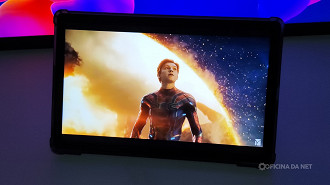 On the front, little has changed. The tablet still has thick bezels, the front camera still sits on the side edge, which is good news, and I also liked that the company kept the on/off buttons and volume rocker on top, just like the Tab 16 Speaking of the screen, the model has IPS LCD technology, as well as the other models of the brand that we have already tested here, with a size of 10.36 inches, which is a good size.
Performance well below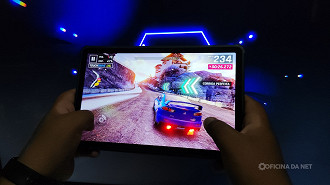 I honestly like that Blackview has adopted a MediaTek processor instead of a Unisoc one. The model here is Mediatek MT8183, made for input devices, but much better than the Unisoc T616 itself, present in the Tab 16. And when I say it's much better, it's because it's much better. I tested it on three games and I can guarantee that the experience here is not exceptional, but better than the Tab 16 model.
His result in games was as follows:
Genshin Impact: It hangs a little in combat scenes or when we are in a place with many NPCs. To run more smoothly, recommendation is to put the graphics on low. At first it works. After a while, largely due to CPU throttling, the game starts to crash a lot.
Asphalt 9: Here the performance is enough to have fun quietly. The problem here is not even performance, but the size of the screen which makes it difficult to touch the screen with two hands, especially if you have small hands.
Head Ball: A more basic game, it also runs fine. No need to worry about crashes or overheating.
Positive points 👍
even better battery
Here we have a point that was good and now it's even better. The Tab 13 came with 7.280 mAhthe Tab 16 came with 7.780 mAh and now the Tab 11 WiFi appears with incredible 8.380 mAh. Over here, that's the biggest battery capacity we've ever tested. I honestly didn't have much time to test the tablet before I had to send it back to the company, but in a full day of testing that involved playing games, watching videos, taking pictures and running benchmark tests over a period of approximately 7 hours , the tablet lost 62% of its battery, dropping from 82% to 21%. This means that in normal use, the battery can last for two days in peace.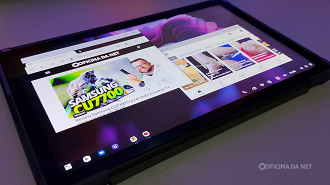 In addition to the battery size, Blackview has also improved the charging capacity, now with support for 18 watts, which even comes with a charger inside the box. After fully zeroing the battery, the recharge time from 0 to 100% was 1h55min.
The P2 connector is back
Blackview finally heard us! It is true that the big brands in the industry are following a trend of abandoning our beloved P2 headphone jack. Nowadays it is very common for devices from brands such as Samsung, Apple and Motorola to come with support only for Bluetooth headphones or with a USB-C port. However, this makes more sense on high-end models rather than on entry-level devices.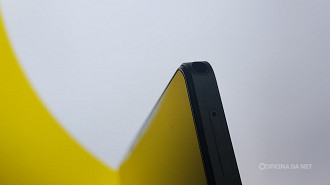 After we criticized this absence at the launch of the Tab 13 and Tab 16, the Tab 11 WiFi is finally here to be praised. The brand arranged a corner to fit the P2 connector, showing that it loves to please its users.
excellent sound system
Another positive point of the Blackview Tab 11 WiFi is its stereo sound system. The tablet has two speakers housed on each side (if the tablet is horizontal) and has a very loud and clean sound. In higher sounds you even feel a vibration that distorts the audio a little, but nothing that compromises the experience.
At lower frequencies, the quality is exceptional, perfect for listening to music of any style, as well as watching movies, videos and whatever else you want. To play, the position of the speakers should be a little uncomfortable, as it is exactly where you will put your hands.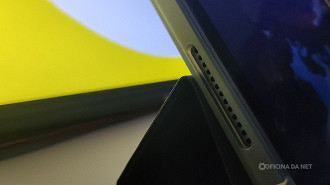 Negative points 👎
screen leaves something to be desired
Overall, the Tab 11 WiFi's screen works well, has good colors and a good level of brightness. The only flaws here are exactly the same as other models that use IPS technology, which is exactly the reflection so reflective that it gets to be annoying. You will notice this more outdoors, especially in sunlight. As a tablet is usually made to be used for productivity, inside an office or in your bedroom, this problem shouldn't bother you that much. But if you want to use it on the street or in a park, you might end up being disappointed.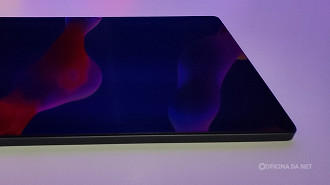 Where is the translation into Portuguese?
A common problem with Chinese devices is related to the translation of information and options that appear in the system. Although the Tab 11 WiFi comes with Android 12, many options there belong to the DokeOS interface, Blackview's own. The problem is that precisely these functions have the wrong translation. Or they appear with a type of Portuguese that seems to have been translated with the help of Google Translate, or sometimes not even that. This can be a problem for people who are not very familiar with English. Good thing it's not in Mandarin!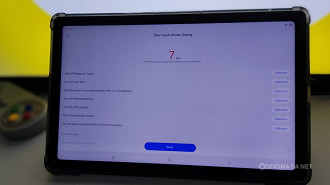 Is Blackview Tab 11 WiFi good?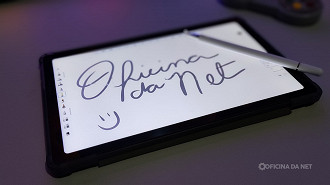 The Blackview Tab 11 WiFi wasn't with us for many days, but we were able to test it in different scenarios and situations for the most varied users, be it the most gamer, fiery or focused on productivity. What we can highlight is the large screen, perfect for those who want to watch or study, also the long-lasting battery with faster charging and which will handle two uses without problems. In addition, all the accessories in the box and around the P2 connector make the difference.
Given this, I can say that the Blackview Tab 11 WiFi is good for those looking for productivity, for those who like a large tablet and for those who are not very demanding with performance for games. If you are that type of user, then it is worth investing BRL 1,050 in this tablet.
Where to buy Blackview Tab 11 WiFi?
The Blackview Tab 11 WiFi is for sale on the website AliExpress for BRL 1,046. From the 12th to the 18th of June you can purchase it for R$ 820. There are also packages that include a keyboard, mouse, and headphones. To take advantage, just use the link below:
1686418791
#Blackview #Tab #WiFi #good #tablet #worth #buying