Updated:
Keep

I discovered Juan Muñoz in the retrospective that Tate Modern dedicated to him. I do not remember the date well because I go to London quite often and the memories of what I experienced begin to mix with each other and, in turn, with imagination and invention, which are perhaps the greatest source of memory. Add to this many pints of beer and an endemic absent-mindedness and swim with me in the haze of confusion, although to an uncle from Valladolid, the London mists are a childish thing, as an amateur, as a first of mists. In short, I had to look at it and, although I would have sworn it was summer, that must have happened in the spring of 2008. You can see that,
sometimes spring transcends the meteorological and becomes a state of mind, which is why poets love it, I suppose, for awakening after silence, for rebirth after hibernation, for the spectacle of seeing life giving a coup d'état and claiming, once again, its place amidst so much paralysis. Spring is the expectation of the good, it is the form that hope sometimes takes, although then summer always comes to screw everything up, both metaphorically and strictly sensory. But all this is if you are Bécquer and you are in Seville, of course. It was not the case: the Thames is not the Guadalquivir and its bank is not that of the Duero either. It is true that, at that time, I was not yet myself, but the Tate was already the Tate, so we entered there, not knowing that that day the doors of art would open forever to me, something that I will never be able to forgive my companion. , by the way. Because it doesn't get out of here. Or, at least, it doesn't get out alive.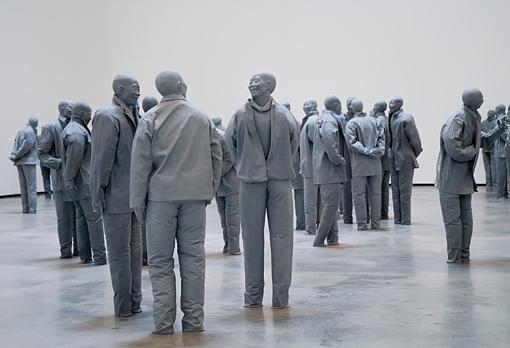 Thus I came across Juan Muñoz's exhibition, with a sculpture that showed a stand of Chinese people pointing their fingers at me, commenting on something among themselves and laughing at me, as if, by magic, they were the spectators and I was the work of misunderstood art. The man from Madrid had died just seven years before without reaching the age of fifty and, above all, without many of us finding out that he had lived and that, in addition, he had illuminated everything with his work, with that theatrical sculpture, sometimes baroque and sometimes surrealist that destroyed the narrative forms to take him, in reality, to the usual, to Velázquez, to Borromini, to Serra, to the Terracotta Warriors and, in short, to whatever he wanted. Well, Muñoz arrives this weekend at Patio Herreriano Museum of Valladolid in what, without a doubt, is one of the most important appointments of the course in all of Spain. And I am not exaggerating. I had written down the opening date to write about the exhibition after seeing it, but I can't, I'm as nervous as a child on Twelfth Night and I don't make it to Saturday. We are facing an extraordinary event for Valladolid, which, by the way, is next to Chamartín. Write it down, make room and force yourself to watch it because it is as if Bruce Springsteen, Tarantino, Banksy or Houellebecq arrived. Muñoz was one of the greats, the reflection that his work suggests is extraordinary and I, who believed that waiting for him at home was just as productive as waiting for Godot on stage, I am going to put a candle to the Virgin of Angustias for answering my prayers because On top of that, it's autumn and it's raining. Add him a suckling pig and I can make mine that "there can be no one in this world so happy." Not even you, Victor Manuel.
.