Annelies Kuijsters will not participate in the livestream concert that Krezip will give on June 20 at the Maritime Museum. Because of her medical history, the keyboardist has to handle her energy carefully, she reports on Instagram on Friday.
"As some of you know, because of my medical history, I have to be extra careful with my energy. Especially now in this corona time," said Kuijsters, who was diagnosed with lymph node cancer in 2014. "Unfortunately, it is now not possible for me to participate in the live stream concert that the band will give on June 20 at the Maritime Museum."
The keyboardist says she doesn't like the decision, but she says "unfortunately it is no different". Stephanie Struijk will take the honors for Kuijsters in the band, which made a comeback in 2019 after ten years.
Krezip singer Jacqueline Govaert illuminates RTL Boulevard allow Kuijsters to recover from lymph node cancer. According to Govaert, during the rehearsals for the live stream concert, it turned out that the keyboardist lacked the energy to participate in the performance.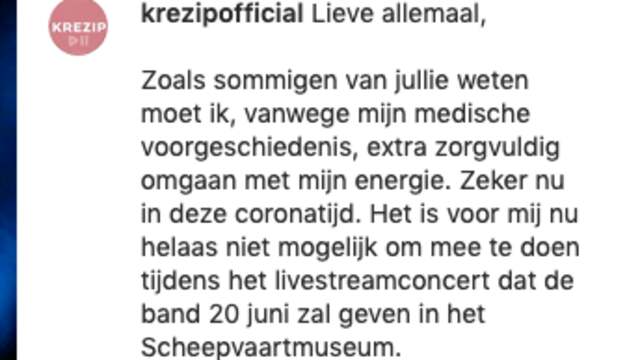 .