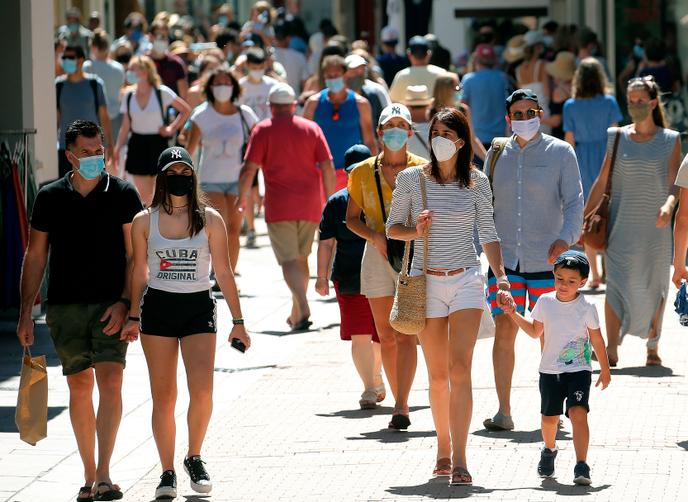 After Toulouse, Bordeaux, Strasbourg, Marseille and Paris, the city of Lyon in turn makes the wearing of a mask compulsory everywhere. The measure, which until now was only partial, concerns those over 11 and will take effect from Tuesday, announced the prefect of the Rhône on Monday, August 31. "A tolerance will be granted to cyclists and joggers during their sporting activity", he said at a press conference.
Read also
Coronavirus: in which cities or departments is it compulsory to wear a mask?
In the other cities of the metropolis of Lyon and the department, wearing a mask also becomes compulsory within a perimeter of 50 meters around schools, colleges, high schools and higher education establishments, as well as the entrances and exits of stations. railways, metro stations, tram and bus stops.
Read also
From "uselessness" for the general public to generalized obligation, seven months of instructions on the mask in France
These measures come as the Rhône department spent last week in an active circulation zone of the virus, with an incidence rate of over 50 cases per 100,000 inhabitants, which earned it to be classified as "red".
"Especially to protect others"
Until now, wearing a mask was only compulsory in the busiest areas of Lyon, at certain times. "The situation is deteriorating and we have a collective challenge to take up. We protect ourselves individually but above all to protect others ", declared the ecological mayor of Lyon, Grégory Doucet, present at the press conference.
Read also
What you need to know about masks: standards, price, maintenance, alternatives
"Wearing a mask is only one of the barrier gestures. We have hydroalcoholic gel, we have physical distancing. The obligation is not enough to guarantee the result, continued the mayor of Lyon. We focus on screening at the exit of the subways. Anything that can be done to create desire, to facilitate, and therefore to empower in a more positive way, seems to me to be more effective. "
The test positivity rate continues to increase
Just over 3,082 new positive coronavirus tests have been recorded in the past twenty-four hours, announced on Monday Public health France (SPF), a lower figure than in previous days. The progression of cases had been stronger in recent days, peaking at more than 7,000 on Friday, and around 5,400 on Saturday and Sunday.
The figures for Monday, which count the cases of Sunday, generally mark a brake on the figures for other days, due to the closure of laboratories for example. The test positivity rate (number of people tested positive, divided by the number of people tested) continues to increase: it reached 4.2% over the last seven days, against 4.1% Sunday, 4% Saturday and 3, 6% Wednesday.
Since the start of the epidemic, 30,635 people have died from Covid-19 in France – 29 in the last twenty-four hours – including 20,128 in hospitals and 10,507 (data from August 27, latest figure known ) in social and medico-social establishments, including nursing homes.
The number of outbreaks under investigation has meanwhile increased from 16 in one day, to 357, again according to SPF. The number of Covid-19 patients hospitalized in intensive care, for its part, is increasing by 7 people, to 409.