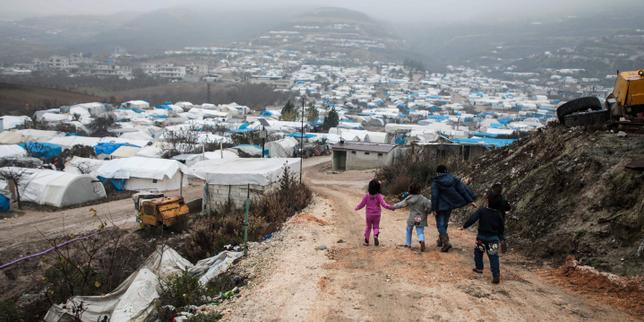 More than 235,000 Syrians have been displaced in almost two weeks due to intensified fighting and bombing by the regime and its Russian ally in Idlib province (northwest), said Friday December 27 'UN. Since December 16, regime forces, supported by the Russian air force, have intensified their bombardments in the Idlib region and fierce ground battles oppose them to jihadists and rebels, despite a ceasefire announced in August .
These massive displacements, recorded between 12 and 25 December, mainly concerned the key city of Maarat Al-Nouman, "Almost empty", like its surroundings, of its inhabitants who go further north, added the UN in a press release. Agence France-Presse (AFP) correspondents in the Idlib region have reported very long queues of vehicles loaded with personal belongings, often hastily carried off on the roads in recent days.
Most of the displaced have fled north to the cities of Ariha, Saraqeb and Idlib, or already overcrowded IDP camps along the border with Turkey, and some are moving to areas controlled by pro rebels. -Ankara north of Aleppo, the UN said. Some people who had left Maarat Al-Nouman for Saraqeb "Flee again further north, anticipating an intensification of fighting" in this area, according to the same source.
Article reserved for our subscribers

Read also
"Are we wild animals to be treated like this? ": Idlib's advance leads to exodus
Last week, forces from the Damascus regime recaptured dozens of towns and villages from jihadists and rebels in northwestern Syria after several days of heavy fighting. Residents of Idlib have deserted it since the past week for fear of a new advance by the regime's forces, an Agence France-Presse (AFP) correspondent on the spot reported.
Major Damascus offensive
The Idlib region is dominated by jihadists from the Hayat Tahrir Al-Cham (Levant Liberation Organization) group. Other jihadist and rebel groups are present in the region, which is home to some 3 million people, half of whom have been displaced from other parts of the country recaptured by Damascus.
The Syrian regime, which now controls more than 70% of the territory, has repeatedly reiterated its determination to reclaim the entire country, including the Idlib region. The Syrian army, supported by the Russian air force, carried out a major offensive between the end of April and the end of August in the region, killing a thousand civilians according to the OSDH and displacing 400,000 people according to the UN.
Bombings and ground fighting have continued for the past four months despite a ceasefire announced in late August. More than 280 civilians and several hundred combatants have died since that date. Ankara on Tuesday called for a new ceasefire in Idlib, urging de-escalation, as did Paris.
The conflict in Syria, sparked in 2011 by the crackdown on pro-democracy protests by Damascus, has left more than 370,000 people dead and millions displaced and refugees.
Read also
Syria: South of Idlib, regime advances against jihadists and rebels