The US S&P 500 is up 20% this year and the Nasdaq is up 19%. Although many of the listed companies in the U.S. have been highly valued, there are still some companies that are undervalued. The US stock platform Tip Ranker picked three strong buy recommendations that continued to decline despite an unprecedented uptrend.
COPD treatment equipment Non-Med Healthcare (VMD)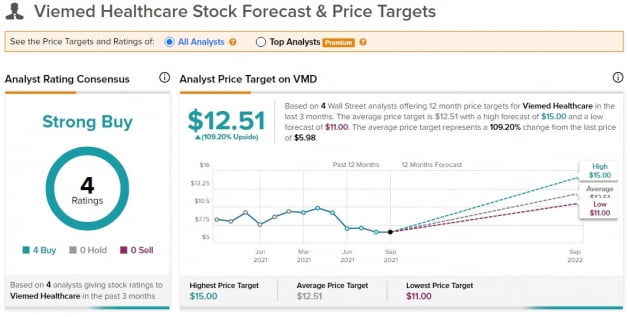 In BMed Healthcare, four analysts strongly recommended buying in the past three months. As of the closing price on the 17th, the stock is at $7.65. The average target price within the next year is $12.51, up 63.5%. ViMed is a company that helps people with severe respiratory diseases, such as chronic obstructive pulmonary disease (COPD) and chronic respiratory failure, receive respiratory rehabilitation treatment at home. It manages chronic respiratory diseases and rents equipment for oxygen therapy and sleep apnea therapy. We also offer ventilator rental services.
More than 25 million people in the United States alone have COPD, which is the highest number of smokers. Headquartered in Louisiana, Mi ViMed has offices in the state of 23. The stock has fallen 33% over the past two years as sales and profits have declined. Sales, which peaked at $46 million in the second quarter of last year, plunged to $26 million in the second quarter of this year.
EPS in the second quarter of this year was 4 cents, a sharp drop from 52 cents in the second quarter of last year. However, it was twice as high as analysts had expected. The number of patients using Vimed services is also increasing gradually. In the second quarter of this year, the number of patients who received Vimed's ventilator service was 8,103, an increase of 5% from the previous month. Expectations are high that it will take over a company with high growth potential by raising $31.2 million in cash assets.
"In the post-COVID-19 era, home treatment will be the best treatment for terminally ill COPD patients," said Brooks O'Neill, an analyst at Lake Street Capital. said
Home care company LHC Group (LHCG)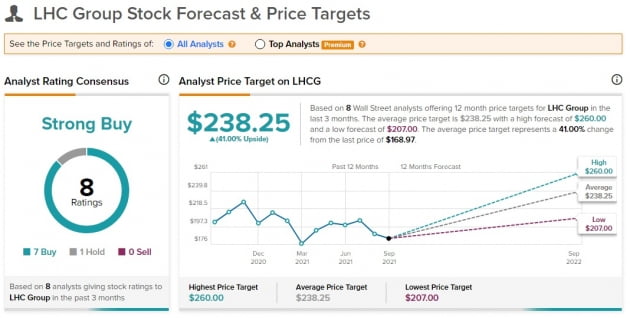 Louisiana's LHC Group was another noteworthy company. Eight analysts recommended strong buying of LHC Group stocks in the past three months. The stock price on the 17th was $168.97. The average target price is $238.25. LHC works with 400 hospitals to provide home medical services for acute and chronic diseases. Hospice services for terminal cancer patients are also in operation.
The home care service market in the United States has grown rapidly due to the spread of COVID-19. In the second quarter of this year, LHC sales increased by 12% compared to the same period last year. Sales are $545.9 million. Earnings per share (EPS) was $1.2, down slightly from the same period of the previous year, but on the rise for the third quarter in a row. But this year, the stock has fallen nearly 20%.
LHC has been rapidly expanding its investment in recent weeks. As it completed the acquisition of a cardiac hospice company earlier this month, it secured treatment spaces in Arkansas, Louisiana, Mississippi, Oklahoma and South Carolina. It is expected to secure an additional $92.5 million in annual sales.
On the 8th, it acquired Brookdale Healthcare Services, which provides home hospice services. It is a company that operates home hospice facilities in 22 states. It is expected to increase sales by $146 million annually. It also plans to purchase two additional hospice companies in Virginia.
Data Solution Coucent Technology (QUOT)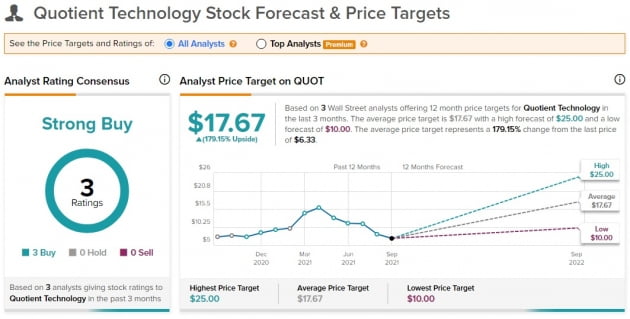 Coincident Technology was also selected as an undervalued recommendation. The stock is trading at $6.33 as of the 17th. Three analysts recommended a strong buy, with the target price rising 179% to $17.67. Cocent is a company that helps e-commerce and digital coupon companies using data solutions. It analyzes site traffic and provides customized coupon programs based on online shopping records.
As the U.S. economy recovers from the COVID-19 crisis, Coucent's earnings are improving. Sales in the second quarter of this year were $123.8 million, up 48% from the same period last year. 5% higher than analysts' expectations.
Cocent is partnering with various companies to secure customers. Earlier this month, it signed a partnership with Pig, a digital advertising platform. This enabled us to offer promotional services to over 100 million cardholders. Although the service has scalability, it was turned away from investors because it was unable to escape the deficit. EPS in the second quarter of this year was -0.18 USD, lower than expected. However, it is up 3 cents from a year ago.
"It's not as smooth as expected, but the company is increasing its investments in the right direction over the long term," said Stephen Frankel, an analyst at Colliers. will," he said.
Reporter Lee Ji-hyun [email protected]