Pamela Jiles displaced Daniel Jadue and ranked as the second presidential card with the most preferences behind Joaquín Lavín, according to the latest Pulso Ciudadano poll.
According to the measurement -which included 1,035 cases with national coverage, corresponding to the first fortnight (November 12-14) of November- the mayor of Las Condes leads with 13.3%, followed by the parliamentarian of the Humanist Party, who obtained (9.6%).
The communal head of Recoleta appears in the third position, with 8.7%.
Further behind are Evelyn Matthei (7.0%), Franco Parisi (5.3%), José Antonio Kast (3.3%), Michelle
Bachelet (2.5%), Leonardo Farkas (2.2%) Heraldo Muñoz (1.7%), Carlos Montes (1.5%) and Rodolfo Carter (1.5%).
New Constitution
The survey also considered other consultations, among them, the interest in participating directly in the Constituent Convention (CC) and how worried Chileans are about the coronavirus pandemic.
So, 30.4% of the population would like to be a member of the body that will write a new fundamental letter, 34.3% men and 26.7% women.
In the breakdown, preferences are divided by 38.15% of the high segment (ABC1) and 27.5% of the low segment (DE).
Meanwhile, regarding the situation derived from covid-19, a 75.8% declare they are very concerned or worried that the coronavirus is in Chile.
50.7% consider that Chile is staying the same in terms of pandemic control, 22.2% that it is getting worse, and 27.1% that it is improving.
When asked about the perception of contracting the virus, 48.5% consider that they are at medium risk, 29.1% at high risk and 20.3% at low risk.
Approval of Piñera downwards and withdrawal of 10% 2.0
According to the latest Pulso Ciudadano survey, the approval of President Sebastián Piñera registers a significant variation in relation to the measurement of the second half of October: it went from 15.4% to 12.3% in the first half of November.
On the other hand, disapproval is 74.3%.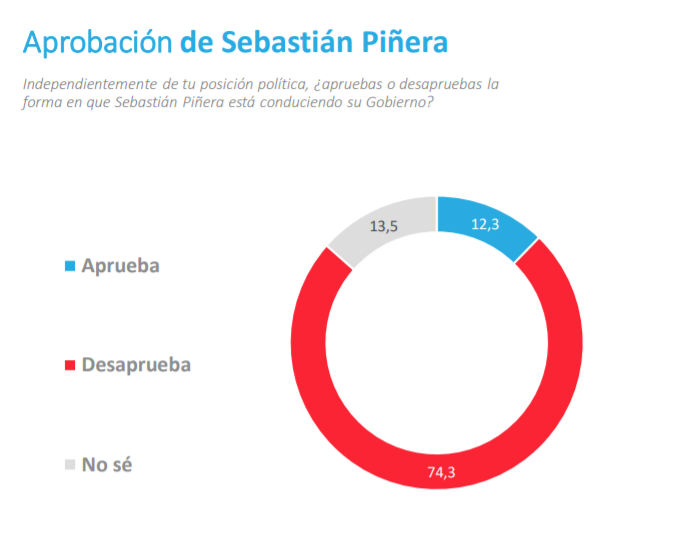 The same occurs with the approval of the Cabinet that reaches only 12.4%, which represents a decrease of 1.1 points compared to the previous measurement (13.5%).
Here, disapproval is 75.4%.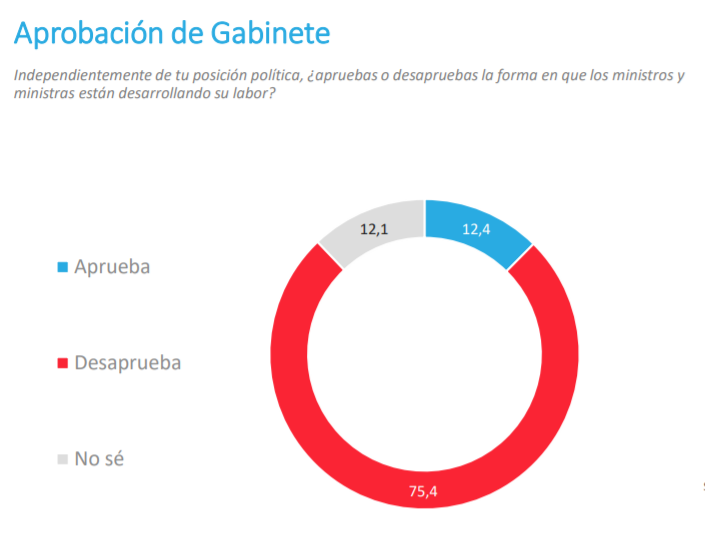 Regarding the bill that allows a second withdrawal of 10% of pension savings – and that should be processed this week in the Senate – 88.3% strongly agree / agree.
Only 6.6% strongly disagree / disagree.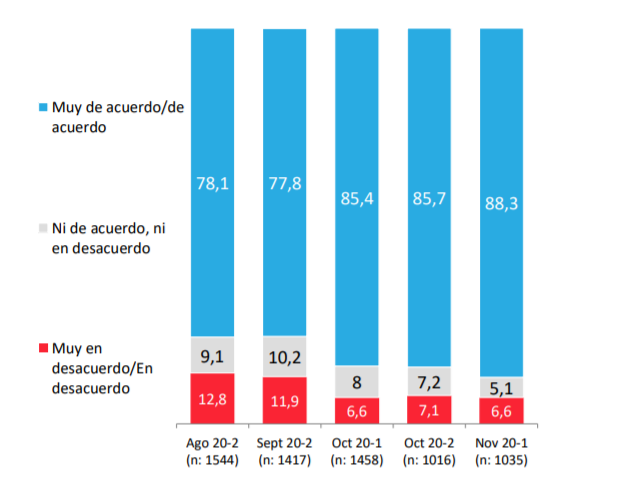 Check the full survey here
.