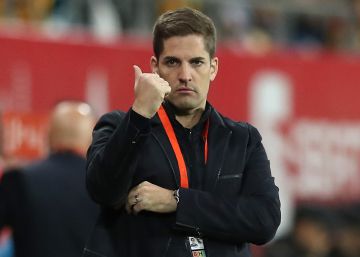 The win of Spain to Malta had a historic milestone. For the first time in the 100-year history of the national team, the seven goals scored in a match were achieved by seven different players. The statistics were the true reflection of the match. More than 70% possession of the ball, 33 shots, 14 of them on goal and seven goals. Before Robert Moreno appeared in the press room, Federation President Luis Rubiales appeared in the mixed zone. The controversial election of the Super Cup in Saudi Arabia, the non-celebration of Villarreal-Atlético in Miami and the presence of Robert Moreno himself in the European Championship were issues that forced the appearance of the federative president before the media.
The question about the coach was direct. Can you guarantee that you will be in the European Championship? "We have won 7-0 we will enjoy the result and the atmosphere of Cádiz. There are things that I don't know where they come from. When they tell me 'they speak', impersonally, but they don't tell me who speaks it, as they say here in Cádiz, I don't realize it, "Rubiales replied evasively. This newspaper already announced that in the Federation they do not guarantee that Moreno will sit on the bench of the national team in the next Eurocup, especially if Luis Enrique decided to return to training. "We are going to go back to Madrid and finish this phase with a good result. Robert is doing a very good job and there is nothing to say about it. "
Given the insistence on the issue, Rubiales was, at least, ambiguous: "There is a qualifying game and there is a department that is led by Molina, when he finishes he will comment and we will see what is done if something needs to be done. In that case, Molina has my full support and her ideas are those of the Federation. We have that game and then we will have plenty of time to think and reflect. We will see what we do. " After considering that "thrashing and playing well" always comes in handy, Moreno himself said: "If someone does not love me, they will believe that I am not doing things well."
This Friday, Finland and Sweden achieved their qualification for the 2020 Eurocup. In total, there are already 12 selections that have sealed their direct ticket for the tournament: Belgium, Italy, Russia, Poland, Ukraine, Spain, Turkey, France, England, Czech Republic and those already mentioned, Finland and Sweden. 17 selections opt for the 8 direct seats that remain to be distributed.
You can follow EL PAÍS Sports on Facebook, Twitter or subscribe here to the Newsletter.
.