The recordings of the new All Stars-serie, All Stars & Zonen, are started. Danny de Munk, one of the main characters, reports this on Instagram on Sunday.
"We started …", the singer and actor writes with a photo of a clapperboard. He also shares a photo of the original cast of the All Stars-1997 film. "We were green as grass back then," he added, referring to the title song.
In April it was announced that a new one All Starsseries is in the works. Besides Danny de Munk, Kasper van Kooten, Peter Paul Muller, Isa Hoes, Thomas Acda, Daniël Boissevain and Raymi Sambo, among others, return in the series. All Stars & Zonen will be on television next fall.
Story continues where first movie left off
The first All Stars-film (1997) is about seven friends who play football every Sunday. Despite the great fun on the turf, they start to drift apart due to their private lives. In the run-up to a big anniversary contest, the boys get to know each other and the value of their friendship. All Stars received its own television series between 1999 and 2001 and a follow-up film in 2011.
De serie All Stars & Sons however continues where the first movie left off. As a result, the character of Acda, who died in the series, can be seen again in the new series.
The character Hero was played by Antonie Kamerling, who died in 2010. It AD previously reported that it is not yet clear what will happen to that character. In any case, eunuch is not replaced by another actor.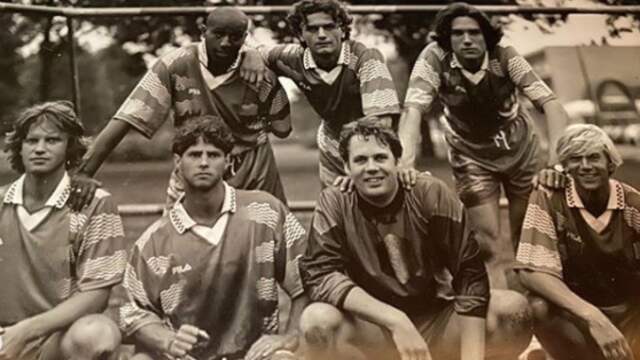 The cast of the 1997 All Star movie (Picture: Instagram / Danny de Munk)
.