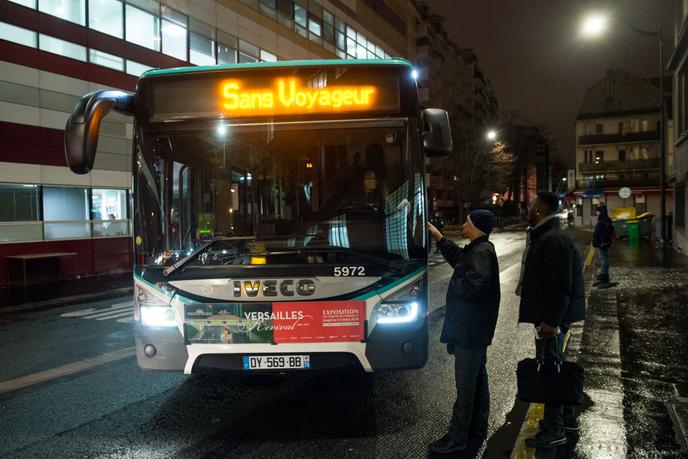 SNCF and RATP announced Tuesday a new improvement in their traffic, Wednesday January 15, at 42e consecutive day of the strike against the pension reform.
TGV : 80% of trains in circulation. Traffic will "Almost normal from and to Paris on all routes", underlined the railway group in a press release;
TER : 80% of trains in circulation (with substitute coaches);
Transiliens (RER SNCF, trains in the Paris suburbs): 75% of the trains in circulation;
intercity : half of the trains will run " on average " ;
International : traffic "Very little disturbed".
The Paris transport authority announced that its traffic would still be disrupted, but "With new improvements on the metro and RER networks". The "Traffic should be further disrupted" Thursday, when a big day of interprofessional action is planned.
Metro lines 1 and 14 : as since the start of the strike on December 5, these automated lines will operate normally.
Lines 2, 7bis and 10 : open during normal hours, but with disrupted service and closed stations.
Lines 3, 3bis, 4, 7, 8 and 11 : open without interruption during the day but with restricted operating hours, reduced traffic and closed stations.
Lines 5, 6, 9, 12 and 13 : will work with a cutoff "In the middle of the day, disrupted traffic and some stations closed".
RER A and B : half will circulate " all day ". Traffic will still be "Disturbed", But "In very clear improvement", ensures the RATP. The continuity of the RER B line will be "Restored with RATP", announced the SNCF, which operates the line with the Parisian management. This will allow "An uninterrupted crossing of Paris" no train change required at Gare du Nord.
Bus : 4 out of 5 buses " on average " expected.
trams : will circulate normally " all day ".
Our selection of articles on pension reform