Evictions in Paradise
Ten new Balis: Indonesia is planning controversial mega-projects for tourism
The government in Indonesia wants to massively expand the tourism sector. The booming Bali serves as a model for the development of other islands. But nobody asked the residents.
Many Bali holidaymakers know the side island of Lombok from short trips. More contemplative and untouched than its turbulent sister, the Indonesian island has so far mainly attracted surfers and volcano fans who climb the mighty Gunung Rinjani. As early as next year, however, the government is planning to complete a mega tourism project on Lombok that is already causing heated controversy: The Mandalika Resort. UN experts and local residents speak of land grabbing, evictions and intimidation.
And that's just the beginning: The authorities want to create a total of ten "new Balis" in order to attract more holidaymakers to the country and to compete with the famous island. President Joko Widodo announced this strategy back in 2016.
Last year there was criticism from environmentalists because a safari park is being built on Rinca Island, into which some of the last Komodo dragons are to be integrated. The sights are also about the city of Lubuan Bajo on Flores, the world-famous Borobodur temple on Java and Lake Toba on Sumatra. Even if tourism in the whole country is currently still on the ground because of the corona pandemic – after that, the island state wants to take off in terms of tourism.
Mandalika sounds like exotic, tropical cocktails and wellness massages in a fairytale atmosphere. And that is exactly what the luxury hotels in the more than 1000 hectare area on Lombok should offer. Motorsport fans will also get their money's worth: the opening of a pompous MotoGP racetrack is planned for next year. In addition: shopping opportunities, top restaurants, a lagoon and much more.
Human rights experts concerned

The three billion dollar project (around 2.5 billion euros) is expected to create half a million jobs over the next five years. As is so often the case, the victims are those who traditionally lived in the region and who had to vacate their land to make room.
These are the ten dream hotels in Bali


9 pictures
"You didn't even ask us," a resident from Kuta Village told the German press agency. "They just came and forced us to evacuate. But they have to pay for our land." So far, he has not received any financial compensation. The Indonesian said that those who did not want to leave under these conditions were intimidated by security officers.
The United Nations has already launched the "Mandalika Special Economic Zone" project. A few weeks ago, UN human rights experts issued a statement urging the Jakarta government to respect the rights of local residents. "Farmers and fishermen have been displaced from their land and have suffered the destruction of their homes, fields and water sources, as well as their cultural and religious sites," said Olivier De Schutter, UN Special Rapporteur on Extreme Poverty and Human Rights.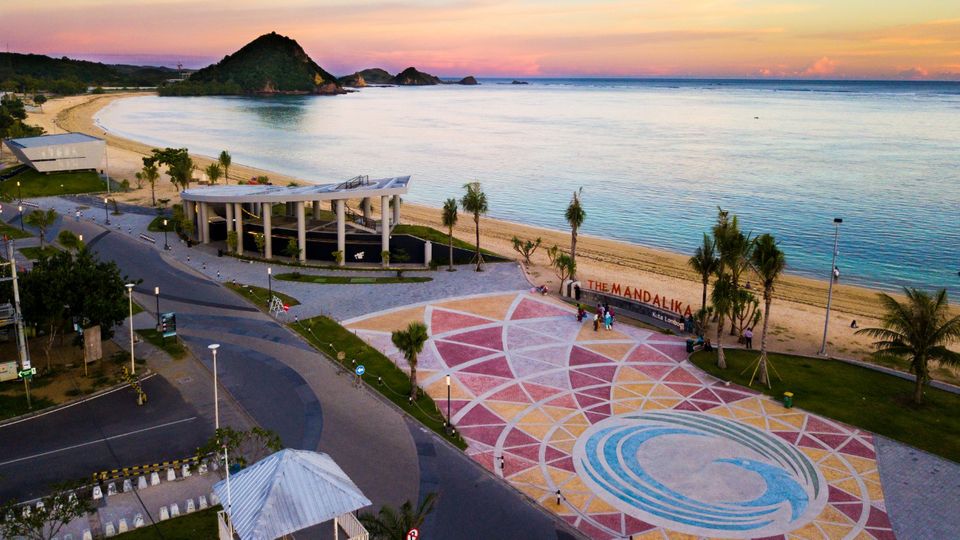 "Credible sources have found that people have been threatened and intimidated and evicted from their land without compensation," continued De Schutter. The state-owned Indonesia Tourism Development Corporation (ITDC), which is responsible for the development of Mandalika, has not yet attempted to resolve the land dispute. "Large-scale tourism development that tramples on human rights is fundamentally incompatible with the concept of sustainable development," it said.
The population is intimidated

The government rejected the allegations as false and completely exaggerated. The resort will benefit the locals, said Miranti Rendranti, an ITDC spokeswoman. "We can guarantee that the development of Mandalika is in accordance with the applicable laws and that human rights and environmental protection are taken into account."
Affected people on Lombok present the events differently. Among them Damar, who was only compensated for 3300 of his 5600 square meters of real estate. When he put up a sign demanding fair compensation, the police came. She threatened to report him if he didn't accept the terms, he said. "What could I have done? Whether I accepted the offer or not, I would have been evicted anyway." And something else makes him angry: "They didn't even hire people from the region for the construction work."
Everything happened without warning, says Muhammad Amin, who works as an activist for fair treatment of the people. "They suddenly came into the villages and put up signs saying that the land was now owned by ITDC and that the villagers had to leave." Fishermen have been banned from casting their nets in the region's waters. "That's the root of the anger," says Amin. "Granted, some people support the Mandalika project – but they are either not directly affected or they have been fairly compensated."
Also read:
– On the tourist island of Bali: Mask-gruff are punished with push-ups
– Bali urges tourists and influencers to finally behave better in the country
– Boeing accident in Indonesia: Why so many planes crash in Indonesia
Ahmad Pathoni and Carola Frentzen / DPA