(Composite photo/Flip Facebook)
Nian-Da Wu Comprehensive Report / Taipei City
The Ministry of National Defense launched a series of "Little People and Big Heroes" posts on Facebook, which were filmed on non-commissioned officers serving in the Army, Navy and Air Force, to let the public understand the hard work of our national army and the original intention of these officers; the Republic of China Navy posted earlier today (29) The photo of the second lieutenant Chen Ziting has aroused heated discussions among many netizens. Some netizens felt that Chen Ziting smashed Chen Yanxi's face, and some people couldn't help but "knock the bowl for IG."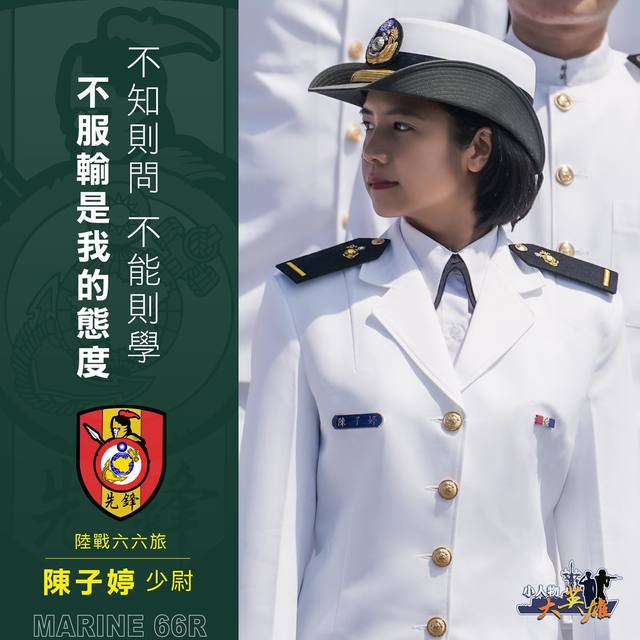 The beauty of the ensign of the Navy was exposed and netizens praised: they are in love
The ROC Navy posted a post on Facebook fan, featuring Chen Ziting, second lieutenant of the Sixth and Sixth Marines Brigade, as the cover, and wrote "Ask if you don't know, learn if you can't, and refuse to admit defeat is my attitude", which means that the navy is willing to do anything. Learn and do your best. However, Chen Ziting's short hair, extraordinary temperament, and exquisite features have attracted many eyes. This post has been liked by more than 1,500 people in just 4 hours. Many netizens left messages and exclaimed, "Awesome! Women do not bear eyebrows, very personal, very persistent, and admire", "Handsome", "Heroine", "In love", "So handsome", "positive".
Netizens think it is like Chen Yanxi knocks the bowl "posted without IG, unqualified"
There are also many netizens who think that Chen Ziting and actress Chen Yanxi have celebrity faces, and they left comments and praised them and begged for IG, "Like Chen Yanxi", "This angle has Chen Yanxi's beauty", "Posted without IG, unqualified" .
News source: China TV News
.