FRANCEINFO – ON DEMAND – DOCUMENTARY SERIES
" Are u ankles Fine ? " The question may seem heavy when it is addressed to an athlete with a leg amputee. Short interviews conducted with humor and intelligence by journalist Djamel Mazi with twelve Paralympic athletes, and grouped within the mini-series Incassables, show, on the contrary, that those concerned see in it a welcome trivialization of their difference.
Djamel Mazi does not avoid any subject, however, against Sonia Heckel, triple French boccia champion (a variant of pétanque), Mathieu Bosredon, handbiker who arrived at the foot of the podium in Rio, in 2016, or Dimitri Pavadé, vice-champion of the disabled long jump world in 2019, in Dubai. To each one he asks how he found himself in a situation of handicap, how he rebuilt himself… Up to the ritual question: "Are you unbreakable? "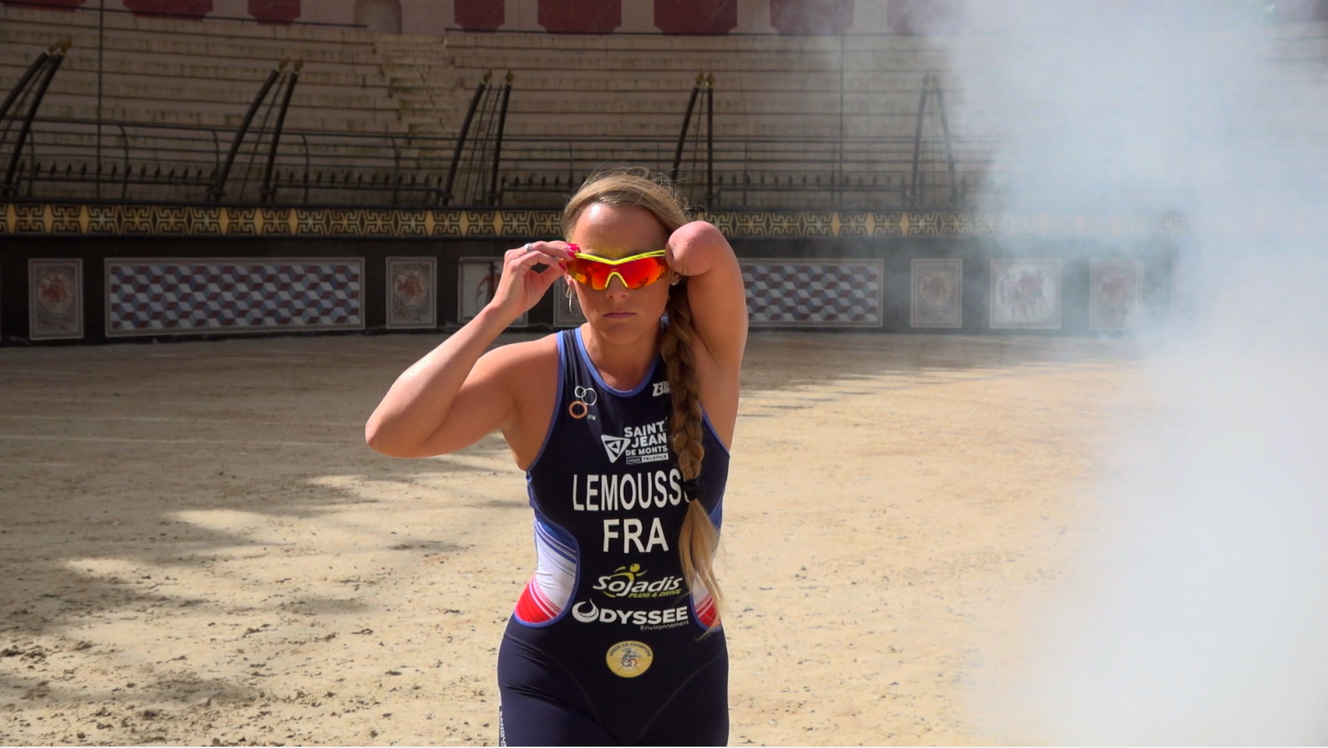 The very setting of the interview constitutes a message: a room where suspended prostheses float for Dimitri Pavadé, prosthetist; a Frac, temple of contemporary artists, for Gloria Agblemagnon, intellectually disabled and weight-thrower, who identifies sport with an art; the Eiffel Tower for Hakim Arezki, 2019 European blind football champion, because the monument symbolizes France, the country that saved his life in 2001, after, as a high school student, he received two bullets, including one in the head , during a demonstration repressed by violence in Algeria, his native country.
The most original staging, however, comes back to the interview conducted seated and fully dressed in a swimming pool with Laurent Chardard, 25, vice world champion in the 50-meter butterfly – after having his arm torn off and then a leg by a shark.
The choice of amputation
The jokes alternate with the essential subjects. Amélie Le Fur, who chairs the French Paralympic and Sports Committee, and Stéphane Houdet, multi-medalist in wheelchair tennis and flag bearer, explain their choice of amputation. "Yes, that can surprise and many do not cross this course", also admits Alexis Hanquinquant, triathlete three times world champion, who also preferred to be amputated. Parakayakist Nélia Barbosa even speaks of a rebirth after having been amputated at 19.
All still testify to the vexations suffered, whether it is in front of an employer, like Laurent Chardard, or at school, like Sandrine Martinet, gold medal in parajudo in Rio and standard bearer. Nevertheless, mentalities are progressing, as underlined by Gwladys Lemoussu, triathlete, bronze medalist in Rio, born with an atrophied arm: "We hide our handicap less now. We see more of it on TV. " Like the Paralympic Games, which kick off in Tokyo on August 24.
Incassables, by Céline Couratin and Serge Bonafous. Until August 22, at 10:15 a.m., 2:15 p.m., 5:15 p.m. and 8:30 p.m. on weekdays; at 12:15 p.m., 6:15 p.m. and 9:35 p.m. on weekends (Fr., 2021, 12 x 8 min). In replay on france.tv/franceinfo.