In a report published in February 2021 by Allied Market Research, a US-based market research and consulting firm, the market size cosplay costume The global market is projected to grow to $23 billion by 2030.
With the development of the world, cosplay is gradually being loved and accepted more and more. The number of participants is also increasing and the form is also increasingly diverse.
Despite the huge strides made since its inception, many issues of privacy, safety, or sexualization remain an unsolvable knot for this community.
More than a hobby
Like many actors cosplaystudent Isaac Soh (23 years old, living in Singapore) cosplayed to show his love for the characters.
"I really like the idea of ​​impersonating a character you love to watch from anime or read manga. I'm also interested in dubbing, so I try to dress up characters that I can voice to feel the role better," he said.
For cosplayer Narumi, this is a pleasant hobby. Besides the satisfaction of successfully recreating the look of her favorite character, she finds joy in interacting with people from the same community.
"They are the reason for me to actively participate and stay at events for 7 hours no matter how tired I am. They always support and encourage me to constantly improve my skills," she said.
The feeling of being welcomed and feeling comfortable is a common feeling of many people when attending cosplay events.
"The atmosphere is really friendly, everyone can be themselves. People who are feeling isolated or lost can be healed by joining this community," said Joseph Quek, a counselor at Talk Your Heart Out, an online therapy platform. when attending a cosplay event.
The safe environment coupled with the cosplay culture is also a way for participants to explore personalities that can be difficult to manifest in everyday life, says Quek.
Cosplay is even a door that helps many people escape from reality.
"I like being transformed into characters, it helps me forget the things I don't like about myself and become someone I really like," said student Goh.
According to expert Quek, detachment from reality can be a beneficial coping mechanism to help reduce stress. However, overuse can exacerbate negative emotions and lead to many mental health risks.
Is it easy to make money from hobbies?
Besides bringing joy, cosplayer is also considered a profession that can really "make money". From an activity that is only meant for entertainment, many cosplayers earn high income.
A 25-year-old player, nicknamed Yosuke Sora, shared that she earns tens of thousands of dollars from cosplay even though she only does it in her spare time while still having another full-time job. Most of her income comes from campaigns with big brands.
But earning this money is not easy. Besides having to spend about $400 monthly on costumes, not to mention shipping, photography and makeup costs, Yosuke has to balance his time between cosplay and main work. This left her with almost no time for other things.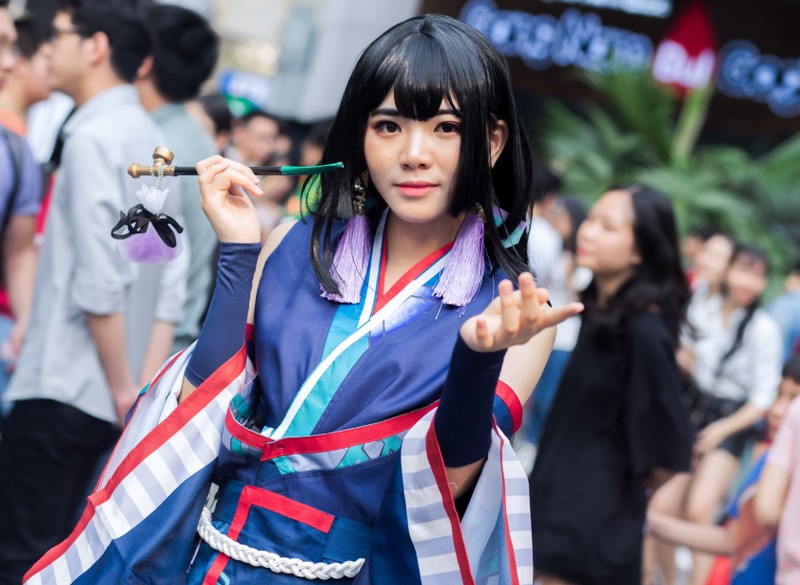 Artists have to spend a lot of time and effort to earn money from makeup.
"I have to go home right after work and spend the rest of the time doing livestreams, filming videos of sponsors ordering and getting dressed. Even on weekends I am always busy with photo shoots or commercial projects," she said.
Besides Yosuke, there are also many other famous cosplayers who have a great source of income from transforming into cartoon characters.
Malaysian cosplayer Hakken has an average income of about $6,000 per month and up to $30,000 if "favorable", according to Insider. Enako, one of Japan's top cosplayers, is said to have grossed over $1 million by 2021.
However, getting "dreamlike" numbers is just the exception.
Tan Zhao Han, director of cosplay talent management company Geist Productions, said the industry is "volatile and saturated". Artists have to really work hard to get noticed by brands and receive collaboration offers.
"You will have to be both a hairstylist, managing costumes, props, makeup, editing photos, finding locations and ideas for yourself," he shared.
No world is perfect
Aside from fun and comfort, those in the cosplay community also acknowledge that this is an industry with a downside.
Particularly popular among them is the sexualization of cosplay, especially among women.
Goh, who edited the video, said she was strongly opposed by a relative when participating in cosplay because she thought it was a sexual activity. Graphic designer Mauru (24 years old) has also encountered rude requests on social media to create adult content.
Many people still hold a one-sided view and misconception about cosplay activities.
Many cosplayers said that many people have the wrong view that cosplay means agreeing with depraved things. Not only do they think they have a right to see revealing photos, some also think they have a right to be rough with people wearing such clothes.
Besides unwanted physical contact, there are many people trying to find out the real identities of cosplayers and constantly sending messages to annoy them with harassing questions.
Quek, an expert at Talk Your Heart Out, said: "Just like other communities, cosplayers can also become targets for bullies, scammers and perverts online. They can only protect themselves by keeping their identities secret."
But even so, cosplay has made great strides, there's no denying it.
Many people have erased the prejudiced views from family and friends. The general public is also gradually more accepting when seeing the cosplayer in public Or take pictures outdoors.
"Being out of the ordinary will certainly attract attention, but at least now people's eyes will be less judgmental or simply take it as something that's not too surprising," Goh said.