Sony today released LinkBuds, an ultra-lightweight open-back headphone with a ring-shaped "horn" design. When users WFH or work in the office, they can listen to songs and hear the outside world at the same time. When someone calls the user, they can hear it immediately without removing the headset.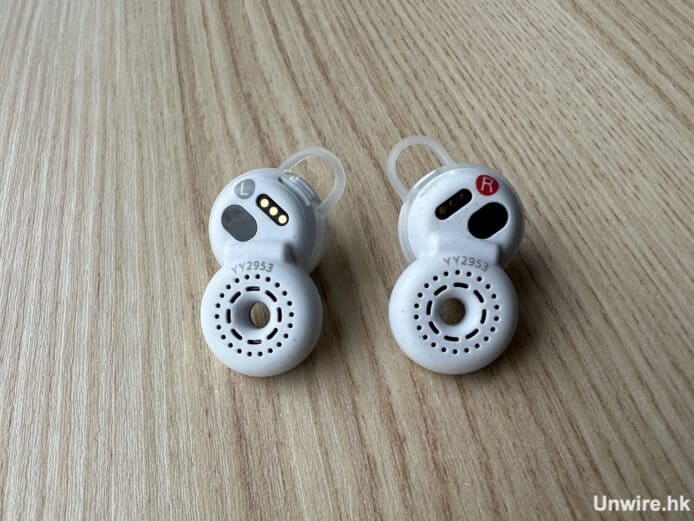 The earphone adopts a very unique ring-shaped design and is extremely light, which is much lighter than many bone conduction earphones. The sound unit surrounds this small ring. While listening to music, watching YouTube movies or movies, users can also hear the outside world through this penetrating annular opening, which is suitable for the work situation of Work from Home, and also suitable for listening to songs in the office. After the editor's on-site test, I found that at 40% volume, you can enjoy music, watch some light YouTube videos and chat with others at the same time (the other party is 3 meters in front of you). If you adjust the volume to 70% or above, It is more able to isolate external sounds, and the volume can also be accepted at a level that is not too high.
▲The decorative parts of the earphones are made of recycled plastic materials, you can see some dark flowers when you look closely
▲The opening of the headphone allows users to listen to the outside world without having to turn on the ambient sound mode.
In terms of on-ear, the headset comes with a variety of earrings, which can fit snugly against the user's ear gallery, so that it will not fall out. After trying it on, I found that the earphones are extremely light, and the LinkBuds unilateral earphones weigh only 4g, which is almost the same as no earphones after wearing them. And the silicone earrings can also make the earphones fit snugly on the ears.
LinkBuds supports Precise Voice Pickup technology, which can perform audio processing during voice calls, and use AI algorithms to remove noise around the user, making the user's speech clearer during voice calls.
The headset itself supports the DSEE engine to enhance the detail of the sound. The headset also supports adaptive volume control. In a relatively loud volume environment, the headset will automatically adjust the volume. LinkBuds also supports 360 Reality Audio, and with the supported music, users can feel the surround sound effect of speakers in different positions around them.
As for the sound quality, we will wait for the editor to conduct a more detailed evaluation after taking the opportunity. However, after the field test, it was found that the sound of the earphones is more prominent in terms of vocals and mid-frequency. The editor used the sound quality adjustment function in the music player app to slightly increase the low frequency, and the LinkBuds can also be smooth without bursting, and the low frequency quality is satisfactory for open headphones.
supply and price
Sony LinkBuds
Available March 10, 2022
dark grey, white
$1,490
Detailed standard
Headphone weight per side: 4.1g
Waterproof function: IPX4
Battery: 5.5 hours continuous music playback time (with charging case: 17.5 hours)
Bluetooth version: 5.2
Supported encoding formats: SBC, AAC
Charging case: about 34g, size about 41.4 x 48.5 x 30.9 mm, USB Type-C charging