Maija Stakena. Photo: Kalvis Zaļaiskalns
After the biggest break in the history of Latvian motorsport, the Biķernieki Motorsport Festival took place on Saturday and Sunday, with more than 140 participants from various Northern European countries. The event was attended by up to one thousand supporters and fans.
The competition hosted three rallycross championships – Latvian, Lithuanian and NEZ Baltic. Participants had the opportunity to apply in 12 different test classes – a total of 36 fastest pilots were welcomed on the podium.
Unfortunately, this time Xtreme class riders Ronald Baldins and Reinis Nitis did not succeed. Ronald was the fastest in the first two qualifiers, resulting in first place after three qualities, while Nitišs was sixth. Unfortunately, Ronald was unable to reach the finish line in his semi-final race, while Reinis remained fourth, which prevented both of our drivers from entering the semi-finals.
Photo: Kalvis Zaļaiskalns
The biggest surprise of the first stage of this season is 14-year-old athlete Maija Staken, who debuted in rallycross competitions this weekend. Starting with the qualifications and semi-finals, Maija showed a great performance, leaving behind several men. In the final, too, she was unstoppable, thus climbing the highest step of the podium.
Maija Stakena about my emotions after the first rallycross race: " I am pleasantly surprised that the debut in rallycross has turned out so positive. We were seriously preparing for the competition together with my father Jānis Stakens and both coaches – Jānis Spīķis and Lithuanian Kaspara Novickas, who also helped and supported the whole competition – I could even say that I have three dads during the competition. From the very first trips, we worked well with the spotlight and the ability to stick to a strategy that helped achieve a high result. It is a great pleasure and emotion for me to greet not only the team and the fans, but also the opponents and other participants of the competition. My heartfelt thanks to everyone who supported and greeted me! This was my first, but definitely not my last Rallycross race! "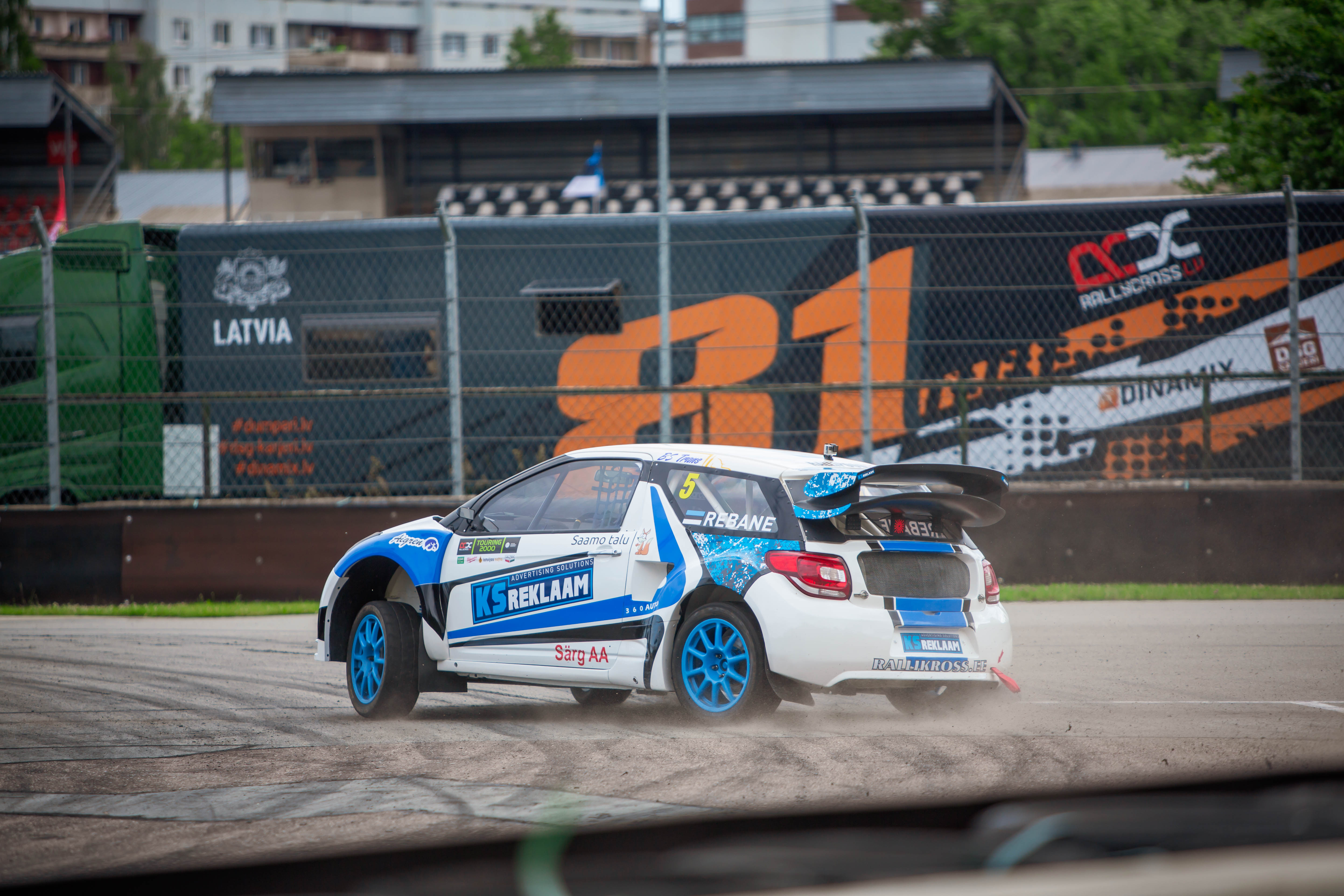 Photo: Kalvis Zaļaiskalns
Jānis Bergs, Rallycross organizer: "We started the season later than usual, but better later than skipping a whole year of racing. The easing of the restrictions in July allowed us to hold full-fledged motorsport competitions, it could be said that the pandemic, in our case, had more pros than cons. We have spent an exciting and intense battle weekend – not only we, but also the athletes, spectators and fans enjoyed seeing the track again and the heat of the race! With full power ahead – three more stages of the competition are planned this season, on July 26 we will meet on Jēkabpils "Baronu" track, continue in neighboring Lithuania and end the season in Bauska, "Mūsa Raceland" track, where we will unite all LAF cross country disciplines – rallycross, autocross and folklore! "
The best in the first stage of the competition:
Latvian Rallycross Championship:
LADA RX: 1. Marcis Martinovs 2. Kristaps Martinovs 3. Edvards Egle
Super 1600: 1. Juris Sīķis 2. Edijs Osh 3. Georgs Ors
Touring Car: 1. Jānis Ikers 2. Kaspars Fricsons 3. Varis Žentiņš
CK 650 cross cards: 1. Dāvis Tobias 2. Laurs Langeprons 3. Karl Martins Miliste
Latvian Rallycross Cup:
BMW RX 3000: 1. Mārtiņš Prūsis 2. Edgars Valeinis 3. Dainis Valeinis
XTREME kroskarti: 1. Markus Abrams 2. Andre Kils 3. Alans Kakri
NEZ Baltic Rallycross Championship:
NEZ Open: 1. Marko Muru 2. Raimo Kauttio 3. Sami Rasanens
NEZ Super 1600: 1. Janno Ligurs 2. Juris Spīķis 3. Georgs Ors
NEZ Super 2000: 1. Maija Stakena 2. Jānis Ikers 3. Jānis Miščenko
NEZ Touring Car: 1. Kristaps Grunte 2. Steins Karu 3. Prits Rebane
NEZ 4WD: 1. Razors Razor 2. Andri Ouns 3. Valdurs Reinsolu
XTREME BRX cross cards: 1. Andre Kils 2. Markus Abram 3. Antti Sutarinens
The information was prepared by:
Zane Lielkāja