Nowadays, the trend of working anywhere, anytime has become a big issue in every profession. Especially in the production line, art team, and content creation team, who need tools to support more flexibility in working in this era. More feature-rich workstations with better performance. To meet the needs of both customers and the audience in the new normal era, more and more, there is also an increasingly tighter deadline. As a result, working with traditional IT equipment It's starting to not answer the job question. Fortunately, Huawei now offers another great option for creatives, videographers, or other productions. In the form of a 12.6-inch premium tablet, the first to carry full functionality. Packed with full power specifications At a price that reaches only 28,990 baht and also comes with a special gift worth a total of 11,517 baht, including HUAWEI Smart Magnetic Keyboard, HUAWEI M-Pencil, HUAWEI Cloud, HUAWEI VDO, WPS VIP and FilmoraGo VIP for those who pre-order. Pre-order from June 8, 2021 to June 17, 2021 when purchasing via HUAWEI Experience Store and participating stores only.
god screen tabletFor pro users
Of course, the most important feature for art and production professionals is the screen quality of their work companion. The HUAWEI MatePad Pro 12.6-inch comes with a larger, sharper screen and is eye-friendly. Work better with a 2K resolution (2560 x 1600) OLED screen that displays beautiful, true-to-life colors that are almost no different from what the eye sees. It also has an Ultra-high contrast ratio of up to 1,000,000:1, delivering the most light and intensity in the darkest parts. Helps clear images, looks deep, has dimensions, combined with the design of the 12.6-inch FullView Display screen that provides vivid images with the world's highest screen-to-body ratio of 90%. Importantly, it also comes with a screen that protects the eyes from light. Blue with the combination of hardware and software certified by TÜV Rheinland world-class certification standards, increasing the level of eye protection for the owner of the device to work for a full day.
Additionally, the HUAWEI MatePad Pro 12.6-inch tablet comes with 8 GB of memory (RAM) and up to 256 GB of file capacity (ROM) for the smoothest user experience and file storage support. the most Including using a large, durable battery with a capacity of up to 10,050 mAh, it can play video files continuously for up to 14 hours and use it to surf the web or work comfortably all day for 7 consecutive hours. The tablet also supports the 40W HUAWEI SuperCharge feature that can fully charge the battery in just 2 hours and can also wirelessly charge other devices as well.
Packed with productivity features that will make you forget about using your laptop.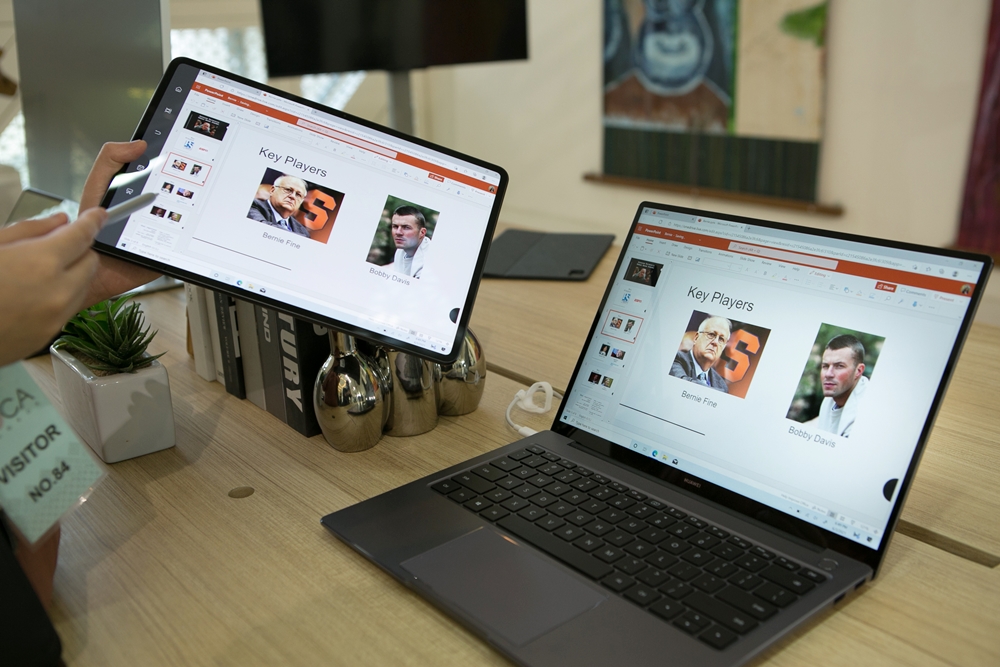 In addition to its hardware strengths, the HUAWEI MatePad Pro 12.6-inch comes with outstanding software features for efficient work. This tablet can work with a laptop computer through the HUAWEI Multi-screen Collaboration with laptop feature, which has 3 special usage modes: Mirror Screen mode, allowing users to control the usage on the laptop. Easily accessible from a laptop screen, Extend Mode turns the tablet into a monitor that expands the laptop's functionality, and Collaborate Mode makes receiving Send information whether it be images, videos, audio files or documents. Across devices, tablets and laptops flow seamlessly with just the click of a finger. In addition, the device is also compatible with smartphones with the HUAWEI Share function that allows you to use a pen. To write notes or reply to messages from a smartphone application open on the tablet as well.
More importantly, this tablet also has a Multi-Window feature that allows you to run up to 4 windows on 4 screens and keep up to 10 floating windows in side menu tabs. The user interface of the HUAWEI MatePad Pro 12.6-inch has also been completely redesigned. to provide a more fluid user experience. It also allows users to adjust the size of the Service Widget to be small or large as they wish.
Supports all technologies of the futurewith smart accessories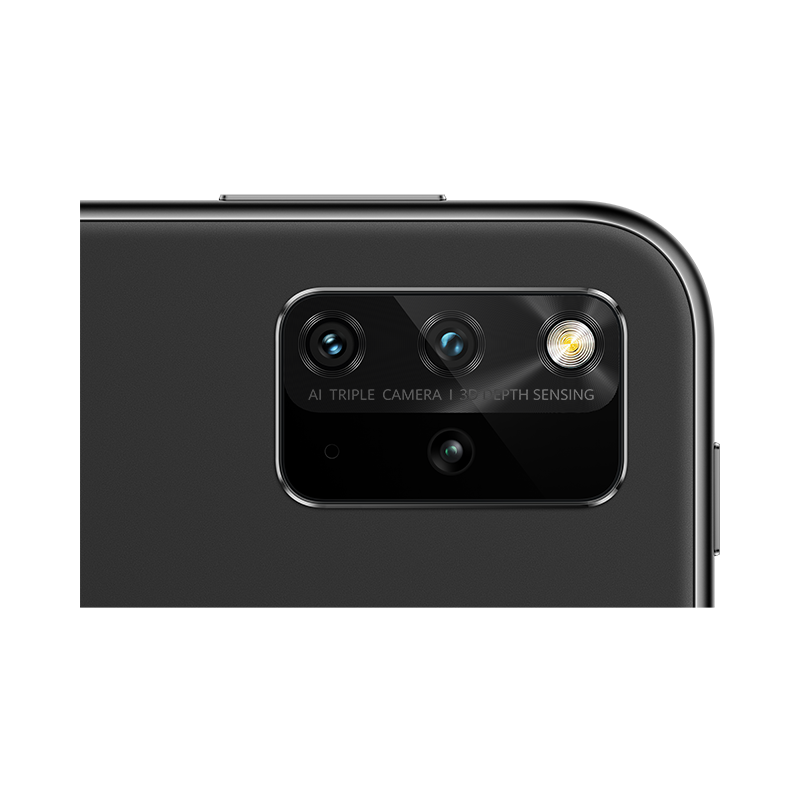 The HUAWEI MatePad Pro 12.6-inch also comes with many future technology trends that are enhanced with upgraded features and usability in every aspect. It comes with a 13MP main camera and a wide resolution camera. 8 million pixels with 3D mode to deliver more dimensional images The device also has up to 29 internal antennas to fully support connectivity via Wi-Fi 6+ technology. And it's also the world's first tablet with up to 8 speakers, giving you a 360-degree listening experience with the brand's powerful sound system harman That delivers up to 79dB of noise by the state-of-the-art capabilities of the HUAWEI MatePad Pro 12.6-inch. It doesn't end here, because in addition to supporting cutting-edge technology, it also comes with a wide range of applications for every Use for drawing apps like Zen Brush 3, SketchBook, Canva, Huion Sketch, Concepts, Tayasui Sketch, Medibang Paint, Ibizi, video editing apps like Film Maker Pro, Story Cut, Inshot, YouCut or apps for work and entertainment such as Zoom, Microsoft Office, WeTV, LINE TV and VIU are called looking for any apps, they are all in one place through the HUAWEI AppGallery, a collection of hot apps that collect apps Famous all over the world, more than hundreds of thousands of apps. Allow users to load to use as needed.
This smart tablet also comes with a smart accessory, the Huawei M-Pencil (2nd generation), that feels like a real pencil or pen. with a smoother user experience Only 3.4 grams of pressure is required to allow the user to feel every pressure of the press. Another smart accessory is the HUAWEI Smart Magnetic Keyboard, which has buttons on the keyboard that give a notebook-like feel. With a keypad size of 1.3 mm, it supports wireless charging. Bluetooth connectivity and light, even when paired with the HUAWEI MatePad Pro 12.6-inch, it weighs less than 1 kg in total.
The good news for art and production workers who are interested in the HUAWEI MatePad Pro 12.6-inch tablet is that during this time, Huawei is organizing a special pre-order promotion. When pre-ordering the HUAWEI MatePad Pro 12.6-inch, matte gray, matte gray, before anyone else at a price of 28,990 baht from June 8, 2021 to June 17, 2021, receive a heavy gift, worth a total of 11,517 baht, consisting of HUAWEI Smart Magnetic Keyboard, HUAWEI M-Pencil, HUAWEI Cloud, HUAWEI VDO, WPS VIP and FilmoraGo VIP when purchased through the HUAWEI Experience Store and participating stores only. Full of features and value for money How can a new generation of workers like us make a mistake!
You can follow the details of other promotions via Facebook page Huawei Mobile TH And can follow more details about the product.here
Additional pre-order promotion terms and conditions http://bit.ly/Matepadpropreorder