The next president of Peru will be the daughter of an old autocrat or, on the contrary, the scion of some farmers who cannot read or write. Those two very disparate worlds will collide next Sunday at the polls. Candidates for the presidency Keiko Fujimori and Pedro Castillo enter the final stretch of the campaign almost tied in polls and amid extreme political polarization that has sharply divided the country. The followers of both see their opponent as a danger to democracy.
Castillo, a rural teacher and trade unionist in favor of renegotiating the conditions of exploitation of gas and mining companies, receives the greatest attacks. Lima and the main cities of the country have been filled with billboards warning that communism is coming with it, so that Peru could fall down the same slope as Venezuela. The Venezuelan opponent Leopoldo Lopez he has come to the country these days to campaign in favor of Fujimori. The press, television and social networks send continuous messages in that same sense.
The bombardment takes effect. Edimar Loreto, 40, lived in Valle de la Pascua, in Venezuela, until three years ago, when he moved to Lima. In this time he has bought a taxi that pays in installments. He makes continuous trips between the airport and the city center. "If Castillo wins, I will have to sell it and go to another country. I was fleeing from Chavismo and I find it face-to-face. Horror! "He complains at the wheel. For now, he is not refusing to allow potential Castillo voters to settle into his spacious and comfortable taxi, as they do in other businesses. At a dog lodge in Lima, with the ostentatious name Perrotel Boutique, "dogs from communist families" are not allowed. "From experience we know that in Venezuela, due to hunger, they have had to eat their pets," reads an advertisement that the owners of the business spread.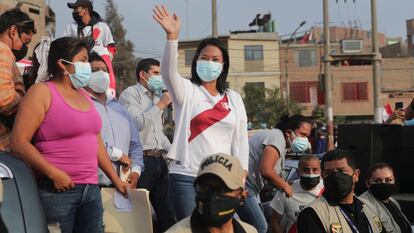 Castillo, 51, and Fujimori, 46, dragged a large number of votes for rejecting their opponent. The vote for Fujimori is against Castillo and whatever he represents, and vice versa. After 20 years of state war against the Shining Path, a terrorist group that proclaimed itself communist, many Peruvians, especially those who live in urban areas, continue to identify leftist options with violence. That a remnant group of Sendero, now dedicated to drug trafficking and territorial dominance, has murdered 16 people in the main coca-growing valley of Peru in the middle of the campaign has fueled the discourse.
That perception is imminently urban. In more rural regions such as Ayacucho or Junín, those hardest hit by Sendero, Castillo has the advantage. The rural teacher was for years a patrolman, a vigilante of towns who protect themselves from the ineffectiveness of the police and who once faced the terrorist group. Castillo carried as a weapon a bizna, a kind of whip.
"The polarization is too strong," sums up the sociologist Santiago Pedraglio. "Just as there are people who believe that if Castillo wins there could be an economic debacle, with confiscations, there is a very strong feeling, which is not new, anti-Fujimori. There is fear of the capture of the institutions, with an authoritarian and arbitrary management of the State ". Giovanna Peñaflor, political analyst and president of the Imasen pollster, considers that this campaign is even more polarized than the one that faced Alberto Fujimori and the writer Mario Vargas Llosa in 1990. She believes that there is one more component, that of racism. "There is a more noticeable aggressiveness in the middle and upper classes. Because of how Castillo speaks, because of what he represents ", he adds.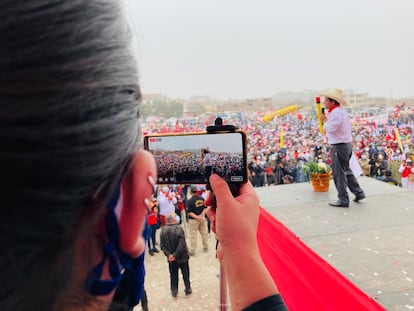 Keiko Fujimori gathers a lot of vote against him for being the daughter of who he is, the man who ruled the country between 1990 and 2000. Alberto Fujimori, 82 years old, meets a 25 prison sentence for crimes against humanity. But also for his last five years as leader of the opposition in Congress, where instability and ungovernability have reigned, in part because of his decisions. In addition, he faces a prosecution for money laundering, criminal organization and obstruction of justice for which he is asked for 30 years in prison. Rosario, a 47-year-old worker from the north of Lima, sums up some of the feelings that the conservative candidate arouses among the electorate: "It seems that she is only running for the greed of having the title of president (it is the third time in a row) when they are already covered with money for five generations ".
The retired soldiers are also having their doses of prominence in this final stretch of the campaign. The congressman of the ultra-right formation Renovación Nacional, Jorge Montoya, announced that he will present a bill to prevent "communist parties" from participating in the elections. The retired admiral has encouraged the idea that an electoral fraud in favor of Castillo is possible, and in a statement that he signed with more than 50 former high-ranking members of the armed forces, he states that there is "suspicion that an electoral fraud could be conceived." . The military adds – falsely – that there have been "a large amount of weapons of war and hidden ammunition" in rented houses in Lima, supposedly by people close to Castillo, a version that has also been published on Twitter by members of the ultraconservative group called Coordinadora Republicana. They suggest that a defeat for Castillo would lead his followers to take up arms, something for which there is no proof.
Victory may be decided by a handful of votes, nothing new in Peru. In a country without a solid party structure, it is not surprising that a candidate almost unknown until two months ago, as is the case of Castillo, achieves a good result in the first round by allying with a provincial and minority formation and stands in the second. with serious options of reaching the presidency. According to the latest Ipsos survey, Castillo leads Fujimori by 2.2% (51.1 versus 48.9). Given the margin of error, it is possible to speak of a technical draw. In the teacher's team, however, they trust that this distance will be greater because they believe that pollsters do not register the vote with foresight in rural areas and the Andes, where Castillo has more pull.
Although it is almost a stranger. He does not give interviews and in his meetings, on the same day, he can support one thing and its opposite. His campaign was carried out by himself, traveling all over the country in the manner of López Obrador or Evo Morales. The profile of who this trade unionist who for a long time was a member of the party of former President Alejandro Toledo, a much more focused formation, is drawn by his opponent. Or even the man who now welcomed him into his party, Peru Libre, a neo-surgeon and former governor named Vladimir Cerrón. Someone closer to the Latin American populist left that scares a part of the electorate so much.
Polarization is seen from the back seat of Edimar Loreto's taxi at rush hour, in a traffic jam in Lima. "Without respect for private investment there is no employment. Freedom! "Reads a billboard on the side of the road. Further on, on the portrait of some rafters: "Cuba, poverty, death, fear, despair." They do not mention any party or candidate directly, nor do they need to.