The United States announced on Wednesday (12th) that the consumer price index in December last year was in line with Wall Street expectations. The main US stock index rose in early trading, led by materials and technology stocks, and then the Federal Reserve (Fed) announced the "Beige Book" in late trading. Indicating that economic headwinds are still in place, the Dow Jones index turned black for a while, and the four major U.S. stock indexes closed slightly in the red at the end, and Tesla rose nearly 4%.
The US Department of Labor announced that the consumer price index (CPI) rose 7% in December last year, the highest since 1982. The increase was mainly from auto, energy and housing prices. White House chief economic adviser Brian Deese commented that price increases are a global phenomenon related to the new crown epidemic, and the United States has the ability to face the challenges of prices and costs head-on, with some gratifying decelerations in price increases in some areas such as fresh groceries.
The U.S. economy expanded at only a "moderate" pace in December, as headwinds from supply chain disruptions and lack of work restrictions persist, the Federal Reserve released its latest "Beige Book" on Wednesday.
Before the deadline, according to data from Johns Hopkins University in the United States, the number of confirmed cases worldwide has exceeded 315 million, and the number of deaths has exceeded 5.51 million. More than 9.57 billion doses of vaccines have been administered in 184 countries worldwide.
The performance of the four major U.S. stock indexes on Wednesday (12th):
The Dow Jones Industrial Average rose 38.3 points, or 0.11 percent, to 36,290.32.
The Nasdaq added 34.94 points, or 0.23 percent, to 15,188.39.
The S&P 500 gained 13.28 points, or 0.28%, to 4,726.35.
The Philadelphia Semiconductor Index rose 25.8 points, or 0.66 percent, to 3,901.2.
Focus stocks
The five kings of technology were mixed. Apple (AAPL-US) rose 0.26%; Meta (formerly Facebook) (FB-US) fell 0.33%; Alphabet (GOOGL-US) rose 1.21 percent; Amazon (AMZN-US) fell 0.094%; Microsoft (MSFT-US) rose 1.04%.
The Dow Jones components were mixed. Goldman Sachs (GS-US) fell 3.16%; Johnson & Johnson (JNJ-US) fell 0.85%; Walgreens United Boots (WBA-US) fell 0.77%; Nike (US-US) rose 1.27%; Salesforce (CRM-US) rose 1.27%.
Fei half of the constituent stocks rose more or fell less. AMD (AMD-US) rose 0.12%; NVIDIA (NVDA-US) rose 0.65%; Intel (INTC-US) fell 0.30%; Micron (MU-US) rose 0.97%; Qualcomm (QCOM-US) rose 0.55%; Applied Materials (AMAT-US) rose 4.66%.
Taiwan stock ADR was the best performer with TSMC. TSMC ADR (TSM-US) rose 2.37%; ASE ADR (ASX-US) fell 0.76%; UMC ADR (UMC-US) fell 1.05%; Chunghwa Telecom ADR (CHT-US) rose 0.33%.
Corporate News
Tesla (TSLA-US) rose 3.93% to 1,106.22 per share Dollar. Wedbush analyst Dan Ives is bullish on Tesla due to the good delivery data and the imminent start of production at Tesla's Giga Texas plant: "In terms of electric vehicles, this is a $5 trillion market opportunity, since The biggest transformation in the auto industry since the 1950s." In addition, Morgan Stanley raised its price target on Tesla to $1,300 a share from $1,200 a share. Dollar。
Microsoft (MSFT-US) received a 1.04% dividend to 318.27 per share Dollar. Apple (AAPL-US) edged up 0.26% to 175.53 per share Dollar. Microsoft confirmed Wednesday that it has hired Apple veteran chip designer Mike Filippo to develop its own server chips.
Didi ADR (DIDI-US) rose 1.22% to 4.96 per share Dollar. Didi Chuxing, China's leading ride-hailing platform, is preparing to delist on the New York Stock Exchange and go public in Hong Kong, the company said on Wednesday that it had begun informal discussions with the Hong Kong stock exchange for a listing.
Volkswagen (VWAGY-US) rose 0.61% to 31.54 per share Dollar. Volkswagen on Wednesday said vehicle sales fell 4.5 percent last year to just 8.88 million vehicles, the lowest since 2011.
Economic data
US December CPI annual rate of 7%, expected 7%, the previous value of 6.8%
The monthly rate of the US CPI in December was 0.5%, expected 0.4%, the previous value was 0.8%
The U.S. core CPI in December reported an annual rate of 5.5%, expected 5.4%, and the previous value of 4.9%
The US core CPI in December reported a monthly rate of 0.6%, expected 0.5%, and the previous value of 0.5%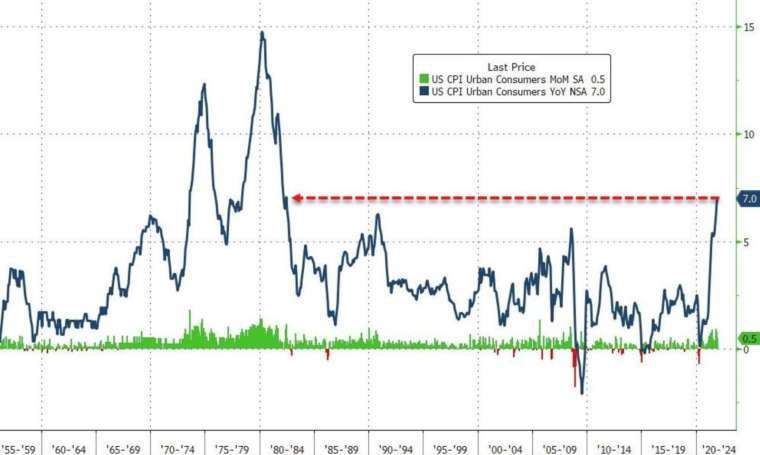 Wall Street Analysis
Richard Flynn, managing director of Charles Schwab UK, said: "Fears of higher, persistent inflation have been well-documented in recent months."
"We've been expecting inflation data to not peak until early 2022, which will be reinforced by further supply chain disruptions caused by the mutant virus, but the more important question now is when will inflation," said Barry Gilbert, asset allocation strategist at LPL Financial. Start slowing down? Because ultimately that could determine how aggressive the Fed is."
(The figures are updated before the deadline, please refer to the actual quotation)