2023-05-28 09:30:00
Sony confirmed during the PlayStation Showcase event that Project Q is real and will be coming soon. If you don't know anything about that, then this article is the perfect opportunity to learn more about Sony's upcoming portable PS5.
Sony confirms Project Q at PlayStation Showcase event
Jim Ryan, president and CEO of Sony Interactive Entertainment, revealed this future portable console. Later this year, Sony plans to launch a dedicated device. It will allow stream any game from PS5 console and will use remote play via Wi-Fi.
This device, known internally as "Project Q", has a 8 inch HD screen. In addition, it will be equipped with all the buttons and features of the DualSense wireless controller.
The Q Project: a new approach to portable consoles
In reality, Project Q is a PlayStation controller with an integrated eight-inch screen. This is a noticeable change from traditional handheld consoles. In fact, it has design features similar to the smartphone controller Backbone One PlayStation Edition recently announced. It could therefore be considered an accessory or peripheral for the PS5.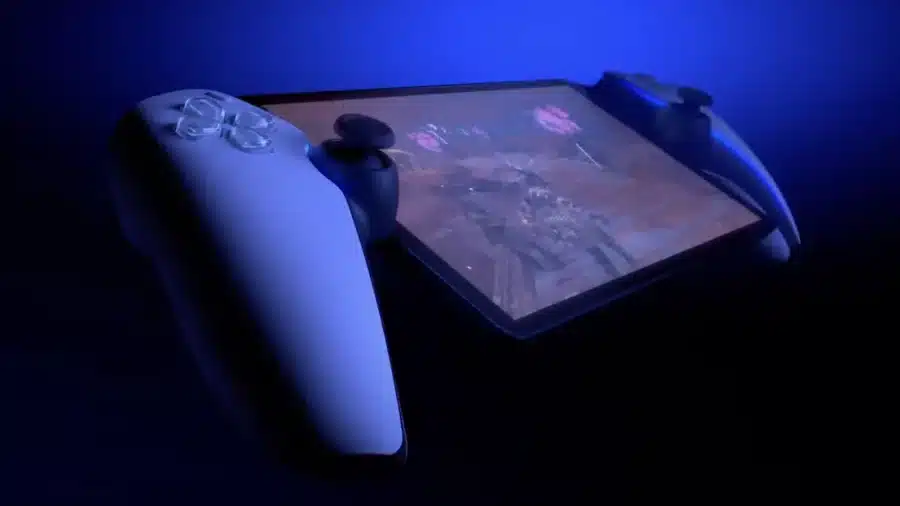 Remote gaming and Sony's confidence in the future
This device is in line with streaming game systems. Plus, it's a testament to Sony's confidence in the future of remote gaming. Its screen offers 1080p resolution and a reading 60 frames per second, streamed directly from the user's PlayStation 5. The joystick, on the other hand, incorporates all the features of the DualSenseincluding haptic feedback and adaptive triggers.
A complementary experience to the PlayStation 5
According to the information provided by Sony, the games you play on Project Q must be installed on a PlayStation 5 console, so it seems that this device is intended as a companion to the PS5. It thus differs from stand-alone devices such as the Steam Deck or a telephone. Also, it does not allow game streaming from the cloud (see our comparison of cloud gaming platforms).
Streaming gaming and the future outlook
However, Sony is a major company when it comes to game streaming services. Currently, it seems to be reviewing its proposals, as evidenced by the many job offers published. It is therefore possible that the Q Project later integrates the game streaming from the cloud. It would be strange to ignore services that make more money for Sony.
Features and limitations of Project Q
Sony's brief teaser didn't address whether Project Q will allow games to be streamed outside the home. Currently, Sony's Remote Play supports cellular connections. However, it may need to be connected to a phone or hotspot, as Sony only mentioned Wi-Fi. In any case, Sony's new portable PS5 promises to ravir nomadic players and fans of the franchise.
1685334580
#Sony #unveils #portable #PS5 #release #date