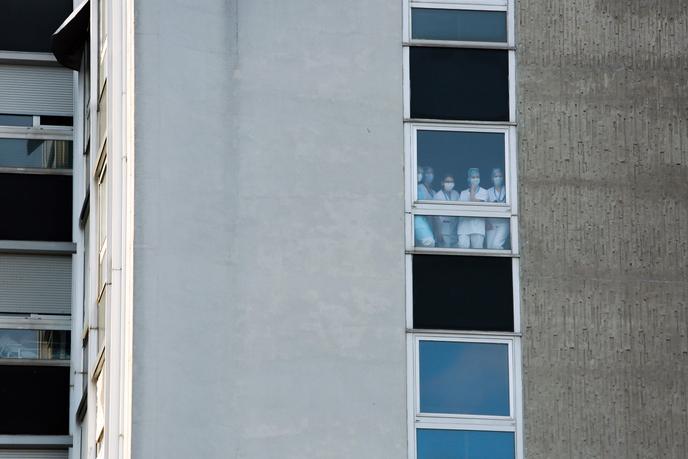 The anguish that had plagued her for days was coupled with a strong feeling of abandonment. Betty (her first name has been changed), eight months pregnant, first worried about her health and that of her three children, while her husband continued to go to work, in Colmar, in Alsace, the one of the main foci of the Covid-19 epidemic.
Then she learned, blow by blow, the cancellation of all of her gynecological appointments and of her preparation classes for childbirth, as well as the ban on visits after birth. But it's a Facebook post that finished " empty " : Betty discovered there, Monday March 23, that the Pasteur hospital in Colmar no longer accepted the presence of the spouses during the birth.
"I cried two days non-stop. For me, it is inconceivable to give birth without my husband, especially in this period of great anxiety. I need to hold on to him if I waver ", testifies this 34 year old woman, whose term is scheduled for April 28. After considering home birth, this stay-at-home mom eventually found a private clinic that still maintains the fathers' presence. "We are relieved even if I am now preparing for everything, including that it is no longer possible. "
"For me, it is unthinkable to give birth without my husband, especially in this period of great anxiety," says Betty
A "Perpetual emotional lift" that also feels Juliette, 32, who is due to give birth on May 20 at the Bluets, in Paris. "Last week, I was told that my husband could not attend the delivery, Monday that he could be present for a few days, Tuesday that he would only stay two hours after the birth. Each new piece of information has triggered a panic attack, " entrusts this manager in communication.
Florence, 28, whose term is scheduled for May 12 in Maubeuge (North) and who risks a caesarean section because of a baby "in siege", has now come to the idea that she will not live "The birth she dreamed of for [son] first child ".
Specific protocol
Like them, thousands of pregnant women oscillate between anxiety and relief, distress and anger. Their questions and concerns are looped in their conversations, on social networks or on forums. How will pregnancy monitoring take place? What about childbirth? If you are infected, is the baby in danger?