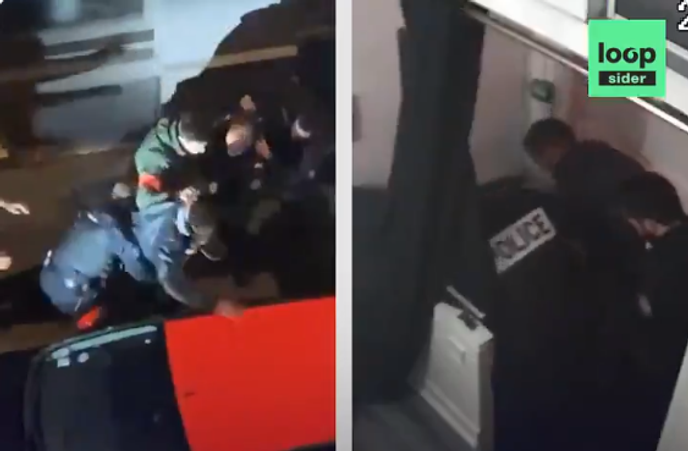 The custody of the four police officers questioned in the investigation into the beating of Michel Zecler on Saturday November 21 was extended this Saturday by twenty-four hours, the Paris prosecutor's office told Agence France-Presse (AFP) .
These four police officers, suspended since Thursday from their duties, were taken into custody Friday afternoon in the premises of the General Inspectorate of the National Police (IGPN), the police force. An investigation was opened on Tuesday to "Violence" and "Forgery in public writing" against the four police officers in question, in connection with this case, which sparked a national scandal and triggered a political crisis.
In CCTV footage unveiled by the Loopsider website, Michel Zecler, a black music producer, is severely beaten by three police officers in the entrance of a music studio on 17e district of the capital. These three police officers, at the heart of the scene, are notably heard for "Willful violence, in meetings, with weapons and of a racist nature".
Read our story:
A rain of blows and lies: return to the beating of music producer Michel Zecler by three police officers
Tear gas grenade launched in an enclosed area
Regarding the fourth police officer in custody, Hugues R., his lawyer Bruno Beneix-Christophe explained to AFP that it was "Separate facts". He is suspected of having thrown a tear gas canister into the music studio. "He was not in direct contact with Michel Zecler", is "Only arrived as a reinforcement" and not "May not be affected by accusations of racism", he insisted.
Whilea second video broadcast by Loopsider shows that Mr. Zecler was also beaten in the street by one of the three policemen, without apparent reaction from several others who surrounded him, Mr.e Beneix-Christophe indicated that Hugues R. was "A little out of the way in the street" and "Was not in the speakers" at this moment.
Read also
Aggression of Michel Zecler: Emmanuel Macron denounces images which "make us ashamed" and asks for "an exemplary police force"
Following his assault, Michel Zecler was initially taken into custody as part of an investigation opened on Saturday, November 21 by the Paris prosecutor's office for "Violence against a person holding public authority" and "Rebellion". But the investigation was closed without further action and gave way to the opening, Tuesday, of a new procedure, against the police this time, for "Violence by a person holding public authority" and "Forgery in public writing".
"I was told." "dirty nigger" several times and punching me ", denounced Thursday the victim by coming to file a complaint with his lawyer, Me Hafida El Ali, at the Paris headquarters of the IGPN. "I would just like the work (of the IGPN, editor's note) to be done"Mr. Zecler said after his testimony. "I have no doubts about it", he added.
Article reserved for our subscribers

Read also
Police violence puts Emmanuel Macron in the face of a political crisis