No more risk area
"The Germans are coming back!": Mallorca is cheering, but many Spaniards are pissed off
Germans who visit Mallorca and other Spanish holiday regions no longer have to go into quarantine on their return since Sunday. Corona-plagued entrepreneurs are regaining hope in the Balearic Islands. But not all Spaniards are happy. On the contrary.
After the travel warning for Mallorca has been lifted, suitcases are already being packed in Germany, in real life or at least in thought. The bookings increase by leaps and bounds. On the Spanish holiday island plagued by corona, the good news suddenly awakens joy and confidence again after months of sadness. "This is fantastic news", the "Mallorca Zeitung" quoted tourist guide Adán André Alomar. If the tourists did not return, "the island would starve to death," the young man knows.
"The best news ever," said Ballermann restaurateur Juan Miguel Ferrer. You can see "the light at the end of the tunnel". After the Berlin decision, the head of the "Palma Beach" interest group and his colleagues – hoteliers, restaurant owners and other entrepreneurs – announced the reopening of at least 15 hotels for a total of 4,000 visitors for Easter. The respected analyst Miguel Otero tweeted: "The Germans are coming back!"
Not because of a win-win situation

Sun, beach and sangria for some, economic growth and ringing tills for others – a typical win-win situation? Are you kidding me? Are you serious when you say that. Countless people in Spain are furious. According to a recent decision by the central government, the locals are only allowed to leave their region in rare exceptional cases until April 9th. Visiting relatives or taking vacations outside of one's own "autonomous community" are strictly forbidden. Germans and citizens of other countries are meanwhile allowed into the country almost without any obstacles. A PCR test is usually sufficient.
This is why people are scolding everywhere these days. In cafés, in the media, on television, on the internet. And also in politics. Especially in the Comunidad Autónoma Madrid, the socialist Prime Minister Pedro Sánchez has become a bogeyman. The conservative regional government, which fights Corona with rather lax rules, complains particularly loudly: "It is incomprehensible that a Madrilene is not allowed to move freely in Spain and a French, German or Belgian can enter," criticized Health Minister Enrique Ruiz Escudero.
Art student Pedro (23) admits in a café in the trendy Chueca district of Madrid: "I'm actually a socialist with all my heart, but these measures really cannot be justified. Oh, man, Pedro, you disappointed me!" Ana Rosa, star presenter of the Madrid TV channel "Telecinco", vented her anger in front of the cameras when she found out about the decision. "What? Foreigners are allowed in and I'm not allowed to go to Extremadura?"
Spaniards are not allowed to come to Mallorca at Easter

"At Easter, Spain will be a bunker for the Spaniards and an oasis for tourists from abroad", was the headline of the newspaper "ABC" at the weekend, which was as big as it was critical. The newspaper "Última Hora" spoke of "arbitrariness", and even the "Mallorca Zeitung" stated: "Easter holidays in Mallorca: for Germans yes, for Spaniards no".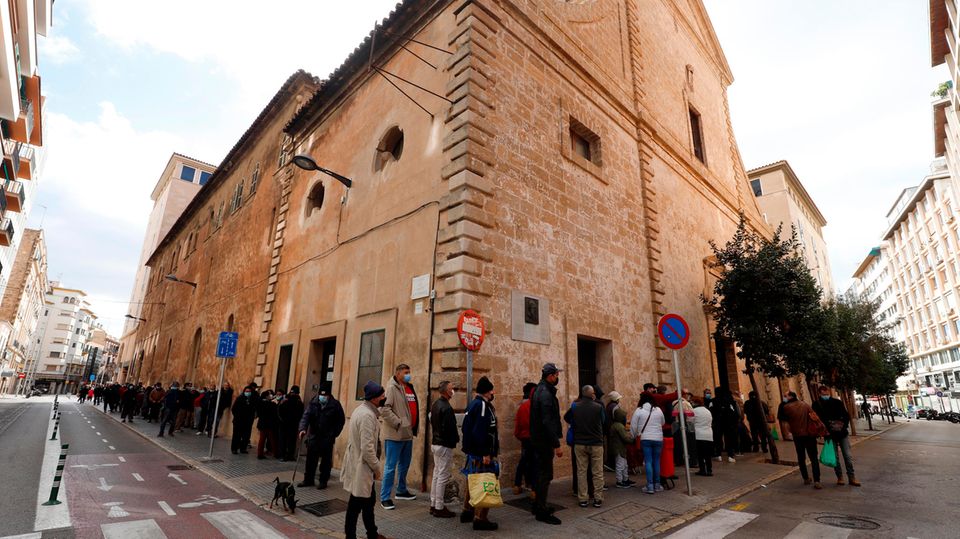 The indignation on the Internet is no less great. There are hundreds of lawsuits. "Let's see if I got that right: I live in the south of Madrid. So my daughter, who lives in Germany, can visit me at Easter, but my son, who lives in Illescas only five kilometers away from me, is not allowed to do that? Very logical, "protested Yeni on Twitter. There Jiménez Caballero also expressed astonishment: "At Easter I am not allowed to go to my holiday home on the beach, but my neighbor, who lives in Germany, can?"
It's not just about frustration, envy and incomprehension. After the number of cases of infection was recently rapidly reduced in the course of sometimes very strict restrictions, many are afraid that tourists from countries with significantly higher values ​​- and this includes Germany – could cause a new corona wave. The pictures of summer 2020 are still too well remembered when, after months of lockdown with "house arrest" and border closings, tourism was allowed again and drunk vacationers from Germany and Great Britain partied wildly at Ballermann without corona protection, flirted with strangers at close range and Street vendors hugged.
Rushed relaxation

In the Balearic Islands, too, skepticism is mixed with joy. The people on the Mediterranean islands know better than any other Spaniard that you cannot survive without the tourists. The travel industry's share of regional income is 35 percent, for the whole of Spain it is "only" 12 percent. In the wake of the pandemic and the restrictions on freedom of travel, unemployment and poverty increased dramatically in the Balearic Islands – more than anywhere else in Spain. The lines in front of the tables are still getting a little longer every day.
Where Mallorca's ecological tax millions go


9 images
24.01.2020
Nevertheless, many are against allowing tourism here. "This is the best way to become a risk area again", the "Mallorca Zeitung" quoted the famous island cartoonist Pau as saying. "For an at best mediocre season" you put "even more life on the line". Writer Antònia Vicens speaks of hasty easing and musician Isis "Apache" Montero says: "As long as we residents are subject to restrictions during Easter week – only gatherings of a maximum of two households, bars and restaurants closed at 5 p.m., curfew, etc. – they shouldn't be anyone let in who does not have his primary residence in Mallorca. "
In an interview with the German Press Agency, Joan Trian Riu, Managing Director of the major Mallorcan hotel chain Riu Hotels & Resorts, appeals to reason: "Tourists must behave responsibly." Ferrer, whose father was the first to serve draft beer in the legendary "Köpi" on Playa de Palma at the end of the 1970s and can therefore be considered the founder of "Bierstraße" and Ballermann, is now optimistic: Not only because of the restrictions that still apply, but also because of the stricter laws and the change of course in the industry on Mallorca, "drinking tourism will play an increasingly minor role."
Also read:
– Columbus Film Award: These are the best travel films of the year
– Close all bars and restaurants: Drastic tightening of the corona measures on Mallorca
– Hunger and fear in the holiday paradise Mallorca
Emilio Rappold/DPA