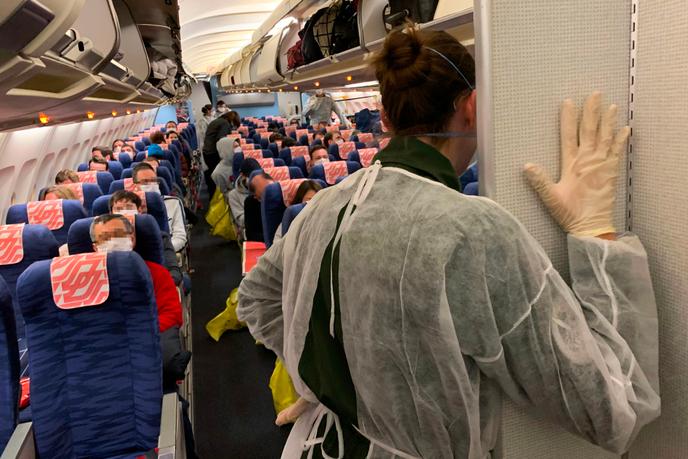 Story of a notion. It's a word that brings us back to the specters of ancient plagues. "The great epidemics of plague and cholera are now a thing of the past. However, the transnational epidemic risk has never gone away ", explains Sofiane Bouhdiba, professor of demography at the University of Tunis, in Yellow Flag – History of quarantine, from the Plague to Ebola (L'Harmattan, 2016) pointing out that "The modernized quarantine system is still widely practiced today, albeit on an ad hoc basis, with the emergence of emerging highly contagious diseases, such as Marburg fever, Ebola, or more recently Zika "he added.
But with the current coronavirus epidemic, the change in scale is obvious: the quarantine measures taken by China today affect nearly 60 million people. Never seen.
Read also
Coronavirus: what is the balance of contamination and death, country by country?
Six to seven centuries earlier, the struggle to fight differed somewhat. "We classically consider it to be in Ragusa [actuelle Dubrovnik] in 1377, then in Venice in 1423, that the first quarantine measures were born ", recalls Anne-Marie Moulin, associate physician of philosophy, director of research at the CNRS. These Adriatic port cities maintained an intensive trade with the East: the challenge was then to protect Europe from the plague. Any vessel from an infected area was given 30 or 40 days isolation in a confined space. Hence the term "quarantine".
Highly symbolic deadline
But why the 40 day delay? " The number forty is highly symbolic: the Flood lasted 40 days in the Bible, Christ spent 40 days in the desert, the duration of Lent is 40 days. In Islam, 40 days after death, the family organizes a ceremony, etc. ", explains Anne-Marie Moulin. Of course, this period was supposed to represent the time beyond which an exposed person was recognized as non-contagious. At the end of the XIXe century, for example, it was reduced to a few days during cholera epidemics.
Read also
New Coronavirus With 811 Dead In China Becomes More Deadly Than SARS
The centerpiece of the quarantine system, until the beginning of the XXe century, is the lazaretto. Surrounded by thick walls, this type of establishment locked up contagious patients, or those supposed to be such, during epidemics of plague, yellow fever or cholera. "Sometimes extremely difficult, the quarantine was unbearable and a source of many transgressions", writes Sofiane Bouhdiba. There is no shortage of examples of transgression. One of them even ended in disaster. May 25, 1720, The Great Saint Anthony, returning from the Levant, is preparing to dock in Marseille, laden with fabrics. The crew is quarantined. But his goods are landed clandestinely. A terrible epidemic of plague will ensue, causing more than 30,000 deaths in Marseille, more than 90,000 deaths in Provence …