In terms of sales, 2019 was the second best year for The Witcher 3, yet released in 2015. CD Projekt took stock of the game's commercial performance, revealing the distribution of sales by platform and other data in passing. interesting.
Based on graphics supplied by CD Projekt, we can estimate that The Witcher 3: Wild Hunt has passed around 28.3 million copies at the end of 2019, including 12.4 million copies on PC, 10.8 million on PS4, 4.3 million on Xbox One and 700,000 on Switch. The Nintendo console recalled hosting the title last October. Then, in December, the broadcast of the Netflix series The Witcher helped revive the craze around the franchise and attract a new audience. The Witcher 3 recorded nearly 6.6 million sales in 2019 alone, compared to 9.4 million the year of its release, 4.1 million in 2016 (release of the Game of the Year edition), 4.4 million in 2017 and 3.5 million in 2018.
This second graph shows the weight of dematerialized on long-term sales, The Witcher 3 being regularly sold on the various digital stores. In total, nearly 17 million copies were sold for download compared to 11 million in physical format, mainly in 2015. Finally, Europe concentrates the majority of sales (37.2%), ahead of Asia (27.9% ) and North America (25.6%).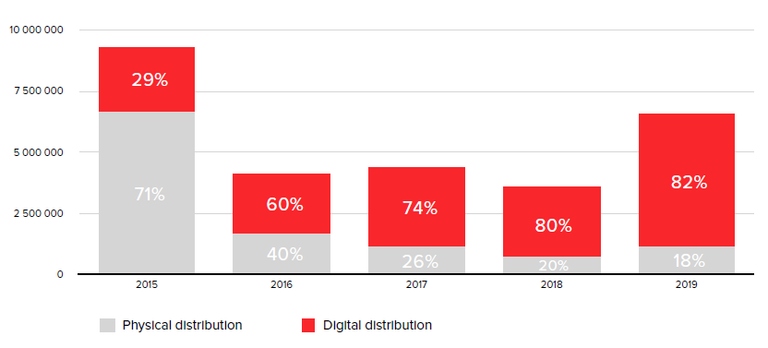 Sources: DarkDetectiveNL and CD Projekt
The Witcher 3: Wild Hunt – The Witcher invites himself on Nintendo Switch

By Clementoss, Editing jeuxvideo.com
MPTwitter