"I'm bored. I don't want to take medicine. I don't want to go to the doctor. I have to leave work often. I have been treated for 7 months. The medicine is allergic. Sometimes it can't work. Mr. Ek (pseudonym) Myanmar tuberculosis patient Lives and works in Phuket with words that indicate discouragement to cure the illness.
Mr. Ek is not the only TB patient. who had thought of stopping treatment for tuberculosis
tuberculosis Severe contagious disease that causes the patient to die. It can be spread from person to person by coughing and sneezing. It can happen to all parts of the body. But the most common is 'Pulmonary tuberculosis' Tuberculosis patients must receive medication continuously for at least 6 months – 1 year or more and visit a doctor regularly to monitor symptoms. drug severity length of treatment chronic illness that affects the mind and life and livelihood causing some tuberculosis patients to stop treatment midway through That's why the mortality rate in TB patients is high. Including being a risk factor that causes drug-resistant tuberculosis patients (DR-TB) which are more severe and harder to treat as well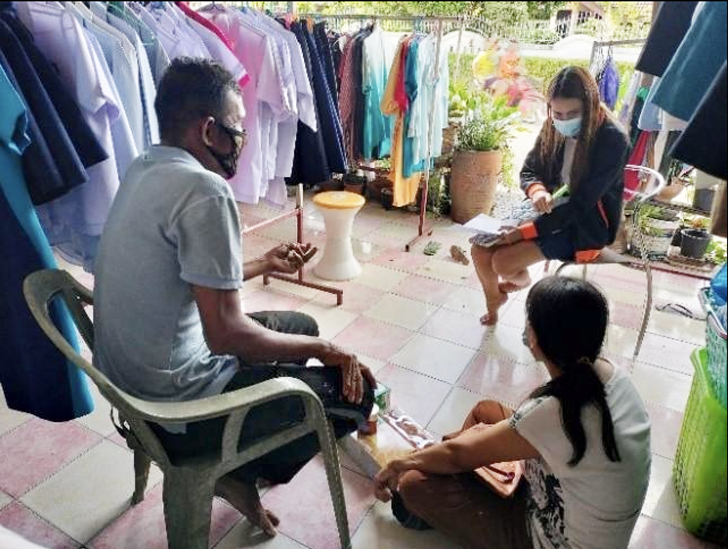 From information on tuberculosis situation in Thailand by the Department of Disease Control The Ministry of Public Health (MoPH) stated that in 2022, there were 103,000 people in Thailand with tuberculosis, of which 31,000 were unreported. or not diagnosed or did not enter the appropriate medical care system and up to 2,400 cases where laboratory tests (lab) were found to be drug-resistant tuberculosis which is a number that continues to increase every year
The Department of Disease Control is closely monitoring the tuberculosis situation and campaigning to raise awareness of the tuberculosis outbreak. And create participation from both the government, the private sector, non-governmental organizations (NGOs), including the public sector. to participate in tuberculosis control
and World Vision Foundation of Thailand is another NGO that has played a role in supporting the government to end tuberculosis continuously for more than 10 years, operating under the support of world fund (Global Fund) both the prevention and control of tuberculosis Care work for TB patients Targeting migrant populations in a vulnerable state Livelihoods, incomes, and language differences make it difficult or a barrier to accessing basic healthcare services.
As for the difference and highlight of WVFT's work to end tuberculosis, in addition to working closely with the public health agency of the state, There is also a network of foreign health volunteers. favor reduce language barriers and make it accessible to migrant populations in various communities. and reaching risk groups who have been infected with HIV (HIV), who have a high chance of getting sick with tuberculosis World Vision Foundation of Thailand The End Tuberculosis Project has been implemented in eight provinces with high numbers of migrant workers: Bangkok, Chiang Rai, Ranong, Nonthaburi, Phuket, Pathum Thani, Tak and Sa Kaeo.
Daw Khin Htwe One of the foreign public health volunteers, a 64-year-old Myanmar national, living and working in Mae Sot, Tak Province, who has worked with WVFT for more than 14 years, described his work on tuberculosis. will receive knowledge information How to protect yourself Learn how to communicate with patients. encouragement To be able to support screening work for high-risk groups of tuberculosis. Including HIV properly
"We monitor patients to continue taking their medicines, educate, give advice, and take care of them until they recover. In addition, we are stationed at the Primary Health Center (Health Post) in the community to educate them about their health. Coordinating with fellow migrant populations," said Daw Khin Htwe.
However, in the year 2022 from operation 'End Tuberculosis Project' World Vision's migrant population has been screened for more than 37,000 people, more than 1,400 people have been sent for diagnosis from the community, and there are TB cases found in the community. And 540 patients were referred for treatment in the hospital.