The new Motorola Moto G73 passed through the test battery of the SPEEDTEST, a program by Oficina da Net that tests the firepower of cell phones to define the most powerful models on the market. Motorola's new cell phone arrived with Mediatek's Dimensity 930 processor, it has 8GB of RAM and 128GB of storage, running Android 13.
Motorola Moto G73 performance test
Like any device already tested here, the Motorola Moto G73 went through three benchmark tests consecutively in each of the four applications, 3DMark Wild Life, AnTuTu, GeekBench and CPU Throttling.
3DMark Wild Life Stress Test
O Wild Life, cannot be executed. The app gives a warning that the device does not support Vulkan graphics technology features.
AnTuTu Benchmark
The second test was the AnTuTu, by far the most famous on the internet and which measures the cell phone's capacity in various activities, from video renderings to QRCode reading. It simulates general usage and ultimately generates a score. In this step, the Moto G73 crashed 420,621 points — 32nd position.
GeekBench
In the third test, the Motorola Moto G73 presented the same performance. During the benchmark GeekBenchwhich consists of simulating scenarios to analyze processor capacity.
In the first stage of the test, which consists of evaluating the processor's strongest core, the Moto G73 beat 697 points. In the next step, the process evaluated the power of the entire processor package, which reached a score of 1.917. Thus, the device reached a sum of 2,614 points and consolidated the 25th place in the ranking. It beats the Moto G82 in that test.
CPU Throttling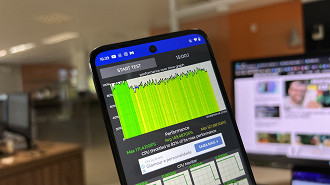 CPU Throttling is the ultimate test. Beating minimum of 133 thousand points, the Moto G73 lagged behind the Redmi Note 11S. The benchmark evaluates the temperature a lot, which rose 12ºC from the base temperature, after the three consecutive tests.
This application tests for 15 minutes, the constant use of the processor, which consequently will heat up. If the cell phone is able to keep the processor cool, the performance tends to be constant and balanced. Now if the heat is high, the system lowers the frequency of the processor so that it cools down and does not spoil. This is the famous Throttle, and it is this action that, for example, makes your game drop stability and frames, causing those famous crashes.
Completion of the test
It is proven that the Moto G73 is the intermediate smartphone with low performance. Don't expect much out of this smartphone if your idea is to buy it to play games. It will do well in everyday activities such as social networking and surfing the internet. But in heavier activities, it is not the focus of the product.